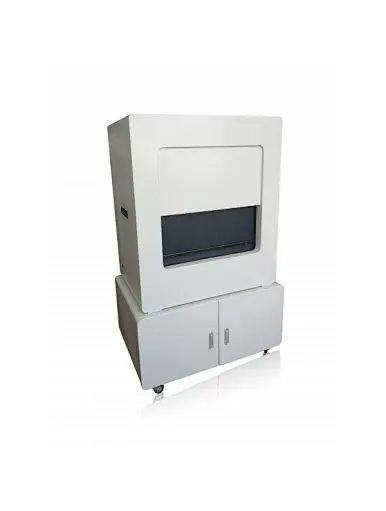 Lab Hyperspectral Imaging System
Shop Lab Hyperspectral Imaging System. Lab Hyperspectral Imaging System for sale with affordable price. In stock at a low price from Optosky.
Deccription:
    The equipment combines technologies of hyperspectral imaging and HD camera, and it can acquire data possessing high spectral resolution and high spatial resolution, as a result of exploring spectral and spatial feature of materials. It can apply to sort out materials of tabaco, pharmaceutical drugs, foods, minerals, criminal document inspection, and true or fake identification etc.
    The lab base hyperspectral system consists of hyperspectral imager, line source, HD camera, sample desk, focusing facility, and standard white board. Line source and line filed of view of hyperspectral imager keep in line in order to realize data acquisition through translation motion of sample desk. HD camera take whole pictures of initial zero position on sample desk, which are used to make image fusion to make up the disadvantage of spatial resolution is not enough, standard white board is used to performed reflectance correction on space and time range, in order to improve data inversion accuracy

Feature:
  Time and Space radiance intensity correction, greatly improve radiance calibration accuracy of time correction plus space correction.
  Line source design matches field of view can improve light energy efficiency.
  Auxiliary focusing, sample thickness adjusting to rise or descend in order to ensure clear image. 
  Auto-integration time, exposure time suit to sample reflectance 
  Auto scan, auto complete data acquisition
  Integrated HD camera can improve spatial resolution, which makes easy matching among huge database.

Application:
  Monitor Agriculture: plant diseases and insect pest, disaster, categories ID etc.
  Forestry: Tree categories identification, Phytomass, nutrient elements, forest health etc.
Water Environment: Water quality parameters, water waste spatial distribution and migration analysis
Soil Pollution: heavy metal waste
Minerals: Mineral mapping, ingredients explore, metallogenic prognosis etc.
City geological substances classification and identification