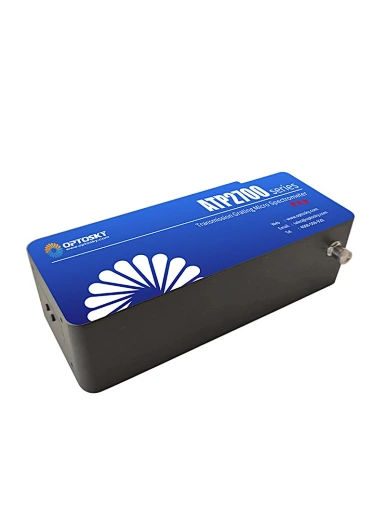 Transmission Gratings Micro Spectrometer
ATP2700 high-sensitivity micro-spectrometer is a high-sensitivity, high-transmittance micro-fiber spectrometer, which is designed with a high-efficiency optical system, making its sensitivity 3-4 times stronger than conventional fiber optic spectrometers
Description
ATP2700  is a micro spectrometer with high sensitivity and high transmittance. It adopts

more

efficien

t

 optical

bench

 design, which makes its sensitivity 3-4 times

higher than routine micro

 spectrometers. It

uses

 a large numerical aperture optical design, which can

 accept

 all photons in the optical fiber (numerical aperture 0.22). This makes it especially suitable for the analysis of low signals, such as gas analysis Raman spectrometers, fluorescence spectrometers, etc.
ATP2700

uses

 high-sensitiv

e

 linear CMOS

 from Hamamatsu in Japan

. Optosky specially customized

l

ow noise CMOS signal processing circuit, which greatly reduces the noise of the sensor and obtains an excellent signal-to-noise ratio (about 2 times higher than that of similar

models

). Its sensor is a 2048-pixel CCD, and the frame rate of CCD signal acquisition can reach up to 4Kfps. It outputs spectral data to PC via USB 2.0 or RS232 interface. ATP2700 works with +5VDC power supply provided by USB.


I

n order to obtain better performance

,

ATP2700 can also be equipped with other types of detectors, such as cooled

 detector

 (ATP5700),

TE-cooled

 back-illuminated

CCD

 (ATP5700P, ATP5700R), deep-cool

ing

 -70°C detectors (ATP5700DC)

.
| | |
| --- | --- |
| | |
| | |
| | Ultra high frame rate, up to 4Kfps |
| | Ultra-low noise, noise is only 1/6 of ATP2700 |
Features
 

High sensitivity, high transmittance

Maximum frame rate: ≥4000 fps

Hamamatsu Detector: low noise CMOS

Detector pixels: 2048 pixels

Spectral resolution: 0.1-3nm (depending on spectral range and slit width)

Integration time: 0.2ms-60s

Power supply: DC 5V (USB power supply)

ADC

:

16bit

,

10MSPS

Fiber output: SMA905

D

ata output

:

USB2.0 (High speed) or UART
20

-

pin dual UART

 
Application
Industrial measurement sensors