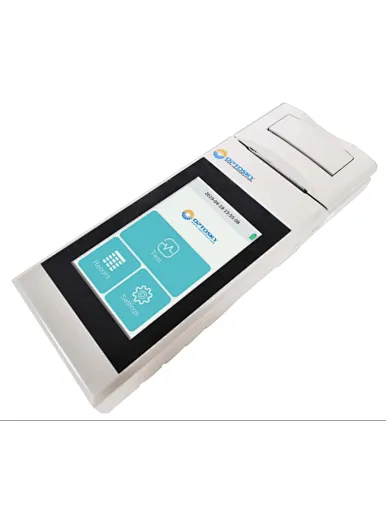 Handheld Hair Drug Analyzer
GA500BT hair trace drug detection system is an automatic immunofluorescence detection system based on the principle of photoelectric detection. I
Description
GA500BT hair trace drug detection system is an automatic immunofluorescence detection system based on the principle of photoelectric detection. It needs to be used with special fluorescent immunological reagents. It can easily generate morphine, methamphetamine (commonly known as methamphetamine) and ketamine (commonly known as ketamine) in hair within 10 minutes. K powder) three common drugs, as well as fast and accurate detection results of methcathinone, ecstasy (MDMA) and cocaine, meeting the needs of qualitative and quantitative analysis.
The GA500BT hair trace drug detection system is equipped with an ID card identification module as standard, which can be used by public security police to enforce law on the spot when they go out to take pictures of drug addicts and verify their identity on the spot. The device has a built-in 4000 mAh battery, which can be used for one day (testing 200 people) after 1-2 hours of full power. It comes with a thermal printer, and the results are printed on site as the basis for on-site inspection and disposal by the public security anti-drug police.
| | |
| --- | --- |
| Model | Description |
| GA500 | With ID card reading function |
| GA500-3 | Triple card special equipment |
| GA500BT | Supports single card/triple card |
| GA500Pro | Android system, fingerprint recognition, support single card/triple card |
Features
Fast detection

High sensitivity: the lowest detectable drug content of 0.2ng/mg, and

The Narcotics Association's industry standards are consistent.

Convenient sampling: just a little hair (5mg), does not involve privacy,

Avoid adulterated switch packs.

Long traceability period: Suspicious persons can be detected within 3-6 months using hair

Whether there are drugs in the body.
Application
Medical institution central laboratory

Medical center

Community medical point

Driving school drug testing

Research laboratories

Public security anti-drug, forensic and other departments