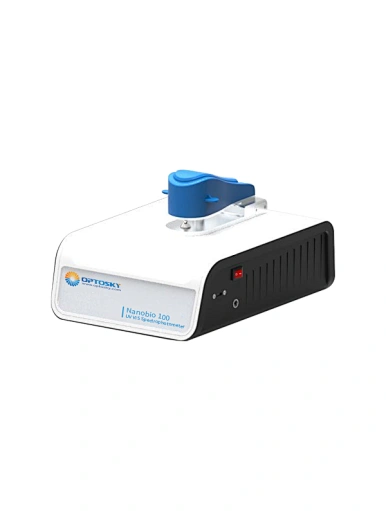 NanoDrop Microvolume Spectrophotometers
Nanodrop-100 is designed to provide cheap NanoDrop® ND-1000 UV-Vis Spectrophotometer to global market with high accurate analyses of 0.5 ul samples for DNA, RNA, protein, pigments.
NanoBio 100 is a full wavelength (190-1000nm) UV-Vis
spectrophotometer, which is self-designed by Optosky. It bases on 20-year experience in developing spectrometer plus Hamamatscu pulsed xenon lamp, it's a successful spectrophotometer can fast measure nucleic acids,protein and cell solution. Meanwhile, its easy-to-use, sample volume requires only 0.5 ~ 2 μl, it's not required preheating and it can fast clear out residue sample, no cuvette or other sample positioning fixture, no dilution etc.NanoBio 100 spectrophotometer,easy-to-use,pipette directly onto the sample measure detect head, close it to start measure. It can directly wipe out residue sample or recycle after completing measure.
   •  Nucleic acids, Proteins, Full band absorbance
     •  Sample volume per time: 0.5-2 μl
     •  Broad Spectral Range
:
190-1000nm
;
     •  Long life span source up to 10 years
     •  Embedded high performance micro spectrometer
     •  High stability pulsed xenon light source
     •  Self-built modeling function by user
;
     •  USB Type C data output
;
     •  Scientific Research Lab