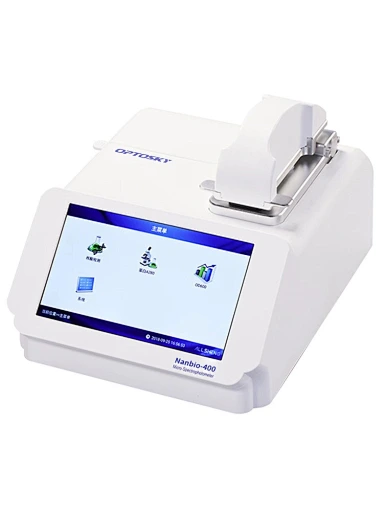 NanoDrop Microvolume Spectrophotometers
NanoBio 400 is a full-wavelength (190 ~ 850 nm) ultra-micro spectrophotometer developed by Optosky. It is based on Optosky's more than 20 years of experience in the development of spectral instruments. The high-stability pulsed xenon lamp (or long-life LED) is used as the light source, which can detect nucleic acid and protein quickly and accurately.
Micro-specrophotometer can quickly and accurately detect nucleic acid, protein and cell solution. Because it is easy to use, less sample consumption, no preheating, can quickly cleanup residual samples, no cuvettes or other sample positioning devices required, samples do not need to be diluted and other characteristics. It has become a routine instrument in many laboratories.
Nanobio-400 ultra-micro nucl
e
ic acid analyzer is an instrument used to detect the concentration and purity of DNA and RNA. The
sample size required for each measurement is only 1.0 to 2
μ
L
.
User can directly add the sample point to the sample plate without
accessories such as cuvettes or capillaries.
| | |
| --- | --- |
| | |
| | Fixed wavelength, LED light source, OD600 optical path detection system |
 Feature:
Ultra-micro nucleic acid analyzer with fixed wavelength (260 nm, 280 nm,365 nm).

Android system, 7-inch capacitive touch screen, no computer connection required.

LED light source, long life component.

lt is mainly used to detect the concentration and purity of nucleic acid, and to detect the concentration of nucleic acid at 260 nm, the concentration of protein at 280 nm. The 260 / 280 ratio is used to measure the purity.

Newly designed OD600 optical path detection system, new cuvette mode,convenient for the concentration detection of bacteria, microorganisms and other culture solutions.

The test data is transferred to the computer via USB for easy sorting and analysis.

The built-in printer can print the report directly.
Application:
280 nm:A280

、

BSA

、

lgG

、

 Lysozyme

600 nm: Bacterial concentration