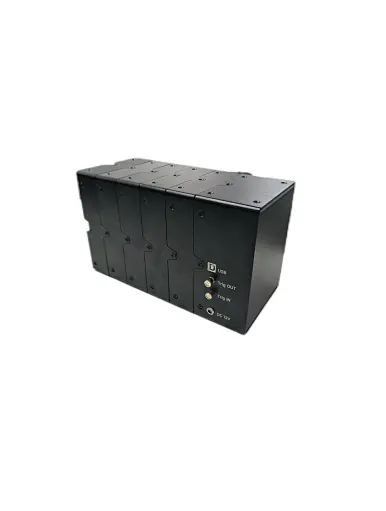 Multi-Channel Spectrometers
With 20 years of experience in the development of optical fiber spectrometers, Optosky has launched a new generation of high-performance ultra-thin optical fiber spectrometers: ATL30007 has built-in 5 ultra -high resolution optical fiber spectrometers, each of which uses 4096-pixel high-sensitivity linear CMOS, and special Customized ultra-low noise CMOS signal processing circuit, which greatly reduces the noise of the sensor, obtains an excellent signal-to-noise ratio (about 2 times higher than similar competitors), and improves the measurement reliability of ATL30007 Multi-Channel spectrometer, and the measurement results do not follow The environmental temperature changes, which is the best level in the industry.
ATL30007 Multi-Channel spectrometer can receive SMA905 optical fiber input light or free space light, and output the measured spectrum data through USB2.0 or UART port.
ATL30007 Multi-Channel spectrometer only needs a 12V DC power supply or USB power supply, which is very easy to integrate and use.
You can select the right option from our range of detectors, choose different slits and gratings: anything is possible.
Detector: Linear CMOS




(built-in 5 spectrometers)

Probe pixels: 4096 × 5 pixels

Ultra-low-noise CCD signal processing cir cuit

Maximum spectral range: 200-920nm

( depending on demand)

Spectral resolution: 0.087-0.16 nm

(depending on the spectral range, slit wid

th)

Optical path structure: Cross C-T

Integration time: 1ms-130s

Power supply: DC 12V ± 10%

Digital bit depth: 16 bit

Optical input interface: SMA905

Data output interface: USB2.0
The LIBS, Plasma emits light

Laser wavelength measurement

Spectral analysis / radiative spectroscopic

analysis / spectrophotometric analysis

Controlled thermonuclear fusion

Low-pressure plasma spectroscopy

Detection Dielectric blocking discharge

plasma

spectroscopy detection

Plasma processing process analysis