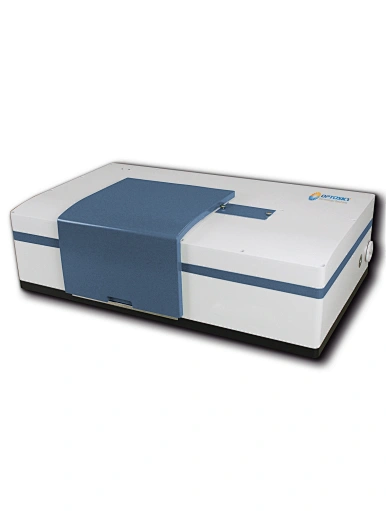 Benchtop FTIR Spectrometer
Fourier transform infrared spectroscopy abbreviate FTIR analytical technique used to identify infrared spectrum of absorption or emission of a solid, liquid or gas.
Description
ATP8900 routine benchtop FT-IR spectrometer is self-designed seal integrated
Kbr
 beamsplitter and high sensitivity
DTGS
Detector. The sample
compartment
 can compatible with IR transmission
module, Attenuated Total Reflectance, d
iffuse reflectance
 up or front, and specular reflectance, gas cell etc.
 The experiment involves in-situ diffuse reflectance attachment, temperature controller and other auxilliary equipment can be contained inside. This design is compact and save space.
ATP8900 is widely used for solid, liquid and gas transmission characteristics, direct measure with solid or liquid ATR diamond, ZnSe, Ge crystal no necessary press, and direct connect to gas cell fit to both high and low concentration gases, customize measure is available for one stop solution provider.
routine benchtop FT-IR spectrometer

Equipped with two compartments

Equipped with two compartments for two channels independent operation

Features
    • Michelson interferometer
with wear free and reliability of 10 year guaranty, with cube-corner mirror resist mechanical and temperature vibration
      • 
Higher stability of optical system is designed with
gold mirror
improve reflectivity by >5%  than traditional aluminum mirror.
      • 
Super sensitivity and reliable t

emperature
controlled
DTGS detectors
      • 
Reliable performance of
solid laser
 life up to 10 years
      • 
Vacuum cooling ceramic
 IR light source
with high performance
      • Powerful software functions
for IR analysis and simplify measurement procedure

Built-in ampling Modules & Attachments
• FT-IR spectrometer is widely applied to IR measure modules of solid transmission, ATR reflection, and diffuse transmission etc.
SolidTransmission:
• Manysolid powder press
• Thin film Quantitative analysis
• Heating press module quantitative analysis
• Transparent IR materials of various glasses, Jades, crystal materials, and material properties change 
Solid / Liquid Attenuated Total Reflectance (ATR):
• Many powder sample without press for direct measure
• Irregular shape sample of non-destructive measure without press
• Many polymer, fiber, thinfilm, and high polymer sample
• Many O ring, rubber sample
• Many others difficult to measure by transmission
Liquid Transmission:
• Seal liquid cell qualitative analysis organic solution, VOCs
• Disassemble liquid cell available in change optical length for quantitative analysis
• Many lubricant oil quantitative analysis
• IR window film forming liquid film for qualitative analysis
Gas Cell:
• Glass or Stainless steel gas cell can inlet directly with select temperature control and optical length of 1.5cm, 3cm, 5cm, 7cm etc fit to high concentration gas
• Mulit-reflectance gas cell of stainless steel, temperature control and optical length of 50cm, 100cm, 5m fit to low concentration gas
• Corrosion resistant gas cell can customize anti-corrossion materials gas cell eg HF gas measure
External Modules & Attachments  
      • TGA-IR coupling Module
      • GC-IR coupling Module
      • External sample compartment, vacuum or purgeable  
      • External vacuum UHV Chamber
      • 2cm to 20 meters gas cells
      • Integrating sphere accessory
      • In-situ Transmission accessory
      • In-situ Diffuse Reflection accessory
      • ATR and specular accessory

Applications
• Pharm & Life Science
            Protein conformation and quantification
            Quantification for Active Pharmaceutical Ingredients and excipient in water solution
• Microorganism Identification
             Characterization for the volatility and stability of medicine combined with TGA module
• Polymer and Chemical Products
            Detection and Characterization for the volatility and  decomposition combined with TGA module
            Monitoring reaction process in lab combined with MIR fiber probe module
• Surface analysis
            Detection and Characterization for the Ultra-Thin film and mono-layer film
            Characterization for the erosion process
 • Material Science
           Detection of Emissivity of building materials
           Evaluation for Optical material such as Infrared windows and mirrors