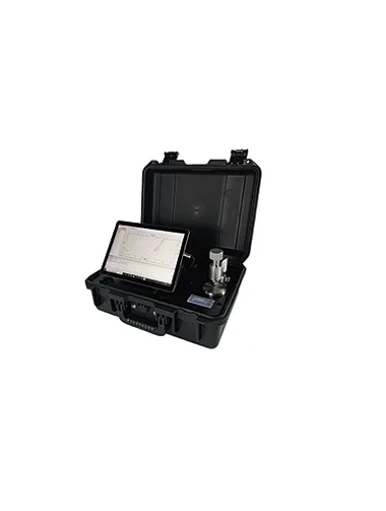 Mobile FT-IR Spectrometer
ATP8900TP Mobile FTIR spectrometer is a rugged analyzer perfect for on-the-spot analysis in a range of non-laboratory settings, including forensics, chemical identification, and the chemical, food, and polymer industries.
Fourier Transform Infrared (FT-IR) Spectroscopy is a widely-used analysis technique for both organic and non-organic materials without damaging the sample. When using the FTIR spectrometer, usually a small amount of sample is required. Unknown substance could be identified by comparing spectrum with the reference from the library database. With the use of ATR technology, sample preparation can be simplified, and analysis for both solids and liquids become easier and more efficient.

ATP8900TP is an integrated rugged portable FT-IR spectrometer for detecting and analyzing unknownsubstances. Unlike other portable devices, ATP8900TP has the same high performance as the benchtop devices, such as wider spectral coverage and higher spectral resolution. ATP8900TP can be used not only for routine measurement, but also for professional analysis. A ten-inch touchscreen tablet PC makes the operation simplicity. The built-in library databases provide the identification result rapidly. In addition, users can add their own database easily.


Features:
● Interferometer: excellent performance, good reliability, perfect stability and strong anti-interference performance,10 years of quality guarantee.
● Optical system: all the use of gold mirror. Reflectivity over 5% higher than aluminum mirror. Strong oxidation resistance, more stable optical performance.
● Detector: high sensitivity DLATGS or MCT detector
● Solid-state laser: stable performance, using lifetime more than 10 years.
● Light source: high performance, service life of more than 5 years.
●Compact design
●Rapid identification of unknown chemical substance
●Analysis in extreme environment  
●User friendly software
●No sample preparation
●Results in several seconds
●Add library at any time
●Mixture analysis
●Comply with IP 67 standards
Application:
Public security: the identification of unknown things, such as drugs, explosives
Fire and emergency: it used for the detection of flammable and explosive substances, dangerous chemicals
Customs:rapid identification of dangerous goods, extiles, other materials and origin
Gas detection:  environmental protection gas and industrial online gas real-time detection
Criminal Investigation: Quick Analysis of Explosives at Scene (black powder, ammonium nitrate explosive, TNT, hexogen
Rapid Forensics of Dangerous Chemicals
Drug Search: Drug Analysis, New psychoactive substances