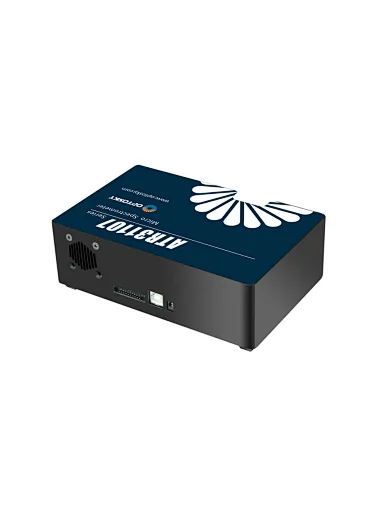 Raman mini spectrometer
ATR31107 is a high-performance refrigerated mini. spectrometer for Raman system developed by Optosky.
Description:
ATR31107 is a high-performance cooled mini. spectrometer developed by Optosky. It adopts a specially cross C-T optical path topology for Raman spectroscopy signals to obtain high resolution and sensitivity, adopts high-sensitivity backlight Linear CCD, CCD adopts semiconductor cooled technology, CCD can work in a set constant temperature environment (as low as -15ºC), thereby greatly reducing the noise of the sensor and obtaining an excellent signal-to-noise ratio (about 2 times higher than similar competitors), and improve the measurement reliability of ATR31107, the measurement result does not change with the ambient temperature.
At the same time, Optosky specially customized the ultra-low noise CCD signal processing circuit for ATR31107, and its quantization noise is less than 3 counts, which is the best level in the industry. ATR31107 can receive SMA905 optical fiber input light or free space light, and output the measured spectrum data through USB2.0 or UART port.
ATR31107 only needs a 5V DC power supply, which is very easy to integrate and use.
| | | |
| --- | --- | --- |
| Model | Detector Pixel | Te-cooled |
| ATR31107 | 2048 pixels CMOS | To -5℃ |
| ATR31107-4 | 4096 pixels CMOS | To -5℃ |
| ATR31107PS | 2048 pixels Back-illuminated area CCD | To -5℃ |
| ATR31107LT | Scientific Grade CCD | To -15℃ |


Feature:
Detector Pixels: 2048/4096 pixels;

Ultra-low noise CCD signal processing circuit;

Optical Path: Cross C-T

Integration Time: 2ms-60s

Power Support: DC 5V±10% @ <2.3A

18 bit,570KHz ADC (Actual output 16bit)

Optical Input Interface:SMA905 or Free space

Data Interface: USB2.0 (High speed) or UART

20 pin double row programmable outreach interface.

Application: