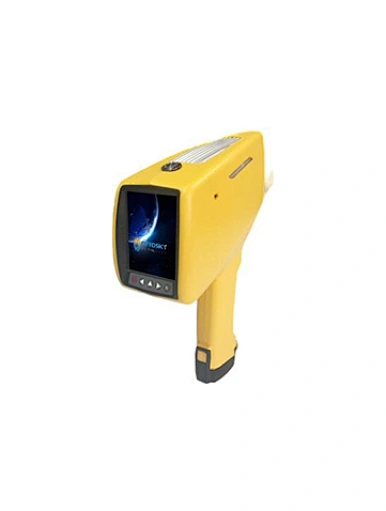 Handheld XRF Spectrometer
Common SS, alloy steel of SS201, SS203, SS301, SS304, SS316, SS321, and other alloy grade > 2000
Aluminium alloy 6063, 6061, 6262, 6005, 6082, 6061
Elements of Ti, V, Cr, Mn, Fe, Co, Ni, Cu, Zn, Se, Zr, Nb, Mo, Hf, W, Ta, Re, Pb, Ag, Sn, Bi, Sb, Au, Pt, Rh, Pd
Description
Optosky ATX2600 is self-designed 
second generation
handheld X-ray fluorescence
spectroscopy analyzer.
Optosky is the most affordable handheld XRF analyzer manufacturer for fast, accurate, and reliable XRF spectrometer, With the rugged and compact size, the fastest identification of alloy, precious metals, mining.
With advantage of SDD Elements Mg~U or Si-Pin Ti~U, Alloy grade >2000 , free library> 300 entries, self-building library, SS, Alloy steel, Tool steel grade identification and contents, percentage, including common several hundreds of SS201, SS203, SS301, SS304, SS316, SS321
Copper alloy steel grade , contents
, say brass, bronze, copper, pure copper etc
Various alloy of Ti , Sn, Lead, Zn, Tungsten, Al, Ni
Precious
metal of Gold, Ag, Platinum, Rhodium,
Pd.
Feature
Elements Mg~U or Ti~U

Alloy grade L >2000, free library

 

> 300 , self-building library, SS, Alloy steel, Tool steel grade ID and contents, percentage, including common several hundreds of SS201, SS203, SS301, SS304, SS316, SS321

Copper alloy grade and contents, including brass, bronze, copper, pure copper

Various alloy including alloy of Ti, Sn, Lead, Zn, Tungsten, Al, Ni

Precious metal of Gold, Ag, Platinum, Rhodium,

 

Pd.

Sample state of solid, powder and sheet

Good reliability and detect limit <0.01%ppm
Application
NDT, Fast, Accuracy alloy elements ID and grades ID

Metal ID/ Scrap Metal Sorting

QA/QC manufacturing

Pharmaceutical and biological medicine

Positive materials ID, oil refining, petrifaction

Thermo/Water/Nuclear power plant

Raw materials PMI ID