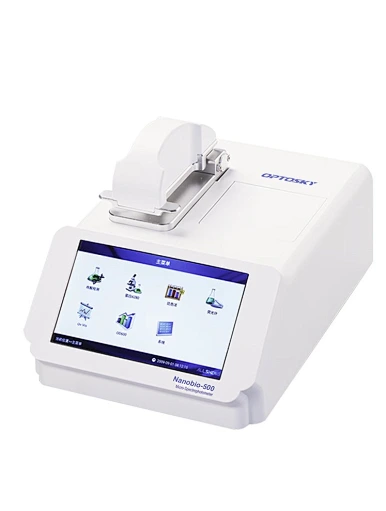 NanoDrop Microvolume Spectrophotometers
NanoBio 500 is a full-wavelength (190 ~ 850 nm) ultra-micro spectrophotometer developed by Optosky. It is based on Optosky's more than 20 years of experience in the development of spectral instruments. The high-stability pulsed xenon lamp (or long-life LED) is used as the light source, which can detect nucleic acid and protein quickly and accurately.
Description
Nanobio-500 is a improved micro-spectrophotometer based on Nanobio-300 with full wavelength (200-800 nm). It added a function of fluorescence and without requiring a computer. With a sample size of only 0.5
μ
L.to 2
μ
L, the sample concentration can be rapidly and accurately detected.
The cuvette mode can be used to detect the concentration of culture media such as bacteria.The newly added fluorescence detection function, combined with the fluorescence quantitative analysis kit, can accurately quantify the concentration of DNA,RNA and protein through the specific combination of the fluorescent dye and the target substance, and the minimum limit can reach 0.5 pg/
μ
L. (ds DNA).
| | |
| --- | --- |
| | |
| | Fluorescence detection, comparison cell mode, DNA, RNA, protein concentration detection |
Features
Patented motor lifting structure .

Standard OD600 detection function.

Android system, 7-inch capacitive touch screen.

High-resolution CCD array detector,6s can complete detection and display results.

Long life pulse xenon lamp light source.

The detection data can be transferred to the computer through USB
Application
Nucleic

 

acid

 

quantification

,

plant

 

GUS reporter gene detection,

ap

optosis

 

detection.

dsDNA, ssDNA, GFP, gene detection, fluorescein detection,

protein

quantification.

Rhodamine

 

detection

,

Cy

-3

fluorescence labeling detection,

RF

P

 

gene

 

detection

,

cytotoxicity

 

detection.

Cy

-5

 fluorescence labeling detection, RNA quantification.