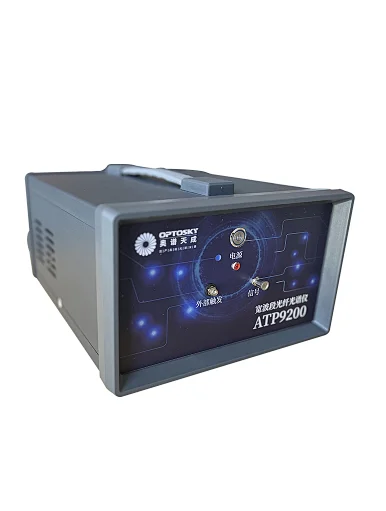 Broadband Fiber Optic Spectrometer Array
Description:
ATP9200 series broadband fiber optic spectrometer is the latest product of Optosky, with the widest wavelength range up to 200nm~2500nm, suitable for applications in various fields such as physics, optoelectronics, materials, and biology.
The ATP9200 series broadband fiber optic spectrometer uses multiple spectrometers of different bands to combine to form an ultra-wide band spectrometer. At the same time, it has better spectral resolution, has the characteristics of high cost performance, fast and accurate measurement, simple operation, and convenient portability. Equipped with a powerful software package, in addition to measuring spectral signals, it can also be used for reflectance and transmittance measurements, as well as radiometric, photometric and colorimetric measurements.
ATP9200 can receive external acquisition trigger signal for synchronous optical signal acquisition.
ATP9200 can receive SMA905 fiber input light or free space light, and output the measured spectral data through USB2.0.
| | |
| --- | --- |
| Model | Feature |
| ATP9200-17 | wavelength range 200-1700nm |
| ATP9200-25 | wavelength range 200-2500nm |
Features:
The array combination of multiple spectrometers has the characteristics of wide band and high resolution

Linear array back-illuminated CCD/ InGaAs sensor

Maximum spectral range: 200-2500nm

Number of bands: 2060 bands

Integration time: 1ms ~ 10s

Built-in anti-secondary diffraction coating and filter, high accuracy

High sensitivity, the quantum efficiency of the detector can reach up to 60%, and the near-infrared sensitivity is 40% higher than that of traditional PDA detectors;

Dynamic dark current correction to reduce the influence of thermal noise;

Portable, special carrying case, easy to carry

Power supply: DC 12V±10% @ <5A

Optical input interface: optical fiber input or free space input

Support external trigger synchronous acquisition

Data output interface: USB 2.0

PC software control mode

Application:
plasma signal

Photoelectric signal analysis

Spectral signal analysis in various fields