How to use 1064nm Handheld Raman Spectrometer rapid test narcotics ?
How to use 1064nm Handheld Raman Spectrometer rapid test narcotics ?
2020-11-05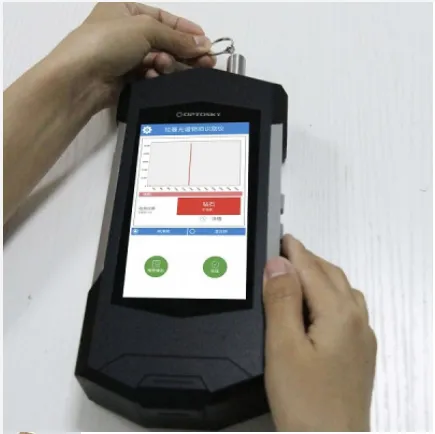 What are the characteristics of the 1064nm Handheld Raman Spectrometer?
With compact size, lightweight less than 1.2kg;
1064nm Raman spectroscopy technology, no fluorescence interference;
Easy-to-held, it can be widely applied to industries of customs, public safety, lab, etc;
Non-Destructive,Accurate and Fast, One-touch Operation;
Advanced intelligence algorithm;
Mixture detection;
HD 5.5 inch capacitive touch screen, smooth operation system;
HD camera;
Accurate GPS positioning;
Support 4G\Bluetooth\WI-FI and other communication methods;
Test results report export pdf;
Built-in Li battery continuous operation 4-6hours;
What are its application areas?
University laboratories,
Identification of chemical raw materials,
Jewelry identification,
Archaeological investigation,
Quality inspection and drug supervision,
Food inspection ,
Police anti-drugs (can detect heroin, hemp, fentanyl and other drugs)
What are its advantages?
It is fast and don't need to touch the sample, give a clear substance name, you can build your own spectrum library .
For example , When it is applied to the pharmaceutical factory, it can rapid and non-destructively detect, safe and efficient production supervision. Because it is particularly suitable for the detection of Heroin, Cocaine, Marijuana, Hallucinogens, Morphine, Opium, Poppy, Fentanyl, Magu, Ketamine, Methamphetamine and other narcotics with high fluorescence samples, it is widely used in the inspection of customs import and export goods to prevent the entry and exit of dangerous narcotics, explosives and smuggled goods.
How does 1064nm Handheld Raman Spectrometer work?
An excellent spectrum recognition algorithm is embedded in the handheld Raman spectrometer, which can easily identify substances, and users can add their own spectral data. Optosky provides full technical support and services, including spectral library building, method & verification etc.