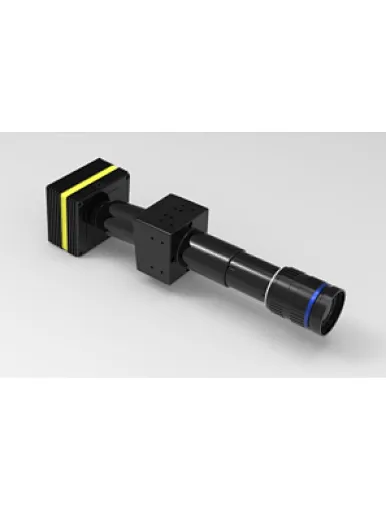 VNIR Hyperspectral Imager
ATH1010 is made of two parts, imaging lens and hyperspectral imager designed PGP transmission grating technology with excellent aberration.
Description:
   ATH1010 is low cost hyperspectral camera for industrial application, with compact, lightweight, and miniature hyperspectral camera, and it employs CMOS sensor, high performance-to-price ratio.
  ATH1010 hyperspectral imaging camera employs convex grating technology and good aberration characteristics. 1920X1200 pixels high-performance imaging hyperspectral imaging camera is used to detect real time geological spectrum data such as plant, water creature, soil etc. They receive spectral imaging to make analysis, and build up relationship with physical and chemical properties of plants, then data collected are applied to research plant classification, growth etc. The whole system has compact design, and it employs high resolution, external push broom imaging, setup independent detection system separately in combination with outdoor rotation platform and indoor linear scanning platform, and mounted in the UAVs to operate flight remote sensing.
 
Model

Features

ATH1010

Narrow FOV, 1920×1200 pixels

ATH1010

W

W

ide FOV, 2048×2048 pixels

ATH1010

K

ATH1010 plus 

housing

ATH1010

L

L-shape design

,

Narrow FOV

,

fit to fixed wing drone or with short landing gear

ATH1010

LW

L

-

shape design

,

W

ide FOV

,

fit to fixed wing drone or with short landing gear

Features:
      •  Wavelength:380~1000nm
      •  Spectral resolution:<1.3 nm
      •  Optical bench:PGP design
      •  Max. FOV:31.7°
      •  Min. FOV:1.2 mrad
      •  Excellent imaging quality
      •  Advanced algorithm for impression images
      •  Compact size: 279×64×55 mm
      •  Light weight < 700g
      •  No mechanical scan improve reliability

Applications:
      •  Geology and mine exploration,Mineral mapping, ingredients explore, metallogenic prognosis
      •  City geological: substances classification and identification
      •  Agricultural growth and output appraisal,plant diseases and insect pest, disaster, categories ID 
      •  Forestery and plant disease monitor,Tree categories identification, Phytomass, nutrient elements, forest health
      •  Fire prevention monitor
      •  Coastline and sea environment monitor
      •  Pasture grass production and growth monitor
      •  Lake and river monitor
      •  Remote sensing teaching & research
      •  Meteorological research
      •  Ecosystem protection and mine monitor
      •  Soil Pollution, heavy metal waste
      •  Water quality, Water quality parameters, water waste spatial distribution and migration analysis
      •  Animal products quality
      •  Military, defense and land security
      •  Disaster prevention