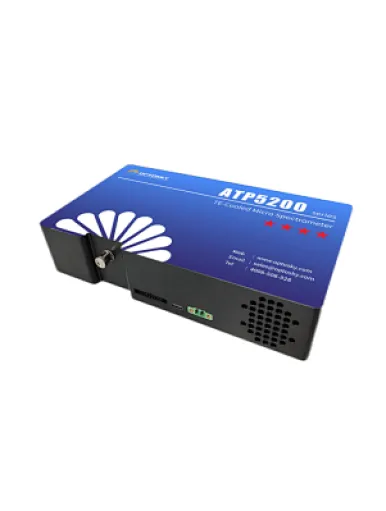 Cooled Micro Fiber Spectrometer
ATP5200 is the sixth-generation high-performance cooling miniature fiber optic spectrometer newly developed by Optosky. It adopts the sixth-generation newly designed optical platform and carefully crafted optical components to achieve excellent optical sensitivity and spectral resolution.
Description:
ATP5200  is  
the
fifth
  generation  of  TE-cooled  high performance  spectrometer, which  is  self-developed by Optosky,
It uses a back-thinned TE-cooled linear CCD with  a  semi-conductor  cooling  technology.  The  CCD can set in constant temperature environment (up to - 10 degree),   which   greatly  reduces   sensor  noise   at   an excellent signal-to-noise ratio (about 2 times higher than competitors level), and it improves the reliability, so the measurements results can not change with the ambient temperature.
Meanwhile, it uses lowest noise CCD signal processing pcb to reach a noise less than 3 counts, which still the best low noise level

.
The ATP5200
 can receive SMA905 fiber optic input or free-space light to output spectral data via USB2.0 or UART port.
 

It connects to 5V DC power supply, easy-to-integrate to wide industrial spectroscopy application.
| | |
| --- | --- |
| | |
| | |
| | 2048 pixels, cooled - 10℃ |
| | NIR enhanced, 2048 pixels, cooled - 10℃ |
| | |
Feature:
 

Detector: Back-thinned illuminated CCD (cooled to - 10℃)

 

Pixels

: 2048

pixels

UV or NIR response enhanced optimization:
           1)lUV response enhanced: ATP5200
P
           2)NIR response enhanced: ATP5
200R
Low noise CCD signal processing circuit

Max. Wavelength Range: 180- 1180nm(depends on specific requirements)

Optical Sensitivity: 0.01-3nm (Depends on range and slit).

Optical Path: Crossed C-T

Integration Time :2ms-130s

Power Supply :DC 5V± 10% @ <2.3A

18 bit, 570KHz ADC (workable output 16bit)

Interface :SMA905 or free space

Trigger: USB2.0 (High speed) or UART

 

20 pins dual-row programmable external expansion 

interface

 
Applications
:
 

Raman spectrometer, online Raman analysis

Micro

 

volume spectrophotometer

Weak fluorescent light detection

Reflectance, Transmittance, Absorbance detection

Fruit Sorting.