The application of FTIR in a non-invasive and non-destructive way to the study and conservation of mineralised excavated textiles
author: sherry
2022-11-23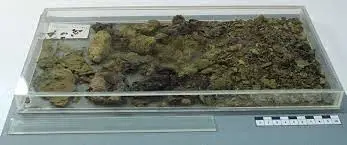 FTIR can operate in transmission, refectance or attenuated total refectance (ATR) modes. Transmission requires the removal of a sample. In addition, only very thin samples (around 20 microns) are suitable for transmission, so preparation of the sample by pressing or grinding may be necessary. This also helps to circumvent problems arising from the lensing efect of fbres, due to their tubular shape. Nevertheless, this kind of preparation is destructive to the sample, especially in the case of excavated textiles similar to the ones discussed here, which are too brittle to withstand such processes without complete destruction. ATR might obviate the need for the removal of a sample, but pressing against a crystal window (e.g. diamond) is necessary, which again can prove to be destructive for extremely sensitive excavated fabrics.
Preliminary experiments
Two sets of preliminary experiments were carried out to compare FTIR  in refectance and transmission modes with ATR, and to test the reproducibility of refectance microspectroscopy.
Flax (Linum usitatissimum), cotton (Gossypium hirsutum), hemp (Cannabis sativa), sparto (Spartium junceum), along with silk (Bombyx mori) and sheep wool (Ovis aries) reference samples were studied using a Perkin-Elmer FTIR Spectrum One instrument with a Universal ATR attachment (diamond window, single bounce at 45°), or an Autoimage microscope. Spectra were acquired over the range of the instrument 4000 to 500 cm−1 . For ATR spectroscopy, 16 scans were accumulated with a spectral resolution of 4  cm−1 . For microspectroscopy 32 scans were accumulated with a resolution of 4  cm−1 . For transmission, individual fbres were removed from the samples and frst fattened at 10 ton pressure between steel plates using a Specac manual hydraulic press. For refectance, the whole specimen was placed on a small gold mirror inserted into the central hole of the microscope slide. In each case the microscope aperture was adjusted so that an area of 70×100 μm was analysed. Grams AI v8© software was used to process the spectra. No baseline correction of the spectra produced by the reference or excavated textiles spectra took place.
The application of FTIR microspectroscopy to the case studies
Based on the preliminary experiments presented previously, FTIR microspectroscopy in refectance mode was applied to mineralised fbre samples from two case studies of excavated textiles. Spectra were acquired over the range of the instrument 4000 to 500 cm−1 . 32 scans were accumulated with a resolution of 4 cm−1 . The fragmentary condition of the textiles ensured that the technique was also non-invasive, since loose fragments were temporarily removed from the fnds, analysed, and subsequently returned .The whole fragment/ sample was placed on a small gold mirror inserted into the central hole of the microscope slide, with the microscope aperture adjusted at 70×100 μm. Taking advantage of the fragmentary condition of the textiles and the non-destructive quality of FTIR microscopy in refectance mode, numerous samples were analysed in a size range from 2×2  mm to 5×5  mm approximately.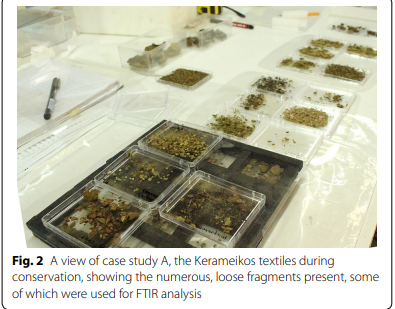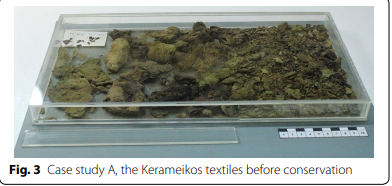 Further analyses applied to the case studies
Guided by the FTIR analysis results, further analyses were applied to the fnds. For case study A, samples that gave the lowest quality spectra, were further examined with high magnifcation microscopy. A PHILIPS XL30 Environmental Scanning Electron Microscope (magnifcation up to 50,000) was used for the analysis at 15 keV, coupled with an X-ray microanalyser (EDAX CDU LEAP Detector, using the eDX© software). In turn, based on the SEM results, standard automated forensic Polymerase Chain Reaction (PCR) analysis was applied directly to the samples. Regarding the non-destructive concerns, it is important to note that some of the same samples that gave poor quality FTIR spectra were analysed by SEM and subsequently PCR. Samples were studied at the SEM without coating but still placed on a double sided carbon coated tape to secure them on the stub. Teir poor mechanical strength did not allow for removal from the tape without destruction (crumbling into powder), making thus SEM partially (if removed) destructive. Nevertheless, selected mounted samples were successfully used for PCR analysis which is anyway destructive.
Conclusion
FTIR microspectroscopy applied in refectance mode could be a truly non-invasive and non-destructive technique, especially when applied to excavated textiles that are in a fragmentary state that have been preserved in a particularly poor condition, as usually is the case with mineralised textiles. Te technique was able to detect bands assigned to characteristic compounds of the organic matter present and preserved within the fbres, as well as bands attributed to the degradation of the organic matter and the efects of mineralisation, and even provided evidence of the latter occurring at diferent degrees.