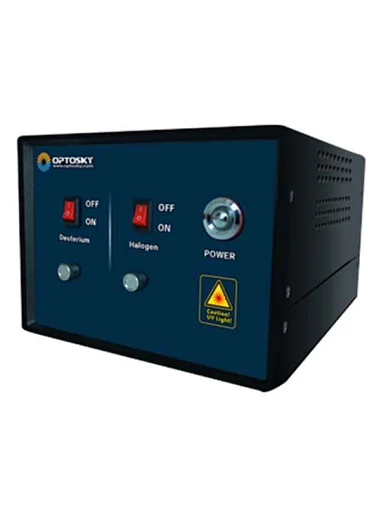 180-2500nm Deuterium, Halogen & Deuterium Halogen Light Source
Description:
ATG1020H light source offers stable, continuous output
from 180-2500 nm. Using a combination of deuterium and halogen lamps, ATG1020H

light source
is ideal for measuring a sample that has multiple features in different spectral regions or for
analyzing a variety of different samples in your lab. All models of the ATG1020H

light source
family include easy-to-replace bulbs, keeping your measurements going with fast lamp changes. ATG1020H

light source
comes with a filter holder for filters up to 25 mm square or 25 mm round in diameter and 4 mm in
thickness.
ATG1020H

light source 

is compatible with cuvette holder to measure absorption and transmission rate.
Shutter control (model-dependent)
 -- allows the deuterium and halogen bulbs to be turned on/off individually.
All range output:180-2500 nm

Including DUV, Visible, infrared;

Excellent performance, P-P stability <0.005%.

Fiber ouput or free space

Long life:

Deuterium: 3000 hours;

Halogen: 5000hours;

Fibers:Promoteanti UV fiber from Optosky
Air & Water Quality Analysis

UV gas analysis

Biotechnology Applications

Food & Beverage Quality Control

Metallurgical Analysis