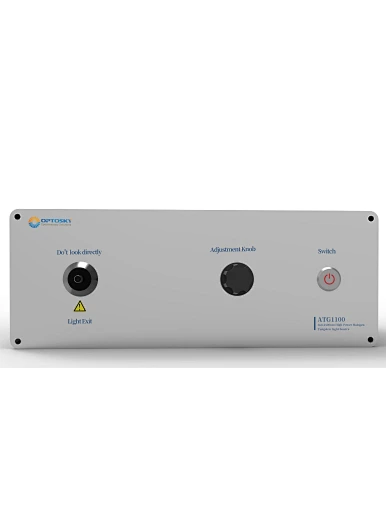 360-2500nm 100W Halogen Tungsten Light Source
ATG1100 Halogen Tungsten light source is a multi-purpose light source, most suitable for VIS-NIR (360nm-2500 nm). The light source has a built-in 100W high-power high-blue halogen lamp and adopts the latest international constant current drive technology to achieve high and stable power output. ATG1100

Halogen Tungsten light source
is output through optical fiber or free space, and the optical interface is SMA905. The light source adopts the spectrum-grade special halogen bulb imported from Germany Osram. It has the characteristics of high light efficiency, small size, easy control, good color temperature and color rendering, long life, low light attenuation, and high output power. It can be widely used Traditional desktop spectrometer and on-site portable miniature spectrometer.
ATG1100

Halogen Tungsten light source 

can adjust the output power through the knob, and the required power has been obtained.
The ATG1100 Halogen Tungsten light source can be equipped with a cuvette holder, which can directly perform the transmission and absorption of the cuvette or filter.
Feature:
Broad spectrum:360~2500nm

Built-in 100W Halogen lamp

Constant current high blue spectrum output;

High-efficiency and low-loss optical

coupling

Long lifetime>2000hrs

High stability, spectral shift ≤0.5% per

hours

Adjustable output light intensity

Good heat dissipation performance to

ensure continuous and stable power

output
Spectroscopic on-line measurements

Absorbance analysis

Reflectivity analysis

Industrial automation

Photochemical testing

Solar cell testing

Transmission/reflectivity analysis