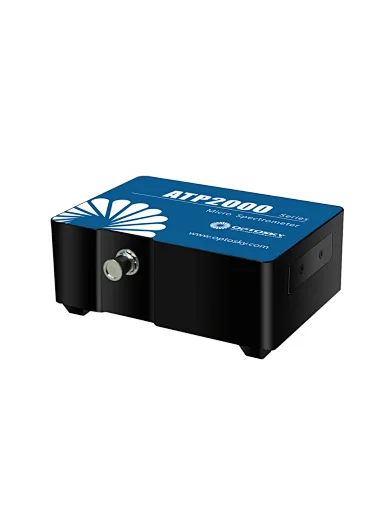 Popular UV-Vis vs USB2000+
Description:
Optosky ATP2000P Spectrometer has a low-noise, high-performance, and cost-effective. The sensor used 2048 pixel CCD responding from 200-1100 nm.
ATP2000P Spectrometer is ideal for fast-detect because of high A/D converter frequency and the high-speed data transmission. In the Spectrometer memory chip is available for some solid programmed algorithms that can improve the performance, such as wavelength calibration coefficient, linearity coefficient. It transfers spectrum to PC through USB 2.0 or RS232 interface. ATP2000P Spectrometer operates with a single +5VDC supply supplied from USB or duo-pin interface.
Features:
Spectrometer spectral region: 200-1000 nm

Spectral resolution: 0.2-5 nm

Optical configuration: crossed Czerny-Turner

Linear low noise CMOS detector with 2048 pixel

Integration times: 0.1ms-256s

Supply voltage: DC 5V (USB Power)

16 bit, 2MHz A/D Converter

Spectrometer Interface: USB2.0 (High speed)

20-pin connector for interfacing to external products
Applications:
LED spectrophotometer

Fluorescence

Biochemical analyzer

Transmittance measurement

Reflectance measurement

​​