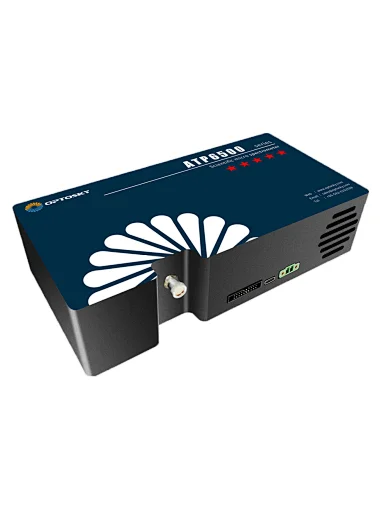 Scientific-Grade Spectrometer
Description:
Optosky ATP6500 Fiber Optic Spectrometer employs ultra-high performance, 1044 x 64 pixel, back-thinned CCD with the widest dynamic range, semiconductor-cooled technology can reduce operating dark current, CCD cooled down to -20ºC under constant temperature. It greatly reduces sensor noise resulting in almost 2 times higher SNR than other competitors. It increases measuring reliability, and measuring result does not changed with temperature.
Built inside the customized ultra-low noise CCD signal processing circuit attributes to quantization noise less than 3 counts that are excel in the industry.
ATP6500 can receive lights via SMA905 connector or free space, and output spectral data via USB2.0/UART.
ATP6500 requires only 5V DC supply, and convenient to integration.
Type

Feature

ATP6500

1024

pixels

,

fixed slit

ATP6500-2

2048

pixels

,

fixed slit

ATP6500CH

1024

pixels

, replaceable slit

ATP6500CH-2

2048

pixels

,

r

eplaceable slit

Features:
Integration time

:

8ms ~ 1.2 hours

Detector:back-thinned CCD, cooled down to -20 ℃

CCD parameters:10

2

4×64 pixels

 or

2048

 x

128

Ultra-low noise CCD signal processing circuit

Quantum efficiency

 

>

 

90%

Ultra-high dynamic range

 Ultra high signal-to-noise ratio

Spectral range: 18

0

-1100nm(depend on spectral range, slit size)

Spectral resolution: 0.01-4nm(depend on spectral range, slit size)

Optical path:crossed Czerny-Turner (C-T)

power supply:DC 5V±10% @ <3A

18 bit, 570KHz A/D Converter

Entrance connector:SMA905 connector or free space

Output interface: high speed USB2.0 or UART

20 pins, dual rows programmable extension connector

Application:
Scientific research

Weak

(

Biological

)

 fluorescence measurement

Transmittance measurement,reflectance measurement

Raman spectrometer

Microscale, fast spectrophotometer