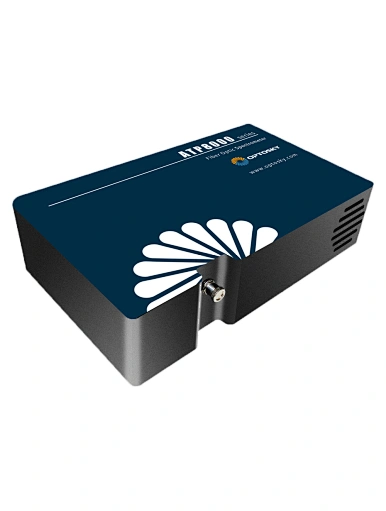 Cooled -20℃ NIR512-2.5 Spectrometer
Description:
ATP8000-5-26 is self-developed by Optosky to replace NIR Quest aiming features high performance cost less,  900-2600nm NIR, Near Infrared spectrometer with 512 pixels, InGaAs cooled down to -20ºC, resulting in low noise, 2 times higher SNR, better reliability, measuring results do not change with ambient temperatures.
Allow for custom or preconfigured wavelength range, resolution by changing grating lines or slit size. Three common standard maxium wavelength are ATP8000-5-17 900-1700 nm, ATP8000-5-21 900-2100 nm , ATP8000-5-26 900-2600 nm.
Crossed C-T optical bench design the higher sensitivity improve measure accuracy and detect tiny change spectrum, the optimized optical resolution level is superior for NIR spectrometer manufacturing.
ATP8600 covers 900-2500nm NIR spectrometer developed by Optosky for customers have less budget NIR requirements.

It uses cooled InGaAs detector with 512 pixels, Cooled down to -20

ºC.

Compact size fit to a wide system integration in industrial measurement.

 SMA905 fiber input or free-space 

USB powered and 5V DC UART power

custom configured wavelength range and optical resolutioon can satisfy different requirements

Free SDK package for OEM customers integration

Features:
Advanced NIR spectrometer craftsmanship

Widest NIR range: 900-2600 nm 

Extendable range from UV VIS to Mid IR: 200-5000 nm

Free NIR spectrometer software

Global leading NIR spectrometer technology from Manufacturer with 20 year

Custom or preconfigured wavelength range and optical resolution
Application: 
Chemical composition of Plastics, Polymers

Waste water detection

Water, Protein, Fat contents of grains

Carbonization characterization analysis during Paper making and pulp processing

Online monitoring Chinese herb production

Solar cell detection

QA/QC inspection of pharmaceutical ingredients

Soils component analysis

NIR laser characterization

Hydrocarbon analysis in oil and gas