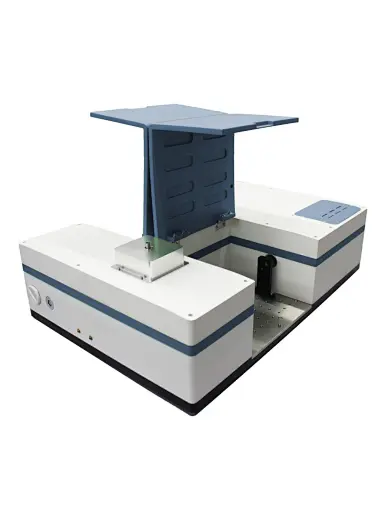 Dual-Compartment FTIR Spectrometer
ATP8900-2-C benchtop FTIR spectrometer designed for experimenters has multiple measuring tasks, with an optional configure automatic switching of FTIR sources and detectors to meet up to spectral resolution of better than 1cm-1 and wide spectral range 8000-350cm1, It can be compatible with Pike, Specac and Harrick accessories.
Description:
ATP8900-2-C FTIR spectrometer with two compartments for two channels independent operation,In-situ diffuse reflection and in-situ transmission cell synchronization, no necessary to replace attachments frequently.
Configured to room temperature detector and low temperature LN MCT detector sychronization with a max. scan rate 60K
ATP8900-2-CFTIR spectrometer with compact and rigid design to fit to multi-mode measurement of transmission, ATR , diffuse reflection, specular reflection. Dual sample compartment requires no frequent replacement can improve efficiency. It's widely applied to measure solid, liquid, and gas in the third party lab and in-situ characteristics of many categories of catalysts.

Features:
      •  2 channels & 2 sample compartments for independent operation.
 
      • Easy to auto-switch channels on the software.
 
      • Auto adjust 6 scan speed with 2.5K-3.0K .
 
      • Software can auto-transfer in K-M format for convenient comparison with diffuse reflection spectra.
 
      • Save or import background spectra for comparing, reminder valid time function.
 
      • Sample compartment is spacious for various bigger IR attachment.
 
      • Optical path in good collimated, no necessary to replace large attachments with 2 compartment.
 
      • ZnSe beam splitter with little maintenancefor optional.
 
Chemical
R
eaction
K
inetics of
C
atalysts
     • Online catalysts at high temperature, high pressure or vacuum catalytic performance
 
      • Catalytic reaction mechanics and process
 
      • Catalytic surface absorption activities and performances
 
      • Catalytic characteristics of Acid/Alkali
 
      • New catalysts experiment database
 
      • Ingredients identification and structure analysis of catalysts sample
 

Multi-tasks measurements
Experimenters are always receive various samples for measurement, such as solid, liquid and gas and in order to make a different analysis, say transmission modules, ATR attachments. When it's necessary to replace the different FTIR attachments, ATP8900-2-C can customize immovable attachments, auto-switch optical path at accuracy.
      • Heating in-situ transmission cell

      • High temperature/pressure in-situ diffuse reflection cell

      • High temperature/vacuum in-situ diffuse reflection cell

      • Low temperature/vacuum in-situ diffuse reflection cell

      • Positivetransitivity  (paralleled incident light)

      • Diffusetransmission  (integrating sphere attachments)

      • Reflectivity measure (reflective angle of 10°, 30°, 45°, 80°, and changed degree etc)

      • ATR measurement (optional crystals: diamond, ZnSe, Ge)

      • Solid, liquid, gas sample transmission characteristics
 
Pharm & Life Science
      • Protein conformation and quantification
 
      • Quantification for Active Pharmaceutical Ingredients and excipient in water solution
 
Microorganism Identification
      • Characterization for the volatility and stability of medicine combined with TGA module
 
Polymer and Chemical Products
      • Detection and Characterization for the volatility and decomposition combined with TGA module
 
      • Monitoring reaction process in lab combined with MIR fiber probe module
 
Surface analysis
      • Detection and Characterization for the Ultra-Thin film and mono-layer film
 
      • Characterization for the erosion process
 
Material Science
      • Detection of Emissivity of building materials
 
      • Evaluation for Optical material such as Infrared windows and mirrors
 
Semi-conductor Silicon Industry
      • Different non-metal film measure
 
      • Quality control medium carbon / oxygen impurity identification
 
Soil Analysis
      • Soil fertility and organic evaluation
 
      • Soil properties research