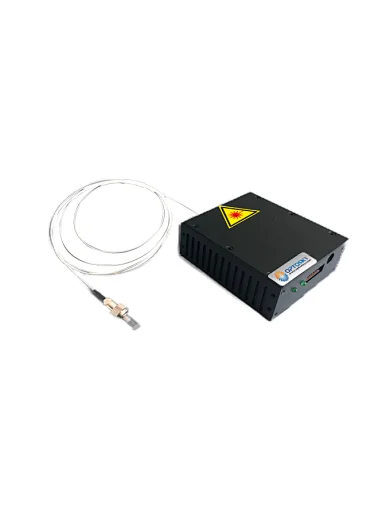 Narrow Line Laser Module
Optosky offers high power lasers for Raman excitation wavelengths of 532, 638, 785 and 1064 nm. These multimode diode lasers produce narrow spectral lines, have integrated laser drivers, and are thermoelectrically cooled for optimum performance.
Description:
ATR20202 series narrow linewidth Raman laser, built-in high stability laser, supplemented by TEC cooling, constant temperature management of laser tube, to ensure the stability of laser wavelength and power output. The ATR20202 outputs an ultra-pure monochromatic laser with a line-width <0.08nm, which is very suitable for Raman spectrometers. ATR20202 adopts UART interface, accepts the command from the system, and according to the command turns on or off the laser, or outputs the laser with the specified power. All actions can be controlled through the UART interface.
ATR20202 only needs 5V power supply, the current and laser power of each model will be slightly different.
Model

Laser Wavelength

Maximum laser output power

ATR20202

785nm

600mW

ATR20202-532

532nm±0.5nm

100mW

ATR20202-638

638

nm±0.5nm

100mW

ATR20202-830

830nm±0.5nm

600mW

ATR20202-1064

1064nm±0.5nm

600mW
Features:
Laser wavelength: 532, 638, 785, 830, 1064nm optional

High output power, output power can be set

Fiber output, flexible integration

Laser Linewidth (FWHM): < 0.08 nm l

Output Fiber: 105/125μm, 0.22NA

Optical interface: FC/PC l

Electrical interface: UART l

+5V/DC power supply
Applications:
Raman spectrometer

Bio-medical

Optical Fiber Sensing