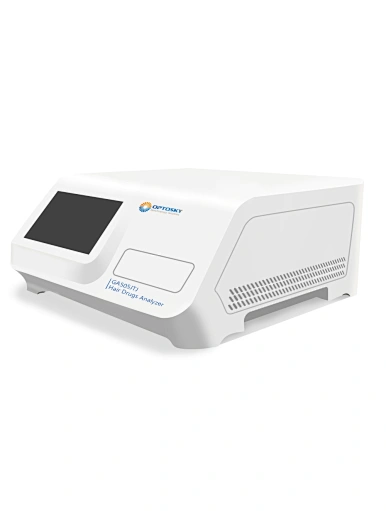 Hair Drugs Analyzer -Colloidal Gold
Portable Multi Parameter Hair Drugs Analyzer (Colloidal Gold)-GA503JTJ
Description
Keratin is the main component of human hair, about 97%. When a person takes drugs, the narcotics will be involved in the body's metabolism, and the metabolites will enter the keratin in the new hair. For hair that has already grown, narcotics metabolites can also enter the body through sweat glands or sebum secretion. The drug component in the urine can not be detected in 5~10 days after taking drugs, but the hair will not necessarily fall off for months or even years, faithfully recording what has happened in the body.
GA503JTJ portable multi parameter hair drugs analyzer, use the principle of colloidal gold immunochromatography, can easily generate the test results of the drug concentration in the sample within 10 minutes, can quickly and accurately detect the results of morphine, methamphetamine and ketamine to meet the needs of qualitative analysis.
GA503JTJ can choose single or triple test card, greatly improve the detection efficiency, It is equipped with standard 4G, thermal paper printing module and ID card identification module, which is suitable for the preliminary screening of drug users' hair in the laboratory by drug control departments. It can also be used for the on-site law enforcement by public security police when they go out to enter the identity information of drug users on the spot, and directly print the results as the basis for on-site inspection and disposal by public security drug control police.

Feature
Multi-channel detection: single or triple test card can be detected.
Detectable items: Morphine, crystal meth, ketamine, etc.
Intelligent recognition: Intelligent identification of control lines and test lines.
Spectrum analyzer: System has a built-in standard graph curve for the detection items, which can also be added by the user.
Rapid test: The determination of drug content in 100 hair samples of suspected persons can be completed in 1 hour.
Auto-test: Using program control motor, automatic card entry or return, simple and convenient operation.
Storage convenience: Hair can be stored at room temperature, while urine, blood and other samples generally need to be cryopreserved
Carry easily: light weight, easy to carry, very suitable for mobile use.
Intelligent System: Android operating system, intelligent data storage, processing, analysis, convenient data query and printing.
Built-in operation video: Learn in one minute, speed measure in ten seconds.

Application
Public security anti-drug

Driving school drug testing