How to quickly detect drugs by infrared Raman spectroscopy?
How to quickly detect drugs by infrared Raman spectroscopy?
2020-11-27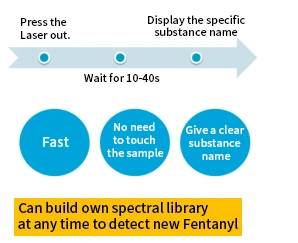 What are the current methods of drug testing?
1.Chemical detection method

Chemical detection method has the characteristics of cheap reagent, simple operation, fast reaction speed, intuitive conclusion, etc., and is often used for field rapid detection. Because chemical detection methods are not easy to detect drugs with low levels and similar chemical structures, and the results may not be reliable when impurities are removed thoroughly in drugs, the detection results of chemical methods cannot be used directly as positive evidence in court.
2. Temperament coupler

Gas chromatography mass spectrometry (GC-MS) is a "gold standard" for controlled drugs. The samples are collected from the site and sent to the judicial laboratory for testing. They often require scheduling and process, which takes a long time to influence the trial and judicial judgment of cases, and the laboratory analyzes samples for a long time, individually. The analysis of samples usually takes 15-60 minutes, and the results cannot be given on-site inspection, which affects the anti-drug efficiency.
3. Infrared Raman Spectrometry Rapid Detector

  Common drugs have quite rich Raman characteristic displacement peaks. Raman spectroscopy analysis has the characteristics of non-destructive (non-contact, non-destructive), fast, small, and non-preparable, and can quickly identify drugs hidden in various powders and solutions. It is an effective way to quickly identify the site.
 Why choose Optosky ATR6600 ,ATR8000,ATR3000? 
The national Raman standard drafting unit .The Ultramanian drug fentanyl rapid detection program, adopts the world's leading infrared Raman technology to complete rapid and accurate testing in seconds.

In addition to being used in laboratory drug detection, hand-held, portable and other small-scale Raman spectroscopy detectors are also widely used for field drug detection. In the process of drug testing at the scene, hand-held Raman spectrometer can be called anti-drug " artifacts", which is convenient to carry. At the same time, the accurate and fast characteristics are also favored by impending inspectors.
Based on various fields of public security drug detection, Optosky  has also developed instruments for various application scenarios to create a series of "shrill weapons" for China's drug control industry and high-efficiency anti-drug. You should know these artifacts!