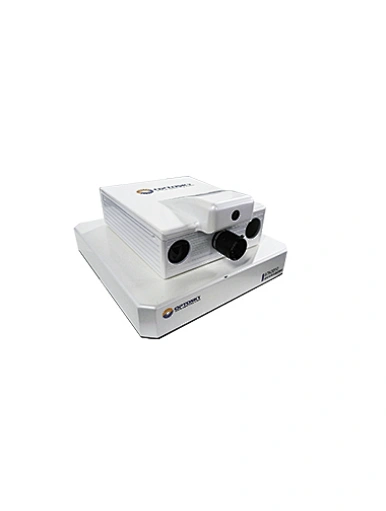 Mobile Hyperspec Imager
Hyperspectral imaging systems are a powerful tool for non-contact or remote sensing of molecular chemical information of material quality or composition.
Description
ATH3010-17 is a miniature hyperspectral imager with small size and light weight.
ATH3010-17 is featured  with high spatial resolution, high spectral resolution and wide imaging range. ATH3010-17 has a built-in stable and blue-light source, and the power is adjustable, so there is no need for additonal supplementary light sources.
ATH3010-17 consists of a hyperspectral imager and a fully automatic motorized rotary atage, in which the hyperspectral instrument is based on high-efficiency transmission grating technology and has good aberration characteristics.
ATH3010-17 can be installed on a tripod or a apole, and add automatic calibration devices, weather monitoring sensors, etc, so as to achieve long and large-scale scanning upon the target.
Model

spectral




channels

spatial




channels

ATH3010-17-17

512

640

ATH3010-17-17H

1024

1280


Features
Spectral Range:900-1700nm

Spectral Resolution:3.5 nm

High Sensitivity SWIR Hyperspectral Imager

13-megapixel visible light camera with integrated spectrum

High-performance image

sensor,

high performance-to-price ratio

Blue light and infrared lighting source,power adjustable

Optical design with high imaging quality on the entire target surface, the spot diameter is less than 0.5 pixels

The lens interface is standard C-Mount, and the lens exchangeable

High-precision electric rotary table


Application
Pest Monitoring, Nutrient Monitoring, Disaster Assessment, Crop Yield Estimation, etc.