New detection method-wide application of Raman spectrometer.
New detection method-wide application of Raman spectrometer.
2020-12-30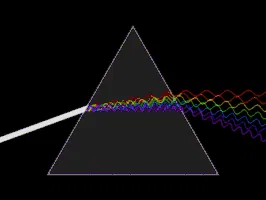 What is a spectrum?
  The light seen in people's daily life is compound light composed of many colors. The light that appears through the prism becomes monochromatic light of different colors. The pattern formed by these monochromatic light at different wavelengths (or frequency) sizes is the spectrum.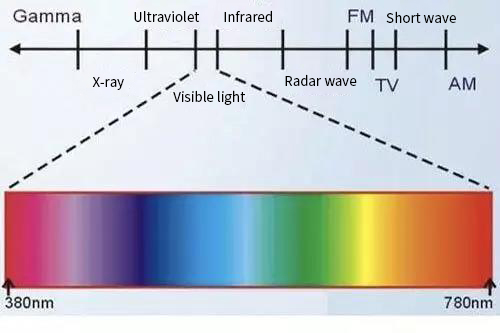 How can invisible light be "seen" by the human eye?
   Spectral analysis is an important way for human beings to recognize the world with the help of light. Different elements and their compounds on earth have their own unique spectral characteristics, so the spectrum is regarded as a fingerprint for distinguishing matter. If the naked eye can see the shape, size and other information of matter, spectral analysis can obtain the composition information of the substance and help us see the essence of things.
  Spectrometer is a scientific instrument that decomposes complex optical composition into spectral lines. It is composed of a prism or diffraction grating. Through spectrometer analysis of the spectra of different substances, many important information can be detected, such as surface information on unknown planets, the quality of steel and gemstones, explosive characteristics, etc.
   
What are the application directions of spectrometers?
   Including food and pharmaceutical testing, biochemical testing, environmental monitoring, lighting detection, petrochemical industry, aerospace military industry, etc. According to the requirements of the detection target, the most suitable spectral instrument scheme can be accurately defined technically. For example, in some cases, high-precision large and medium-sized spectrometers are suitable for portable or ultra-micro spectrometers; some samples require high spectral resolution, while others require high spectral repeatability.
How can spectrometers help people detect?
Take high-end oil products such as olive oil and walnut oil sold on the market as an example. Because these oils are rich in nutritional value, the corresponding prices are also more expensive than ordinary cooking oils, so some criminals mix other cheap oil seeds to deceive consumers and make profits. How to detect whether oil is adulterated without sensory experiences such as human vision, smell and taste? A set of fast and effective evaluation standards are established by near-infrared spectroscopy. The researchers carried out spectral scanning of major olive oil categories and established a standard spectral database based on collected data. On this basis, they developed a set of chemometric analysis algorithms and guidelines for qualitative identification or quantitative detection. With such a criterion, subsequent oil detection can be compared to identify authenticity.
What are the advantages of the Optosky ATR8300 series products?
   ATR8300 is equipped with tailor-made objective, and a laser spot on the sample becomes very close to the diffraction limit, then focal information can be displayed accurate and intuitive on the screen with the 3-megapixel camera. This configuration improves Raman spectral quality for overcoming the limitations of Raman systems where the focal plane for Raman signal collection is slightly above or below the imaging plane.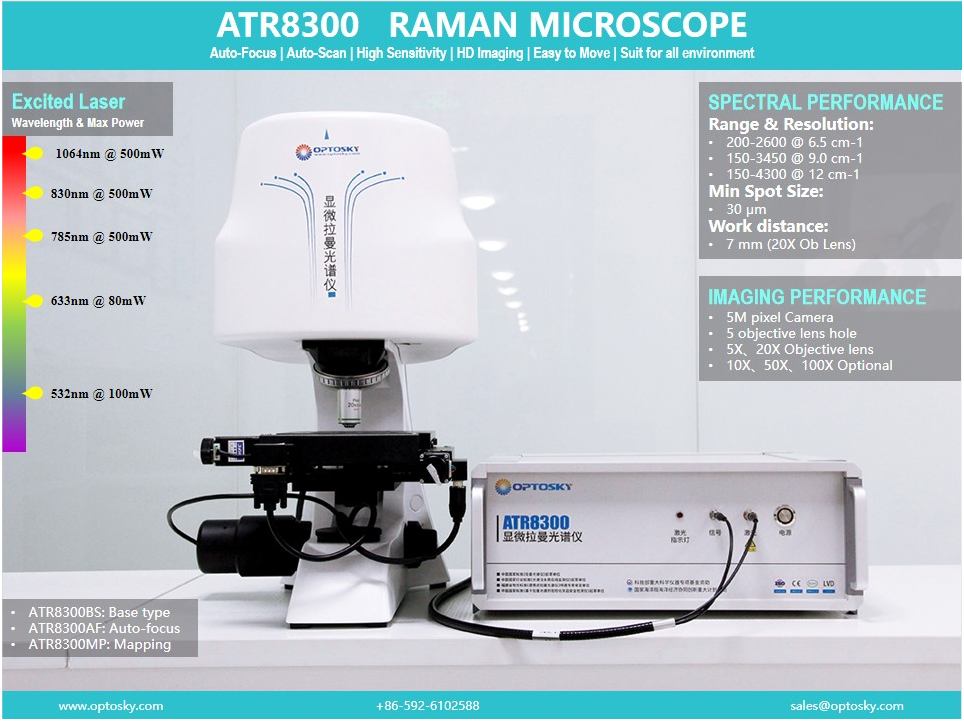 Why choose Optosky ATR8300 ?
World pioneer Raman microscope mapping manufacturer;
Optosky is a professional manufacturer with 20-Year experience in developing spectrometer;
We are China National Standards drafter of Raman spectrometer;
One of the lowest price manufacturer with industry leading warranty guarantee and technical support;
Award-winner Raman instrument.