What does All-Auto & High Throughput Portable Raman Analyzer tell you?
What does All-Auto & High Throughput Portable Raman Analyzer tell you?
2020-11-06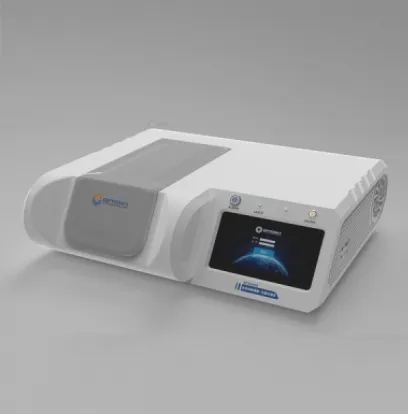 What is All-Auto & High Thoughput Portable Raman Analyer?
ATR8000 Full-Auto & High Throughput Portable Raman Analyzer is a all-auto detection instrument for improving detection throughput, reducing workload and protecting the health of testing personnel.
What are some of its parameters?
Excitation Wavelength : 785nm
Laser Power : 500mW
Wavelength Range: 200~3500
Resolution: 3~8cm-1
Central wavelength: 785±0.5nm
HBW: 0.08nm
Maximum power ≥500mW
Power stability σ/μ<±0.2%
Detector type: 200-1100nm dynamic range: 50000:1
Detector model: TE-cooled
SNR :>3000:1
What are its advantages ?
Test 100 samples at the same time;

All-Auto detection;

High sensitivity;

Wavelength customized:532nm, 633nm, 785nm, 1064nm;

Double wavelengths customized: 785+1064nm, 532+1064nm, 532+633nm, 633+1064nm;

It is easy for manipulator ;

High reliability ;

It can auto-identify, and auto-skip without sample ;

Intelligent and intuitive software supports operation.
What are its application areas?
University lab, scientific research institution ;

Nanoparticles & New materials;

Biological science;

Forensic Identificaiton;

Material science;

Medical analysis of immunology;

Agriculture & Food of identification;

Water pollution analysis;

Gem & Inorganic mineral of immunology;

Environment science.
ATR8000 software uses two-dimensional platform of high-precision & all-auto scanning technique. And it runs automatically at original manual operation with the step of Raman test, calculating the result, judgment, display & printing results and so on.
ATR8000 uses the customized Android with high security. It has thermal printer, bar code scanner, USB interface, WIFI & 4G with customized which can directly print or submit to competent authorities by internet for testing results.