18 mutated COVID-19 were found in a woman in Russia!!! Can Raman spectroscopy help the rapid detection of COVID-19?
OPTOSKY
BLOG
Blogs
Raman Blog
18 mutated COVID-19 were found in a woman in Russia!!! Can Raman spectroscopy help the rapid detection of COVID-19?
18 mutated COVID-19 were found in a woman in Russia!!! Can Raman spectroscopy help the rapid detection of COVID-19?
2021-01-14
    According to a report by the Russian "Izvestia" on the 12th, Russian scholars found 18 mutated new coronaviruses in a woman with low immunity. Some of the variants are the same as the new mutated viruses that appeared in the UK, and two are carried by Danish mink.  The mutated new coronavirus is consistent with  Konstantin Krutovsky, a professor at the Department of Genomics and Bioinformatics at Siberian Federal University, pointed out that this research has confirmed for the first time the fact that "the long-term existence of a new coronavirus in an organism will cause a large number of mutations.  At the same time, he pointed out that it is too early to determine the spread of the "Russian" strain because only this case has occurred.
    At present, the detection of the novel coronavirus (SARS-CoV-2) is mainly based on the real-time fluorescent polymerase chain reaction (RT-PCR) nucleic acid detection method, and the on-board detection and result analysis takes about 5 hours. 
   The reported rapid detection method is mainly based on immunochromatographic test paper, which uses colloidal gold to label biological macromolecules to make a test paper that can detect viral antigens or IgM antibodies in the patient's blood. This method can shorten the detection time to about 20 minutes, but the accuracy and sensitivity are limited, and the false positive rate is high.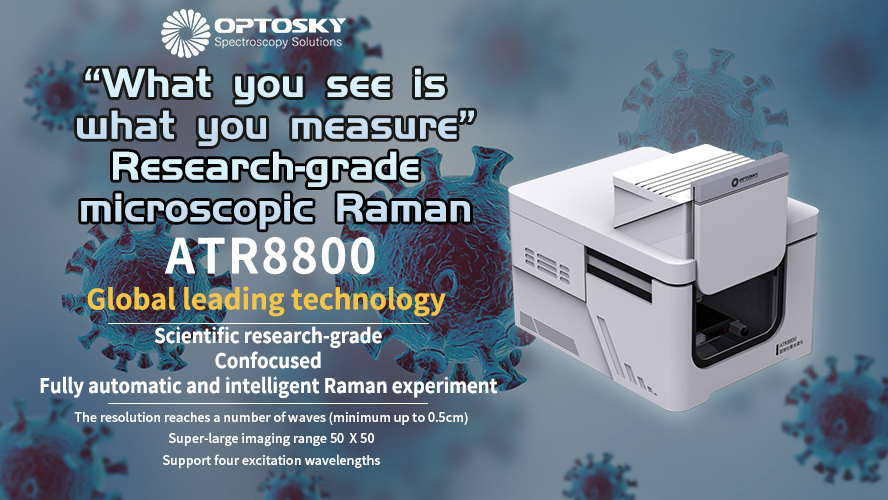 What is Surface Enhanced Raman Spectroscopy (SERS) technology?
   Surface Enhanced Raman Spectroscopy (SERS) technology is an emerging surface spectroscopy analysis technology, which can amplify the Raman signal of the analyte by more than one million times. This amplification is mainly derived from the enhancement of the local electromagnetic field caused by the local surface plasmon resonance of the metal nanostructure.
Advantages of SERS technology:
   SERS technology has many advantages such as high sensitivity, high fingerprint recognition, high resolution, non-destructive, fast, etc., which is very suitable for research fields based on molecular recognition and detection.  At present, SERS technology has been successfully used at home and abroad to achieve direct non-label detection of dengue fever virus (DENV), influenza virus H1N1, etc., indicating that SERS technology can become a very promising virus detection method.
   The spike protein (S protein) is a key protein for the new coronavirus to infect the human body, so the S protein can be used as one of the markers for the detection of the new coronavirus. 
Recently, the Laser Fusion Research Center of the Chinese Academy of Engineering Physics used SERS technology to detect trace amounts of the new coronavirus S protein in human saliva.

   The experimental results show that after mixing an equal volume of S protein with a concentration of 10*10﹣9 g/mL into human saliva, the Raman spectrum of 10 S protein can be clearly distinguished from the SERS Raman spectrum. SERS technology can quickly and accurately identify trace amounts of SARS-CoV-2 virus S protein in human saliva, and the detection limit can be as low as 10-9 g/mL.  This result laid a solid foundation for the subsequent application of SERS technology in the rapid detection of SARS-CoV-2 virus.
Features:
Fully automatic Raman imaging experiment, automatic focus and automatic scanning.

Ultra-large imaging (50x50mm), automatic image splicing.

Support up to four excitation wavelengths Raman.

Long focal length high-resolution design.

Ultra-field imaging function (optional).

Ultra-high sensitivity, signal-to-noise ratio >6000:1.

The maximum time of points can reach 1.3 hours.

True focus ensures more accurate Raman images.

Ultra-high spatial resolution.

Unique software control switching optical path.

Locate quickly and quickly find the focus position.

High-quality objective lens, spot micron class.

5 million cameras with clear and accurate images

USB 2.0 connector to the computer.
Application:
Nanoparticles and new materials.

Research institute research.

Biological sciences.

Forensic expertise.

Materials science.

Medical immunoassay.

Agricultural and food identification.