Residue of Malachite Green in Food was Identified by SERS
Residue of Malachite Green in Food was Identified by SERS
author: Christ
2022-01-06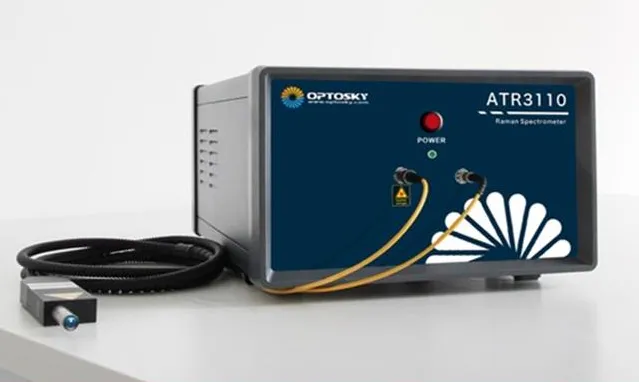 Residue of Malachite Green in Food was Identified by SERS
    Malachite green (MG) is one of the important synthetic dyes that has been widely used in dyeing industries for more than 50 years. In addition, it is typically used in consumable products due to its potent antifungal, antibacterial, and antiparasitic activities. Unfortunately, MG can cause teratogenic, carcinogenic, and mutagenic effects against fungal and parasitic infections in humans and animals . Owing to these serious side effects, MG is defined as an illegal fungicide, and its use is restricted or prohibited worldwide. Furthermore, aromatic dyes also have been employed for crime tracking via latent fingerprint identification. Thus far, conventional analytical techniques have been successfully employed for the sensitive detection of MG, including
high-performance liquid chromatography, liquid chromatography
–
tandem mass spectrometry, enzyme-linked immunosorbent assay , and fluorescence spectroscopy. However, these techniques usually require a complicated pretreatment process and expensive equipment, and they are time consuming, thereby limiting their applications. Therefore, owing to the practicality and efficiency, surface-swabbing contamination analysis for monitoring the MG residues in fruits and fingerprints demonstrates promise.
 Principles:
    Surface-enhanced Raman spectroscopy (SERS) is recognized as one of the most promising and versatile analytical tools as it is a 
nondestructive, a rapid, and an ultra-sensitive technique, and it permits real-time analysis and provides molecular information . In the past decades, SERS has been widely applied in environmental monitoring, food safety and forensic science . According to the SERS enhancement mechanism, silver is considered as the best SERS material with a strong signal response . Furthermore, fabricating a suitable Ag-based SERS substrate is a key factor to improve the SERS performance. In most cases, silicon and glass sheets
are selected as solid supports for various Ag nanostructures; however, their rigid and brittle properties may be inconvenient for actual applications. By contrast, flexible SERS substrates are more favorable for the detection of surfacecontamination residues, where the residues can be directly collected by swabbing an irregular or a rough surface with minimal invasion or non-invasion.
Raman Spectroscopy Solotion:
    An Optosky self-developed portable Raman spectrometer
(ATR3110, Optosky (Xiamen
) Photonics Inc) was used for portable applications: Excitation wavelength of 785 nm and laser power of 10 mW. The acquisition time was 5 s with one accumulation.
    ATR3110 employs ultra-high sensitivity FFT-CCD, high efficient Raman probe, power reach up to 600mW ultra narrow line width laser, combined by high
reliable optical design, circuit design, and measure result, high SNR, and fit well to field work. The obvious reliability ensures detect result, excellent
low stray condition can apply Raman instrument to wider industries, especially biochemical analyzer, food safety, pharmaceutical engineering etc. This
multi-function software support Raman analysis process.
Test Result:
    Based on the above properties of the Ag NWs@PDMS film, MG was selected as the model analyte to investigate SERS applications of the film. A series of aqueous MG solutions from 10–3 to 10–8 M were detected on the basis of the Ag NWs@PDMS film (Fig. 5A). A linear curve is obtained for the plot of the peak intensity at 1622 cm− 1 (I) against the logarithm of the MG concentration (lg (c)) in the range from 0.5 to 1000 μM (Fig. 5B). The linear equation can be described as follows: I = 107,814.44 + 17,013.47 × lg(c) (R2 = 0.98). The limit of detection (LOD) reaches up to 10 nM based on S/N = 3, which is superior to, or compatible with, those obtained for conventional methods such as capillary electrophoresis, fluorescence spectroscopy, and SERS for MG sensing (Table S1).
    In addition, the SERS specificity was discussed. Various inorganic and organic interfering species (0.1 mM for each) were added into a 0.1 mM MG solution. Comparison of the characteristic peak intensities at 1622 cm− 1 before and after the addition of these interfering species(Figs. 5C and S15) reveals controlled in fluctuations of 15%. Considering the coexistence of other dyes, three dyes (viz. CV, MB, and carmine, respectively) with equal concentrations (10 μM) were added in the control solution (only MG). No significant shifts of the peak at 1622 cm− 1 are observed owing to the fingerprint characteristics of MG molecules (Fig. 5D).
    The feasibility of the quantitative MG detection in fruit (i.e., apple and pear) juice was investigated by the standard addition method. Fig. S16 shows the corresponding SERS spectra of the juice spiked with MG. Table 1 lists the obtained results: Satisfactory recoveries from 95.00% to 105.78% are obtained, in addition to low RSD values of less than 10%.
    The SERS platform based on Ag NWs@PDMS can be also used for the detection of other dyes like CV, MB and rhodamine 6G (R6G).Even for a low concentration, good band resolution and a high Raman signal could be clearly obtained (Fig. S17).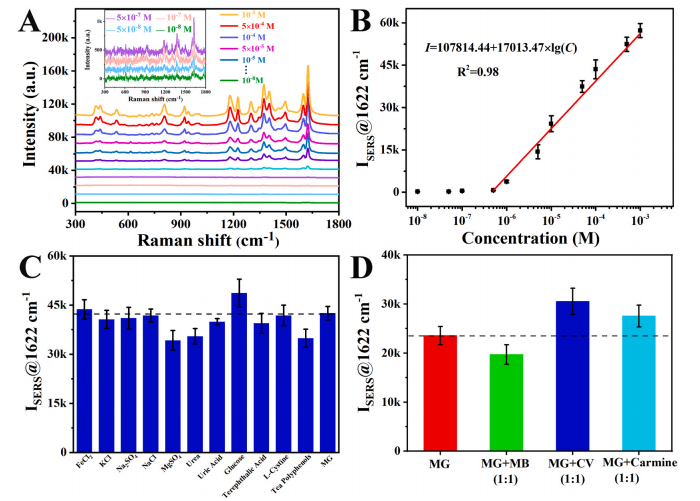 Fig. 5. (A) SERS spectra of MG with different concentrations on Ag NWs@PDMS. (B) Plot of peak intensities against the MG concentration. (C) SERS intensities of MG in the presence of interfering reagents, with each of their concentrations being 0.1 mM. (D) SERS intensities of MG in the presence of CV, MB, and carmine, with each of their concentrations being 10 μM. All error bars indicate the standard deviation for six measurements.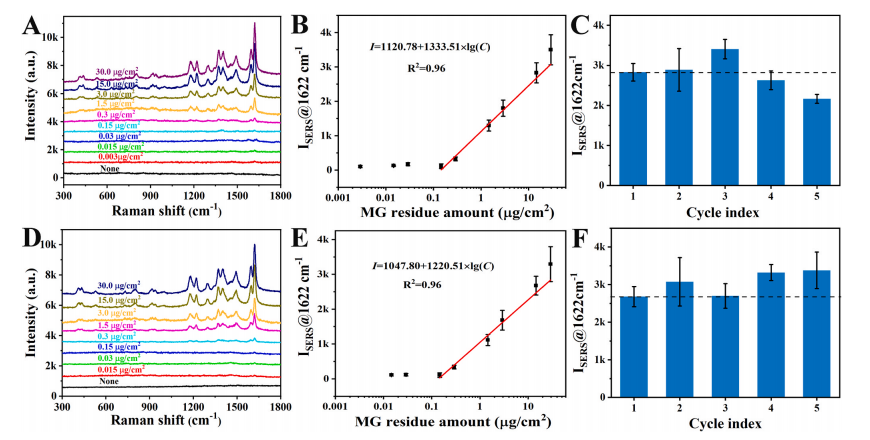 Fig. 6. SERS spectra of MG with different amounts of residue by surface swabbing from apple (A) and pear (D) surfaces. (B) and (E) show their relationship plots between the peak intensities and MG residue amount. Reusability of the film for the surface swabbing on apple (C) and pear (F) in five
successive cycles. Error bars indicate the standard deviation for six measurements.
Conclusion:
    A flexible, durable, and recyclable SERS substrate was designed by embedding Ag NWs into a PDMS film. SERS measurements reveal that the film exhibits not only excellent basic SERS performance such as high SERS activity, uniformity, long-term stability, and recyclability but also good application potential under less favorable conditions. In view of these advantages, the AgNWs@PDMS substrate successfully served as a multifunctional detection platform. One of the platform involved the detection of MG residue in juices, with a wide linear range of 0.5
–
1000
μ
M, a low LOD of 10 nM, and good selectivity. The other platform involved the swabbing detection of the MG residue on fruits by recycling. The third platform included portable SERS detection in fingerprints. This flexible, durable, recyclable, and on-site swabbing SERS detection platform is thought to demonstrate promise in food safety and forensic science, especially in portable SERS analytical applications with high efficiency.