Rapid and Sensitive Discrimination Among Carbapenem Resistant and Susceptible E. coli Strains Using SERS Combined With Chemometric Tools
OPTOSKY
BLOG
Blogs
Raman Blog
Rapid and Sensitive Discrimination Among Carbapenem Resistant and Susceptible E. coli Strains Using SERS Combined With Chemometric Tools
Rapid and Sensitive Discrimination Among Carbapenem Resistant and Susceptible E. coli Strains Using SERS Combined With Chemometric Tools
author: Christ
2022-01-06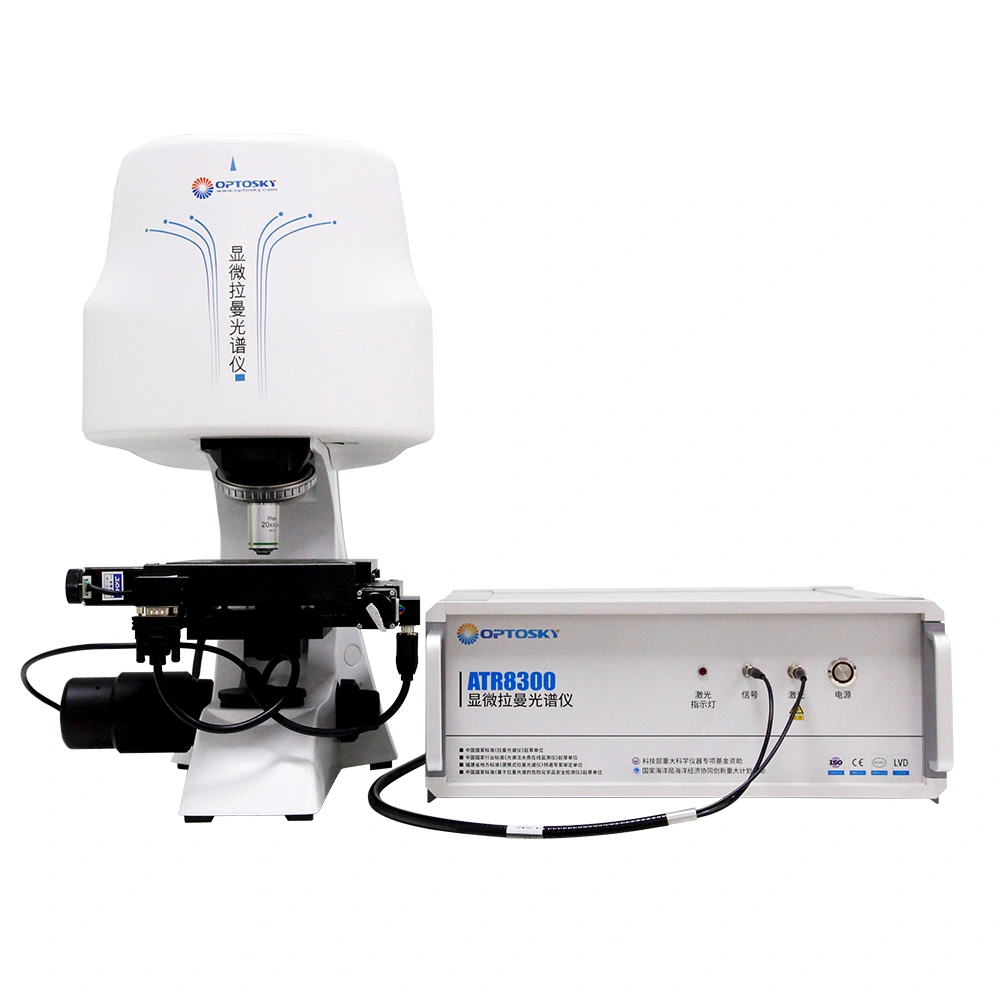 Antimicrobial resistance (AMR) poses a serious threat to global public health causing a serious impact on morbidity and mortality and it has become a public health priority for countries all over the world. The irrational use of antimicrobial agents in human and animal husbandry has led to a rapid increase in bacterial resistance towards antimicrobial drugs. Antibiotic resistance is responsible for 1.8 million deaths each year . Carbapenems are one of the most important groups of antimicrobials and are considered as the last line of drugs for the treatment of serious
infections caused by multi-drug-resistant (MDR) Enterobacteriaceae .
    The rapid and appropriate identification of carbapenem resistant E. coli is very important to choose appropriate antibiotic treatment against infections.The problems associated with Raman scattering have been overcome by the surface-enhanced Raman spectroscopy (SERS) in which the sample molecules are attached/kept in proximity to any roughened surface like metallic nanostructures that enhance the Raman signal. The portability, relatively low cost, simple sample preparation and high sensitivity make SERS the most promising tool for the accurate and rapid identification of antibiotic-resistant bacteria. The observed major
Raman signals of bacteria are credited to the organism's entire structure such as carbohydrates, lipids, proteins and nucleic acids
.
Principles:
    SERS was employed to differentiate different strains of carbapenem resistant and susceptible E. coli by using silver nanoparticles (Ag NPs) as a SERS substrate. For this purpose, four strains of carbapenem resistant and three strains of carbapenem susceptible E. coli were analyzed by comparing their SERS spectral signatures. Furthermore, multivariate data analysis techniques including Principal Component Analysis (PCA), Hierarchical Cluster Analysis (HCA) and Partial Least Squares-Discriminant Analysis (PLS-DA) were performed over the spectral range of 400‒1800 cm‒1(fingerprint region) for the identification and differentiation of different E. coli strains.
Raman Spectroscopy Solutions:
    Normal Raman (NR) and SERS spectra were collected by using Raman Microscope Spectrometer (
ATR8300BS
) from
Optosky
(Xiamen)
 equipped with a 785 nm diode laser with a spectral resolution of approximately 9 cm‒1. The diode laser of 785 nm was used as an excitation source for acquiring spectra.

Results:
    The SERS spectral features associated with resistant development against carbapenem antibiotics
were separated by comparing each spectrum of susceptible strains with each resistant strain. PCA and HCA were found effective for the qualitative differentiation of all the strains analysed.PLSDA successfully discriminated the carbapenem resistant and susceptible E. coli pellets on the strain level with 99.8 % sensitivity, 100 % specificity, 100 % accuracy and 86 % area under receiver operating characteristic (AUROC) curve.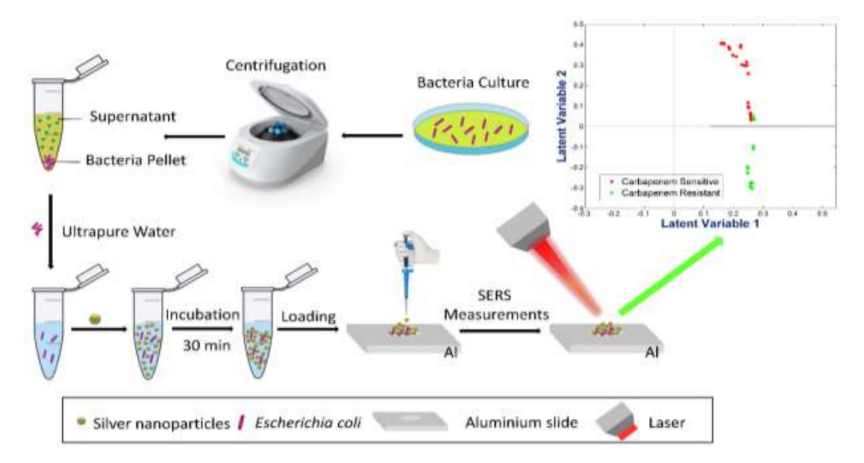 Fig. 1. The schematic diagram for the E. coli strains preparation and rapid SERS detection.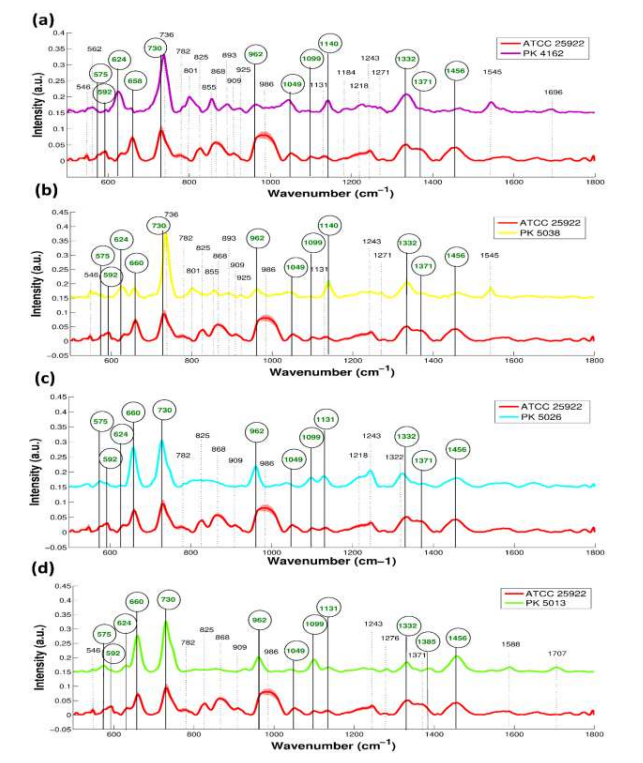 Fig. 2. Mean SERS spectra of ATCC 25922 carbapenem susceptible strain compared with
carbapenem resistant strains (a) PK 4162 (b) PK 5038 (c) PK 5026 (d) PK 5013.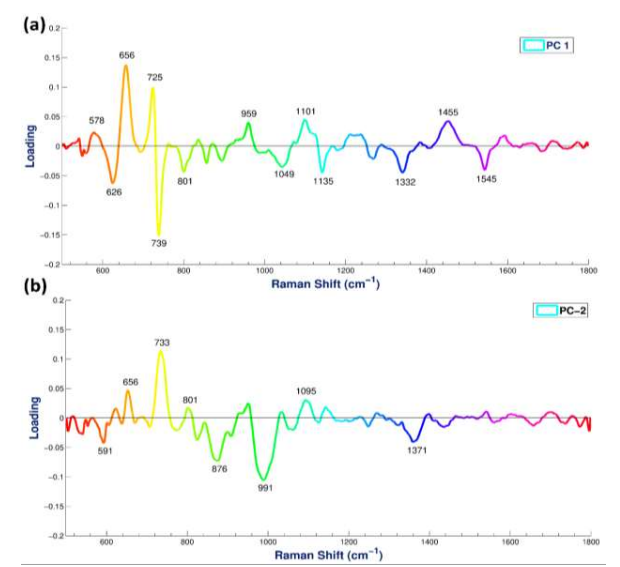 Fig. 3. (a) Scree plot for ten principal components against their percentage of explained variance and eigenvalues (b) Two-dimensional PCA scores plot between PC‒1 and PC‒2 scores with error ellipses (shaded area) around each dataset that indicates the 95 % confidence interval (CI).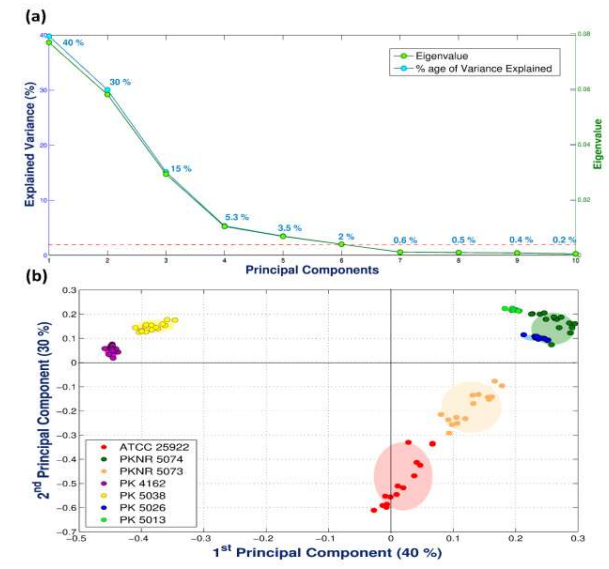 Fig. 4.(a) Loading plot of PC‒1as a function of wavenumber (b) loading plot of PC‒2as a function of wavenumber for all strains of E. coli.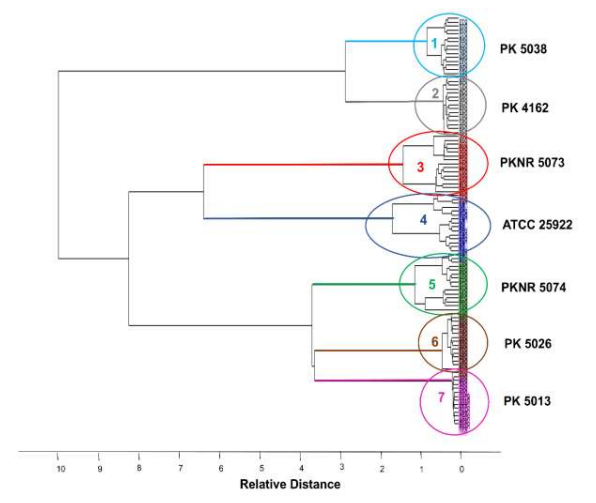 Fig. 5. HCA dendrogram of all E. colistrains.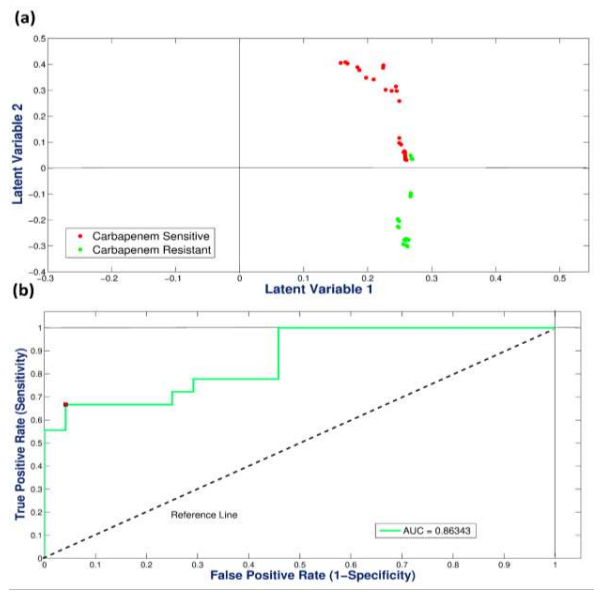 Fig. 6. (a) Score plot of PLS-DA for validation SERS dataset of E. coli strains (b) Receiver operating characteristic (ROC) curve approach for the efficiency of the PLS-DA classification model for different carbapenem resistant and susceptible strains of E. coli.
Conclusion:
    Surface-enhanced Raman spectroscopy is shown as a potential tool for the rapid identification and discrimination of carbapenem resistant and susceptible E. coli strains by using Ag NPs as SERS
substrate. The unique vibrational bands are identified which can be related to the development of resistance against carbapenem antibiotics which are solely observed in the resistant strains as compared to the susceptible ones and are found associated with the nucleic acid and proteins. PCA and HCA were found very helpful to qualitatively differentiate the SERS spectral data of different strains of E. coli. PLS-DA is found very helpful in the classification of these different resistant and susceptible strains and the diagnostic potential of SERS to quantitatively discriminate among carbapenem resistant and susceptible E. coli. The strains are differentiated with 99.8 % sensitivity, 100 % specificity and 100 % accuracy.