What Types of Atomic Absorption Spectroscopy?
What Types of Atomic Absorption Spectroscopy?
author: Freya
2022-11-16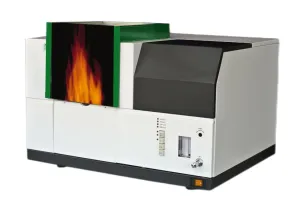 What Types of Atomic Absorption Spectroscopy?
Atomic Absorption Spectrometry (AAS) systems are comparatively inexpensive instruments. Some also predict more potential market for elements analysis capability. There are various types of AAS – Flame AAS, Cold vapour AAS, Hydride-generating AAS, and Graphite furnace AAS systems. 
What is Instrumentation of AAS?
What is Atomizer used for ?
The sample must be atomized first in order to be studied. Atomization is an important step in AAS as aids in determining the sensitivity of the reading. An effective atomizer creates a large number of homogenous free atoms. Though there are many types of atomizers present, only two are commonly used: Flame and Electrothermal atomizers.
What is Radiation Source used for?
There is a radiation source which irradiates the atomized sample. The sample absorbs some of the radiation, and the rest passes through the spectrometer to a detector. Radiation sources are of two categories: Line sources and Continuum sources. Line sources excite the analyte and thus emit its own line spectrum. Continuum sources have radiation that spreads out over a wider range of wavelengths.
What is Spectrometer used for?
Spectrometers are used to differentiate between various types of wavelengths of light before they pass to the detector. 
The spectrometer in AAS can be either single-beam or double-beam.
Single-beam spectrometers require radiation to pass directly through the atomized sample. Whereas, double-beam spectrometers require two beams of light – one beam that passes directly through the sample, and another that does not pass through the sample at all.
How to learn Atomic Absorption Spectroscopy term?
| | |
| --- | --- |
| Atomic Absorption Spectroscopy | Study of element specific light absorption by ground state atoms for estimation of concentration of the element in the sample solution. |
| Deuterium sources | A broadband light source for providing background correction in flame analysis |
| Burner | A component of AAS system made of solid metal body having slit on the flat top surface to provide the flame required for atomisation of the sample |
| Detector | A component of the system that records the intensity of the transmitted light. Photomultiplier tube is the commonly used detector in AAS |
| Photomultiplier tube detector | A detection device used in AAS which amplifies the current produced by impact of photons on a light sensitive surface |
| Nebuliser | A device for producing an aerosol of sample inside spray chamber |
| Impact bead | A device inside spray chamber for removal of large sized droplets from sample stream |
| Flow spoiler | A device inside spray chamber used for removal of large droplets of sample |
| Monochromator | A device used for dispersion of incident light using prism or grating, reflecting mirrors and a combination of entrance and exit slits for isolation of required wavelength and collimation of the light beam |
| Furnace | A graphite tube about a cm long with a hole on top for atomisation of sample using electrical heating of the tube |
| Chopper | A half transparent half opaque disc that rotates in the beam path to split the beam so as to alternately allow its passing through the sample or around it to give effective double beam performance |