ATR8800 Raman Imaging Technology
2023-08-23
     1.Raman technology
The Raman effect is based on the interaction between light and chemical bonds or lattices within matter. Due to inelastic scattering due to the interaction of chemical bonds/lattice vibrations and photons, the excitation light energy is lost or increased, which is the Raman shift and Raman spectrum. The Raman spectrum of each chemical composition is unique, which is called the fingerprint information of the molecule. The qualitative and quantitative research and analysis of the material can be carried out through the Raman spectrum.
Raman spectroscopy
Provides the molecular "fingerprint" of the material

non-invasive, non-destructive

No special sample handling required

Not sensitive to water, can be directly tested in aqueous solution

Can be used for Raman imaging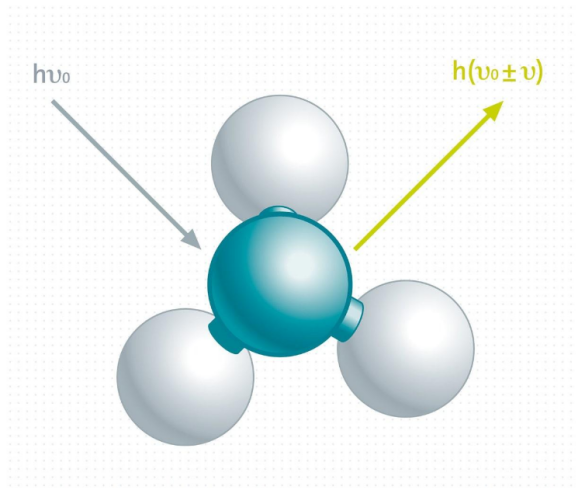 2.Confocal Raman Imaging
Confocal Raman microscopy is a high-resolution Raman imaging technique that can be widely used for the characterization and analysis of the chemical composition of materials. Chemical information on solid and liquid constituents enables diffraction-limited spatial resolution at half the excitation wavelength down to 200 nm. No labeling or special sample preparation techniques are required. Raman images can obtain the chemical compounds contained in the sample and their spatial distribution information.
WITec Raman Microscopy and Imaging Systems combine extremely sensitive confocal microscopy with ultra-high throughput spectroscopy systems to achieve unprecedented chemical sensitivity combined with outstanding performance of high speed, high sensitivity and high resolution.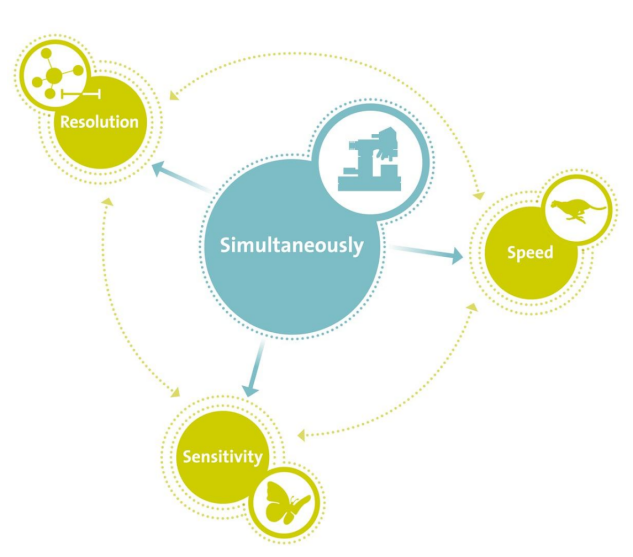 3.3D Raman imaging and depth profiling
3D spatial scanning and depth profiling are useful in analyzing the spatial dimensions of objects or the distribution of specific compounds throughout a sample.
The WITec confocal microscope system features optimal confocality, diffraction-limited longitudinal resolution, and greatly reduced background signal, ideal for depth profiling and generation of 3D images. Simultaneously with excellent spectral and spatial resolution. The complete spectrum across all pixels is recorded by point-by-point scanning of the point laser and a depth profile or 3D Raman image is generated.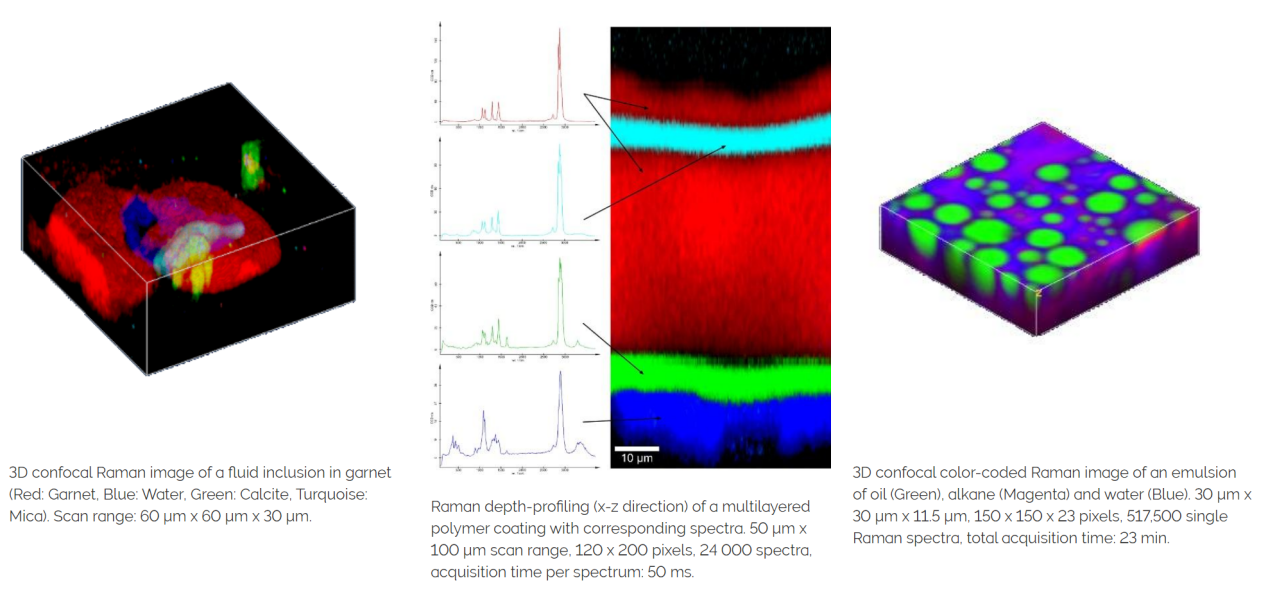 4.Ultrafast Raman Imaging
With ultrafast Raman imaging, complete Raman images can be acquired within minutes. In other words, the acquisition time for a single Raman spectrum can be as low as 760 microseconds, and 1300 Raman spectra can be acquired per second.
The combination of the latest EMCCD spectral detector and high-throughput optical confocal Raman imaging system is the key to the improvement of ultra-fast Raman imaging. At the same time, the measurement conditions of extremely short measurement time and low laser power are very beneficial to sensitive or precious samples (such as in vivo) Raman spectroscopy and imaging measurements. Raman time resolution of fast dynamic processes can also benefit from ultrafast spectral acquisition speeds.
Advantage:
Total experiment time is reduced while providing more valuable data in a given amount of time, reducing cost of use.
Standard Raman imaging with strict requirements on measurement time can be realized.
Ideal for Raman analysis of delicate, sensitive or valuable samples requiring very low excitation power.
Time-resolved Raman measurements that allow the study of fast dynamic processes (time-series spectra or images).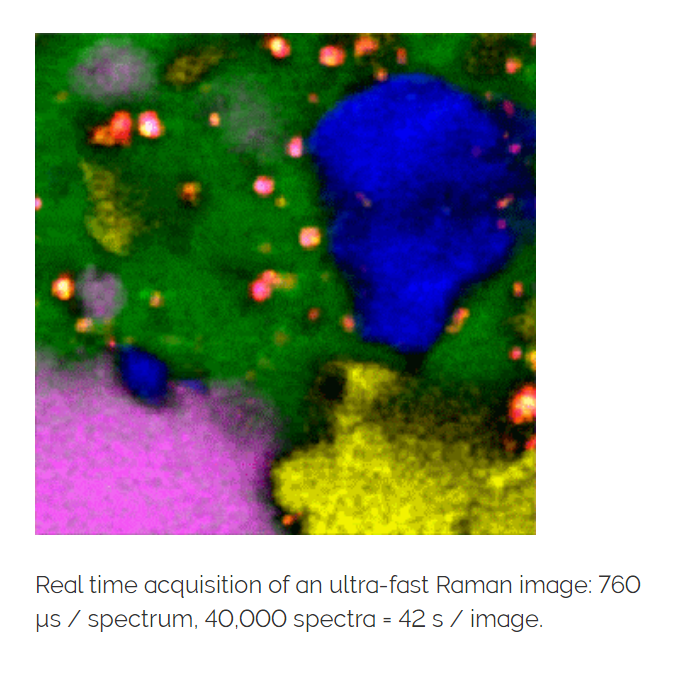 5.Raman-based analytical technique provided by WITec
The modular design of the WITec system allows different imaging techniques such as Raman imaging, fluorescence, bright and dark field illumination, atomic force microscopy (AFM) and near-field optical microscopy (SNOM or NSOM) to be combined in one instrument for more comprehensive sample analysis. Easily switch between the different modes by rotating the objective wheel tower.
Raman and AFM
By combining confocal Raman imaging with AFM, it is easy to map the chemical properties of the sample to the surface topography. The Raman-AFM combined microscope launched by WITec can realize flexible and comprehensive sample characterization and analysis through these two complementary technologies.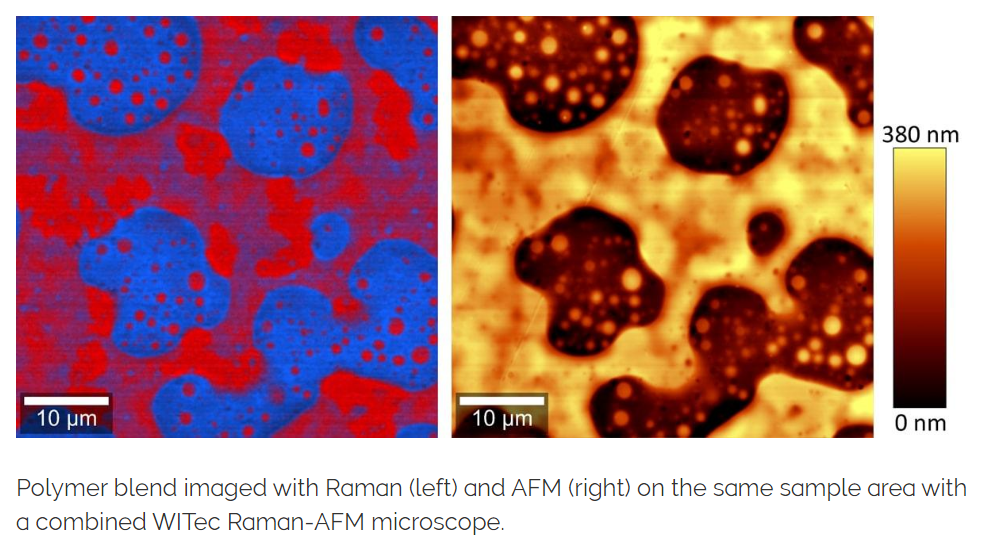 Raman and SNOM
The combination of Raman spectral analysis technology and SNOM realizes optical and Raman imaging beyond the diffraction limit, provides more comprehensive material information, and makes it possible to break through or conquer the most cutting-edge scientific experiments
Raman and SEM
Combined Raman-SEM is a new hyphenated microscopy technique. The nanoscale ultra-high resolution sample topography image obtained by SEM can be one-to-one with the chemical Raman imaging of the same sample area.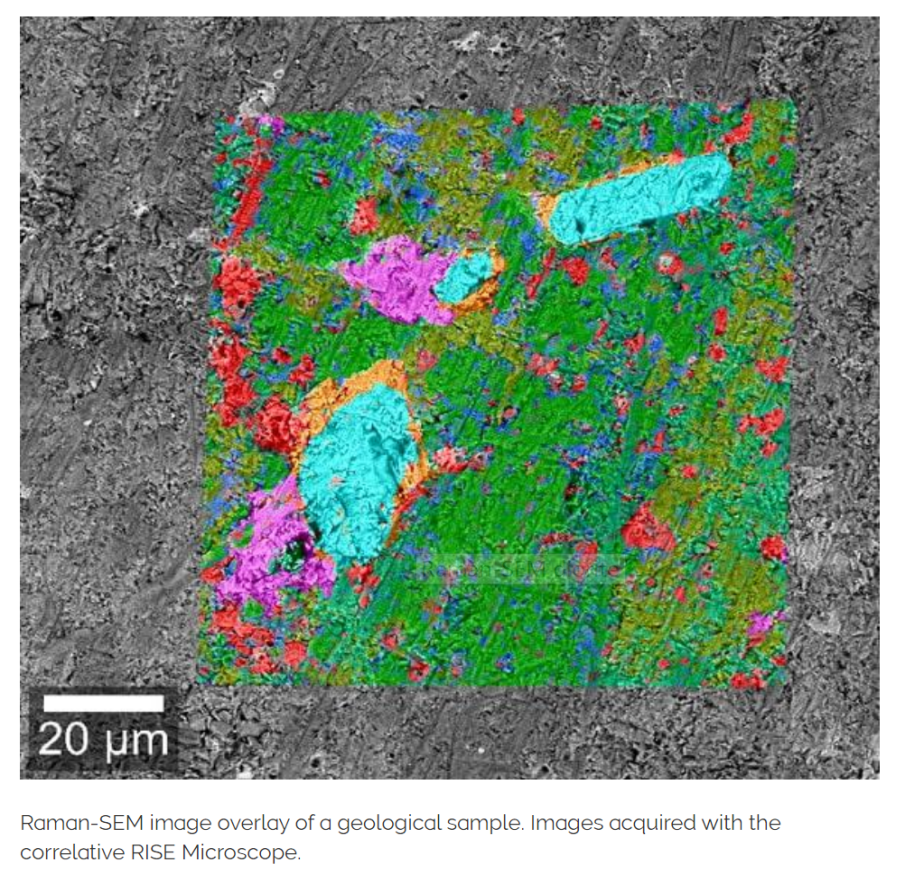 6.High-resolution Raman imaging at the super-diffraction limit
The WITec confocal Raman imaging system has a spatial resolution down to 200 nm laterally and 780 nm longitudinally. With the development of nanotechnology, some special applications require the resolution of Raman information to be lower than the diffraction limit (< 200 nm), which cannot be satisfied by the current confocal spatial resolution. However, WITec microscope systems are well suited for this purpose because they combine several microscopy techniques in one microscope setup, thereby overcoming the optical diffraction limit.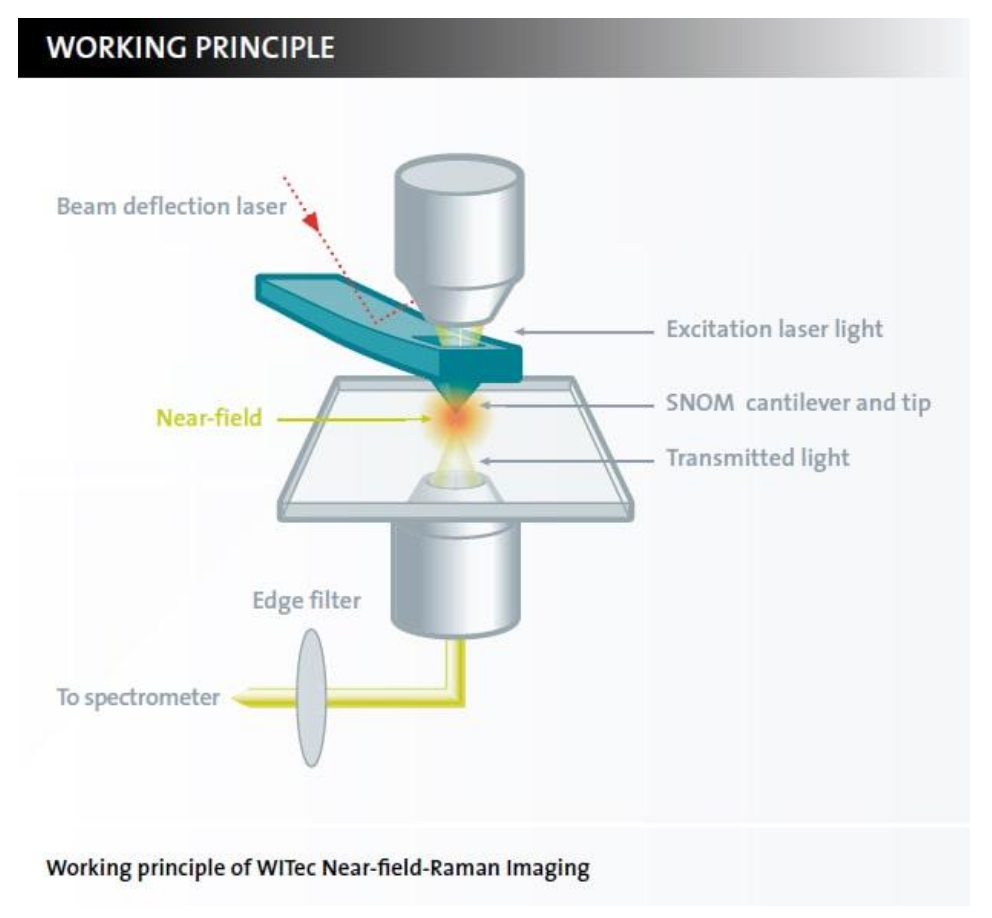 Near-field Raman imaging
Near-field Raman imaging is an excellent microscopy technique that combines chemical Raman information with high-resolution scanning near-field optical microscopy (SNOM). Near-field Raman can acquire a complete near-field Raman image, typically with a lateral resolution below 100 nm.
       Principle
The excitation laser is focused through the SNOM tip, creating a "near field" (the evanescent field) in the vicinity of the hole. When the sample is in close proximity to the probe, the transmission Raman spectrum is probed by scanning the sample stage point-by-point and line-by-line to generate a hyperspectral image. The spatial resolution of transmitted light is limited only by the probe aperture, and near-field optical resolution < 100 nm is achievable. Using the same stable laser feedback system as AFM contact mode, it can ensure that the cantilever is always in contact with the sample, and the topography of the sample surface will be recorded synchronously during the measurement.
7.Tip Enhanced Raman Spectroscopy (TERS)
Tip-enhanced Raman spectroscopy (TERS) enables lateral resolution of chemical information beyond the optical diffraction limit. The TERS measurement technique is a combination of Surface Enhanced Raman Scattering (SERS) and Scanning Probe Microscopy (SPM) techniques such as Atomic Force Microscopy (AFM). WITec's unique microscopy system combines Raman and AFM techniques on one instrument, ideal for TERS experiments.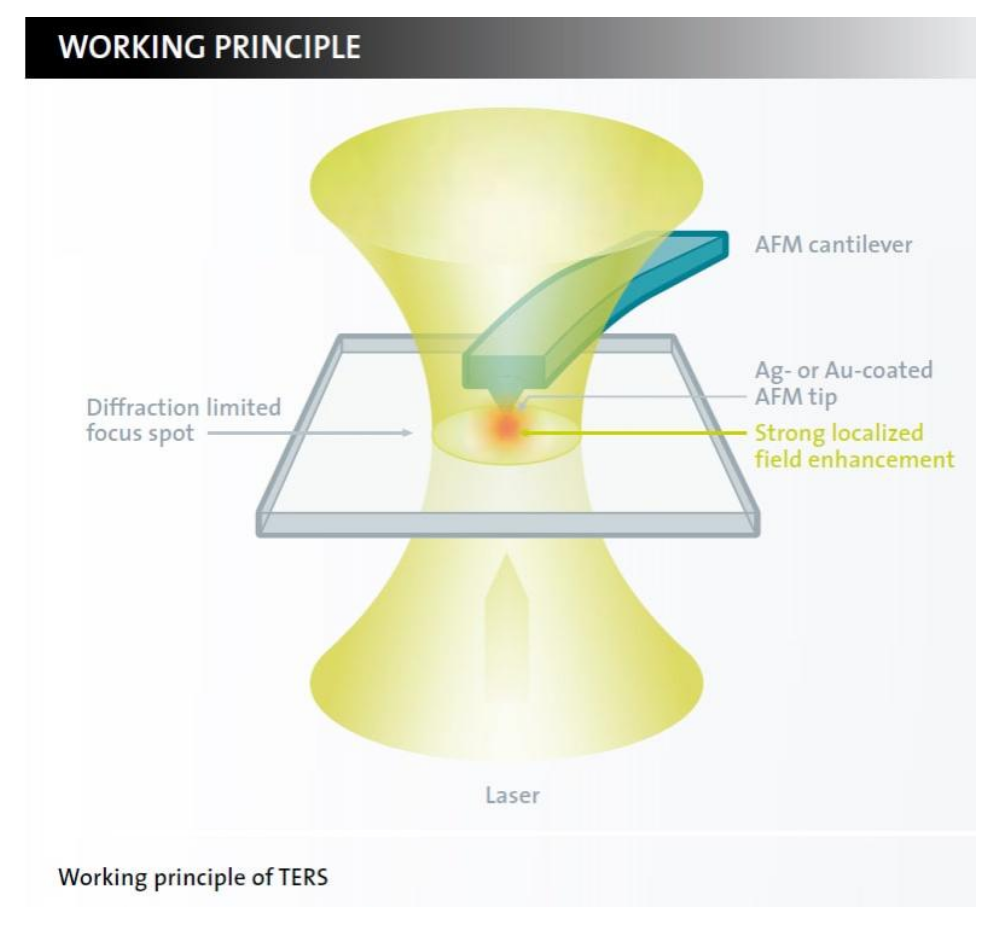 TERS tip illumination can usually be applied from above, below or from the side. WITec microscope systems offer optical path geometries for all excitation methods: inverted microscopes are suitable for TERS experiments on transparent samples, while upright microscopes and side illumination support TERS measurements on opaque samples.