How does Raman microscopy detect excessive heavy metals in food?
How does Raman microscopy detect excessive heavy metals in food?
2020-12-09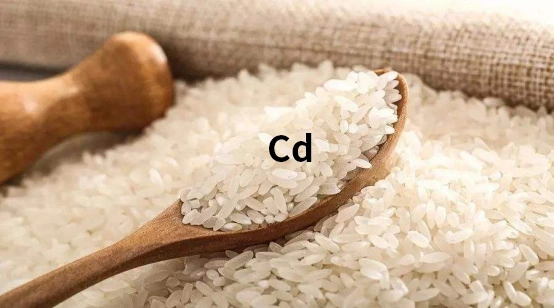 Background:
   Cadmium (Cd) is classified as a human carcinogen and a toxic pollutant widely found in industrial sites, plant soils and smoking environments. Even in the case of trace cadmium, people may have excessive exposure, causing serious health problems. Cadmium may also have negative effects on organs such as kidneys, liver, lungs, cardiovascular, immune system and reproductive system. The liver and kidneys are the main organs involved in the removal of this metal element and are particularly sensitive to their toxic reactions.
What are the advantages of using Raman microscopy for detection?
1. Optosky fully automatic focus microscopic laser Raman imaging spectrometer integrates two lasers.
2. Combining the advantages of microscope and Raman spectrometer, the microscopic Raman detection platform makes it possible to detect what you see.
3.Visually accurately locate the Raman detection platform, so that observers can detect Raman signals with different surface states on the sample.
4. The microzonal morphology of the detected position can be displayed simultaneously on the computer, which greatly facilitates Raman micro-zone detection.
Widely applied fields of Raman spectroscopy:
Detailed tissue parts or even single cells can be studied at the subcellular level.
According to the Raman spectrum, people can qualitatively or even quantitatively understand biochemical information and analyze a variety of malignant tumors, including breast cancer, brain cancer, cervical cancer, gastrointestinal cancer, lung cancer, oral cancer and skin cancer.
Raman spectroscopy is relatively simple, treats the sample without damage, and requires a small sample, making the sample acquisition simple and convenient
Experiments:
We'll take two sets of samples:
1. Normal liver tissue (Ctrl)
2. The cadmium-infected experimental group (Cd)   liver tissue was scanned and imaged with Raman.

The Raman spectral signal of liver tissue in the experimental group was obviously weak, and the diversity of the signals was poor. We can get changes in the biochemical components of some tissues by observing the main differences between the two groups of Raman spectra. The main change worth noting is that the Raman peak representing the protein strip (748cm-1, 1125cm-1, 1585cm-1) in the Raman spectrum of experimental liver tissue is significantly lower than the normal group. In addition, we can also observe Raman representing the collagen band (1082cm-1). The peak strength is significantly higher than that of the normal group.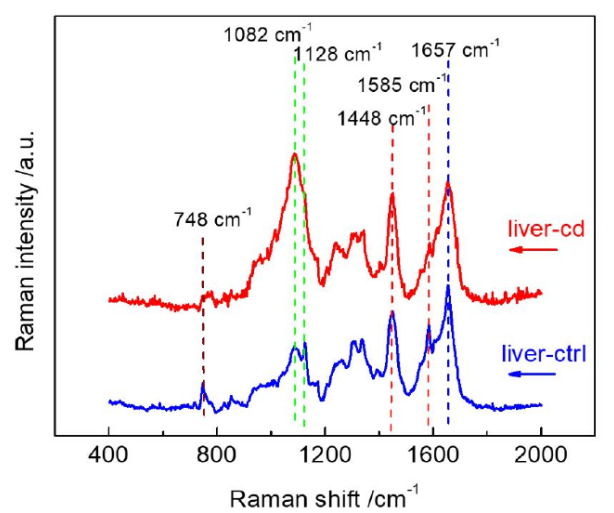 Blue is the control group, red is the experimental group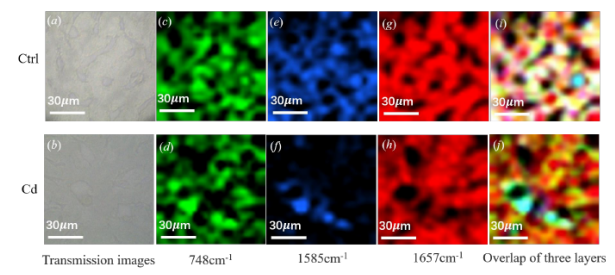 Normal liver tissue and cadmium infection experimental liver tissue
Raman imaging in the 100μm×100μm region
(Ctrl represents the normal control group and cd represents the experimental group)
Conclusion:
When a large amount of cadmium enters the cell, the organelle will be affected and have a great impact on the normal function of the cell. In addition, some cells contain abucky-based protein, which has a high affinity with cadmium. If these proteins bind to cadmium, they can also cause some damage to cells.
Heavy metal pollution has become an important problem that threatens human health, and the liver is a very important metabolic organ. Micro-Raman imaging to study changes in liver tissue after cadmium contamination can show that changes in liver tissue composition caused by cadmium poisoning are consistent with those observed by biomedical methods. This shows that Raman spectroscopy has good accuracy and reliability in medical experiments and has great potential in analyzing heavy metal poisoning such as cadmium.