Knowledge of Raman Spectroscopy & Application of Raman Spectroscopy in Medicine
author: cily
2022-03-14
Raman spectroscopy is an accurate, non-destructive, non-contact rapid detection technology that is used in various industries. Because Raman spectroscopy can conveniently give fingerprint information such as the structure and components of substances, and can identify various substances and crystal structures at the molecular level, Raman spectroscopy is very suitable for pharmaceutical processes and drug testing. Using Raman Spectral analysis of drugs is already a relatively mature method.
Infrared and Raman
Compared with infrared absorption spectroscopy, which has been widely used in the pharmaceutical industry, the use of Raman analysis instruments has obvious advantages: low requirements for the operating environment, simple testing without sample preparation, and non-destructive testing of some samples that meet the requirements of the outer packaging; the instrument has Strong resolution, can give more spectral details, can easily identify and distinguish different drugs, and can even distinguish drugs with very similar structures; there is a control map database for the identification of raw materials, preparations Used in the identification of active ingredients in traditional Chinese medicine.

The difference between 785nm and 1064nm
Raman spectroscopy has some important advantages as a method for studying molecular vibrational and rotational transitions. The Raman shifts of all rotational energy levels and almost all vibrational energy levels are in the range of 0-3500cm-1. Simple calculations show that when 785nm excitation radiation is used, the full usable Raman spectrum is in the near-infrared spectral region.
Raman spectrum is not perfect. Fluorescence is the biggest interference factor in Raman detection. Once the sample to be tested generates fluorescence, the relatively weak Raman spectrum will be partially or completely submerged by fluorescence, and even Raman cannot be detected. Signal; this can be chosen to use the weakened fluorescence at 1064nm to obtain the characteristic Raman peak of the substance.

Handheld, portable, scientific grade Raman spectrometer
Optosky has a wide range of Raman instruments, which can be selected according to the environment. Hand-held, portable, and laboratory-level instruments can be selected.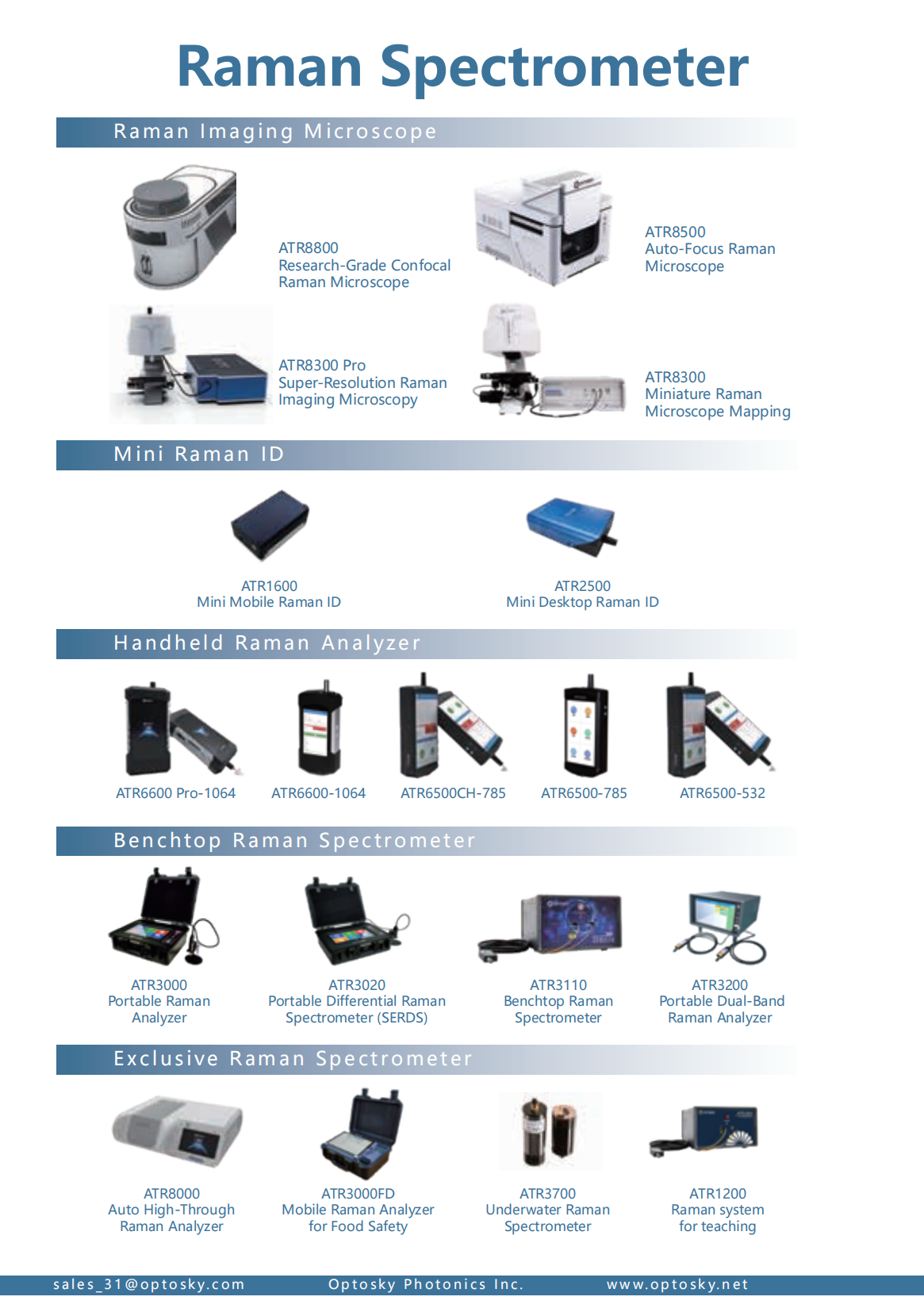 Handheld Raman spectrometer——ATR6500, ATR6500 is the latest fourth-generation handheld Raman spectroscopy system launched by AOPU Tiancheng Company. It is ultra-light, ultra-thin, and small in size. It is very convenient to carry. And there is a special software for pharmaceuticals, which can analyze and match drugs in a targeted manner.
Portable Raman spectrometer——ATR3000/3110/3200, such as ATR3110, ATR3110 is a cooling-type high-sensitivity enhanced Raman spectrometer developed by Austrian Putiancheng, with excellent signal-to-noise ratio. At the same time, Optosky specially customized an ultra-low noise CCD signal processing circuit for ATR3110, and its quantization noise is less than 3counts, which is the best level in the industry. Compared with scientific research-level microscopic Raman, portable Raman is more flexible, and it is a good choice for non-laboratory rapid drug testing.
Scientific research-grade micro-Raman——ATR8300/8500/8800, the high-end version of scientific-grade micro-Raman can fully automatic focus, automatic scanning, one-button operation, can conduct batch experiments, uniformity scanning, without waiting, equipped with special The objective lens designed by the Raman system overcomes the problem that the focal plane for collecting Raman signals in common Raman systems is slightly higher or slightly lower than the actual best focal plane, thereby improving the quality of Raman spectroscopy. And it can obtain highly reliable scanning imaging Raman data; this function can effectively detect the distribution of drug ingredients, and the distribution of drug active ingredients is one of the important indicators to measure the quality of drugs. The uneven content of active ingredients will not only directly affect the accuracy of drug dosage, but also directly affect the curative effect of treating diseases, and seriously endanger life safety.