Light will help human get out the pandemic
2020-07-20
Light will help human get out the pandemic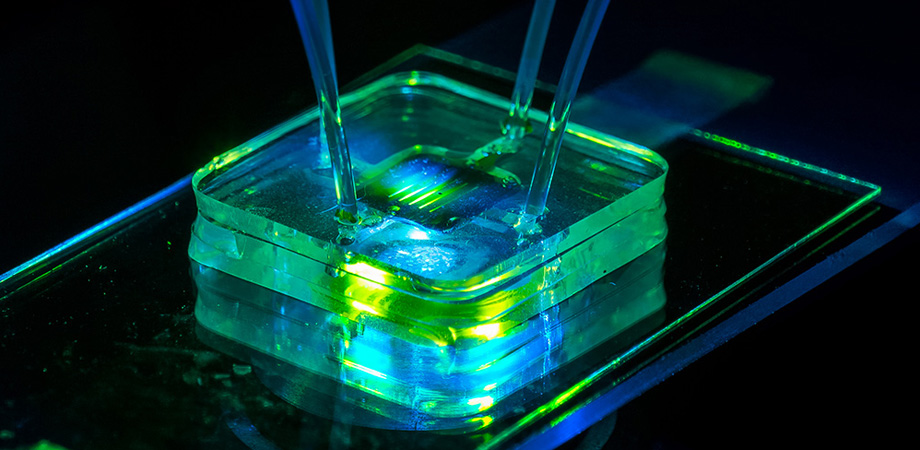 Biomedical engineering professor James McGrath is exploring using ultrathin silicon nanomembranes—less than 200 nanometers thick—to test samples of sputum, nasal mucus, or blood, "instantly" determining whether individuals have been infected with COVID-19. (University of Rochester photo / J. Adam Fenster)
For decades, the optics and photonics community has been developing enabling technologies for applications ranging from medical imaging to telecommunications. Today, addressing the challenges of SARS-CoV-2 or COVID-19, optics and photonics researchers, engineers, and scientists are using their skills to save lives.
"We are yet to understand all the challenges of the pandemic," says Turgut Durduran, ICREA Professor at the Institute of Photonic Sciences (ICFO). "But photonics remains a major player across healthcare," says Durduran.
Around the world, this novel virus generates life-or-death questions such as who needs respiratory therapy immediately, and who needs to be hospitalized under less invasive treatment. Emerging data suggests that microvasculature plays a key role in the evolution of the disease. Durduran and his team have taken commercial, near-infrared spectroscopy (NIRS) devices and customized them to provide detailed evaluation of a patient's microvasculature. The compact unit, placed on the forearm, notes changes in microvascular blood oxygenation to help determine a patient's need for aggressive respiratory therapy. Three are currently being tested in four Barcelona hospitals.
Working on this project during lockdown was fascinating and fast, says Durduran: although the work was done remotely, it took less than three weeks from the formation of the idea to its earliest implementation.
"A researcher had taken one of the devices home to work on it before the lockdown and there he prepared audio-visuals to train the doctors," he explains. "Two postdoctoral fellows worked on custom analysis models and protocols, and I worked with intensivists to formalize the idea and obtain approvals." Duduran adds that ICFO's knowledge and technology transfer unit was critical to their success. The team hasn't met in person since mid-March, but talks about an international clinical trial are already underway.
Also at ICFO, ICREA Professor Javier García de Abajo is working with a small group of experts in fields such as virology, immunology, aerosols, architecture, and physics, to produce a survey of simple, easy-to-implement methods to prevent virus propagation and infection in the workplace. García de Abajo and his team advocate the use of UV-C light as a short-term, easily deployable, and affordable way to limit spreading the virus. "By irradiation of this type of light inside the ventilation systems of buildings and in shared indoor spaces while not in use, it is possible to quickly and efficiently deactivate airborne and surface-deposited SARS-CoV-2 viruses, without the corresponding eye and skin damage to humans which would be caused by direct optical paths," says García de Abajo.
And on this side of the Atlantic, a team from the University of California, Irvine (UCI), is working to enhance the ability of ultraviolet light to disinfect surfaces using domestic Blu-ray players as a source. The idea is to modify Blu-ray diodes so they can function as deep-ultraviolet laser photon sources to disinfect both surfaces and the indoor atmosphere. Such instruments could be used as hand-held wand devices or possibly as a "light curtain" through which people could walk as they enter a room.
Developing essential technology
Health experts say testing for this virus is paramount to stopping the spread of infection. In this context, narrowband optical filters, wideband multispectral optical spectrometers, visible-light laser diodes and LEDs, and other optics and photonics technologies are playing an essential role in the development of testing techniques.
Scientists from the University of Rochester (UR), including Martin Zand, senior associate dean for clinical research at the Medical Center; Benjamin Miller, a professor of dermatology and biomedical engineering; and James McGrath, a professor of biomedical engineering, are adapting previous research to develop tests for detecting the virus.
Zand's lab had developed a finger-stick test to detect an individual's immunity to more than 50 strains of flu using just a few drops of blood. The lab is now leveraging this test to detect and study immunity to COVID-19. Clinical study participants are using the test — in a method similar to a blood-sugar testing kit for diabetes patients — to collect their blood samples at home and mail them to the lab, cutting out travel time and reducing their risk of exposure to COVID-19 or other viruses.
Working to find the virus with optics at the nanoscale, Miller's lab is creating new biosensors and diagnostic tools. Two testing techniques are currently being explored: binding coronavirus proteins to silicon chips, and using an optical chip on a disposable card that can detect infection in a blood sample.
McGrath's lab had been developing membrane technologies and are now using ultrathin silicon nanomembranes — less than 200 nanometers thick — to test sputum, nasal mucus, or blood for COVID-19. McGrath notes that the membranes can be used as sensors as well as as platforms for discovering pathogenic mechanisms.
At the commercial level, the engineering technology company Honeywell recently introduced "ThermoRebellion," a temperature-monitoring system that uses thermal cameras and artificial intelligence algorithms to detect elevated body temperature and determine whether an individual is wearing proper personal protection equipment (PPE). When used at entries to factories, airports, stadiums, or other commercial buildings, the system can quickly detect the skin temperature of a person passing through and display the temperature on an accompanying monitor.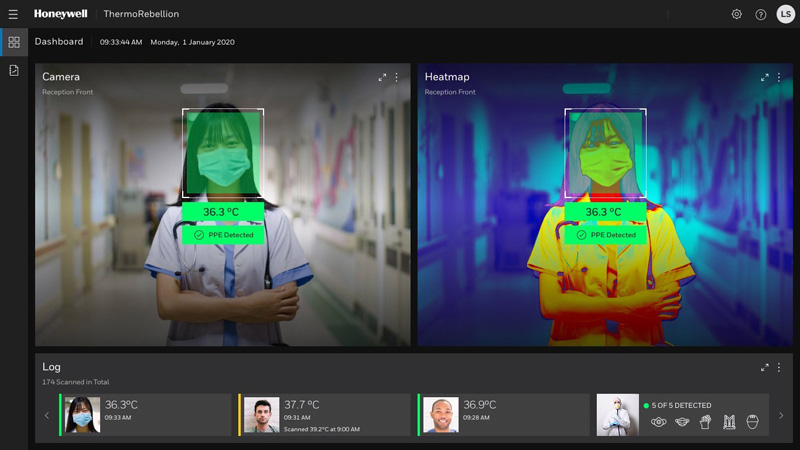 Honeywell's ThermoRebellion system uses thermal cameras and AI to detect elevated body temperature and can validate if an individual is wearing proper PPE.
Aiding and assisting
Optics and photonics companies are also donating time, equipment, and services in response to the COVID-19 pandemic.
Following a request from the UK National Health Service's Clinical Commissioning Group, staff from the Zepler Institute for Photonics and Nanoelectronics helped collect stocks of PPE, including gloves, masks, overshoes, and safety glasses. Their contribution is just part of around 80,000 pieces of PPE that were passed from the University of Southampton to the city's NHS.
Through their initiative to create face shields for key healthcare workers dealing with the pandemic, the Ron Dearing University Technical College in Hull, UK has supplied perspex sheets to local industrial laser company Luxinar, so workers in the company's applications laboratories can cut and engrave visors.
Even where PPE is available — and all too often it is not or is in perpetual short supply — many healthcare workers have still contracted the virus, raising concerns about the effectiveness of PPE and whether it is being used properly. To ensure that healthcare workers are properly trained, Patrick G. Hughes, a physician from Florida Atlantic University's Schmidt College of Medicine and colleagues at the University of Arizona College of Medicine-Tucson and Indiana University School of Medicine, conducted a unique training session for healthcare staff using a nontoxic fluorescent solution only visible under UV light to mimic a contagion. Staff outfitted with PPE went into a sealed room to "care for" a mannequin that had been sprayed with the invisible substance. UV light revealed that staff were most often "contaminated" on the face or forearms when removing their PPE. This experiment proved the importance of properly handing PPE in a caregiving or treatment situation.
In Germany, optics manufacturer Zeiss has donated more than 250,000 masks of various types to healthcare institutions with the greatest need such as hospitals, doctors' surgeries, and healthcare establishments. In an effort to aid research efforts into the coronavirus, Zeiss is also supplying microscopes and software where needed.
Lanterne, a start-up company supported by the European Space Agency, has devised a free "Crowdless" app to let users know if the store or market they need to go to is too crowded. Using satellite data and artificial intelligence technologies, the app can identify where people are congregating anywhere in the world.
In these times of change and adaptations, some industries are switching gears and using their technologies to manufacture different items. Breweries and distilleries, for example, are making hand sanitizers, and auto manufacturers are making masks and face shields. Others are capitalizing on the new marketplace: Gatorade and parent company Pepsi have partnered with Epicore Biosystems to develop sweat-sensing smart patches to measure sweat components. Originally designed for use by athletes, these patches could also be converted for medical use by helping keep tabs on crucial biomarkers for patients suffering from COVID-19.
And, as some begin returning to their workplaces under pandemic-related conditions, ProGlove has developed the ProGlove Connect Proximity app for workers in factories and other working environments where maintaining distance isn't always possible. When paired with an Android device alone or wearables such as the ProGlove Mark barcode scanner, workers coming within close proximity of each other are alerted via a range of options that include audio, flashing LED light, and vibration signals.
Innovation continues
This article points out only a fraction of the work in optics and photonics technologies currently engaged in developing treatments for and curbing the spread of COVID-19. As you're reading this, new devices are being developed, new methods are being tested, and current technologies are being used in new ways.
Over the past century, the world has dealt with the so-called Spanish Flu, polio, measles, AIDS/HIV, Ebola, SARS, MERS, H1N1, and other epidemics and pandemics. Through dealing with these diseases, optics and photonics have enabled significant progress in diagnostic research and development and improvements in emergency management tools, community mitigation science, and communication. Even with these advances, the novel COVID-19 virus is presenting a new set of challenges.
As trite as it sounds, we are in this together and the more people we have working on solutions, the sooner we will have answers.