Application of Field Spectrometer in Estimating Leaf Chlorophyll Content
Application of Field Spectrometer in Estimating Leaf Chlorophyll Content
author: Gavin
2022-01-15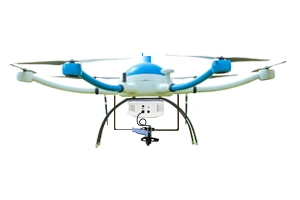 Mangroves are one of the most productive and valuable ecosystems on Earth and are currently vulnerable and under severe stress worldwide. Therefore, accurate and rapid grasp of the spatiotemporal information of health status is crucial to the ecological protection and restoration of mangroves. Chlorophyll is a good indicator of the health and nutritional status of plants as they grow. Many studies have investigated the feasibility of inverting leaf chlorophyll content (LCC) using vegetation indices (VIs) of various plant species, however, few studies have applied Sentinel-2 multitemporal imagery to mangrove LCC mapping.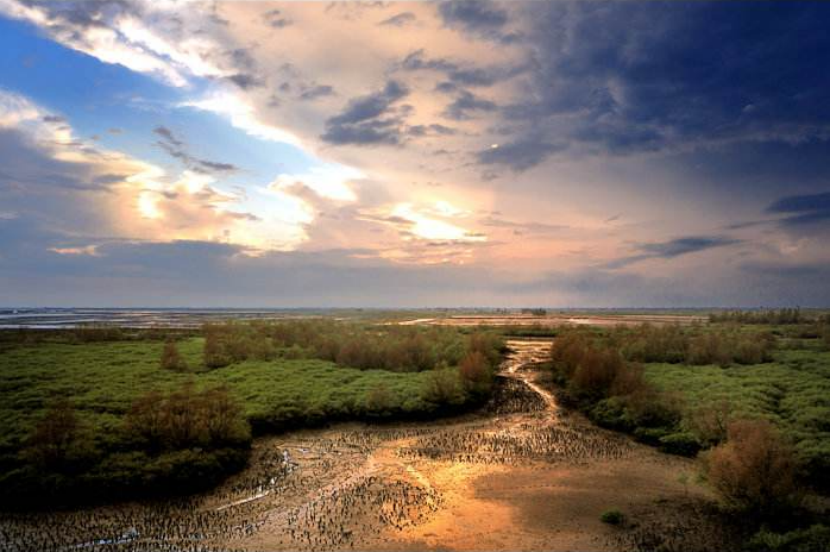 Principle:
(1).Study the relationship between leaf SPAD value (relative value of chlorophyll content) and VIs derived from leaf hyperspectral data and Sentinel-2 images;
(2).Use VIs and KRR methods to establish a leaf SPAD estimation model, and compare the model's performance performance.
(3).to plot the leaf SPAD over the four periods and explore the spatiotemporal variation of the four plots. The spatiotemporal map of the LCC helps to understand the health of mangroves and further promotes the conservation and sustainable development of mangroves.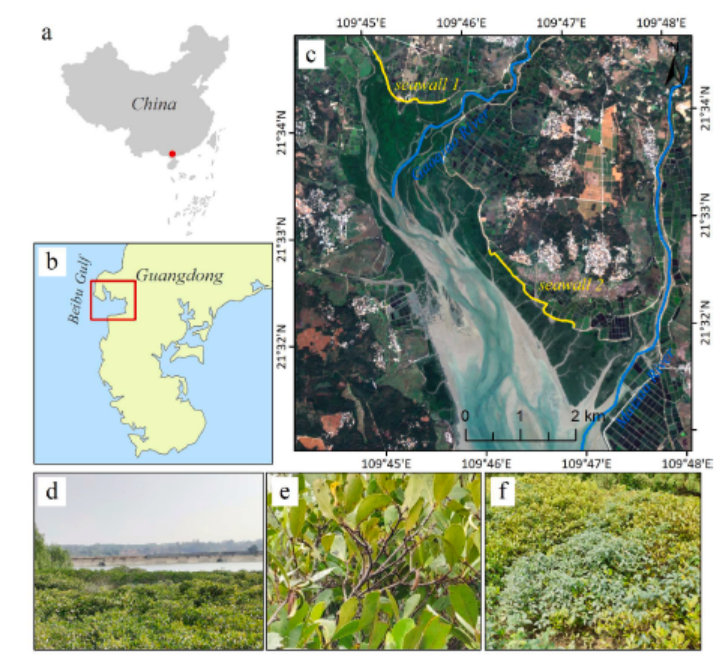 The location of the study area (a and b are the location of the study area; c is the true color map of the study area), and d, e and f represent photographs of mangroves distributed along the embankment, damaged by pests and diseases, and affected by invasive alien species, respectively.
Solution:
Four field sample surveys were conducted in the dry season and the rainy season, respectively. In each plot, 5 trees were selected at a distance of 5-10 m, 4 mature leaves were cut above each tree canopy, mixed into plastic bags, and stored in a refrigerator to avoid leaf moisture loss. Remove dust from the surface of fresh leaves with paper towels for SPAD and Optosky ground object spectrometer reflectance determination (ATP9110-25 Field Spec), using leave-one-out cross-validation technique to compare the evaluation results of VIs and KRR methods and pass the best performance The model generates SPAD plots for 4 epochs.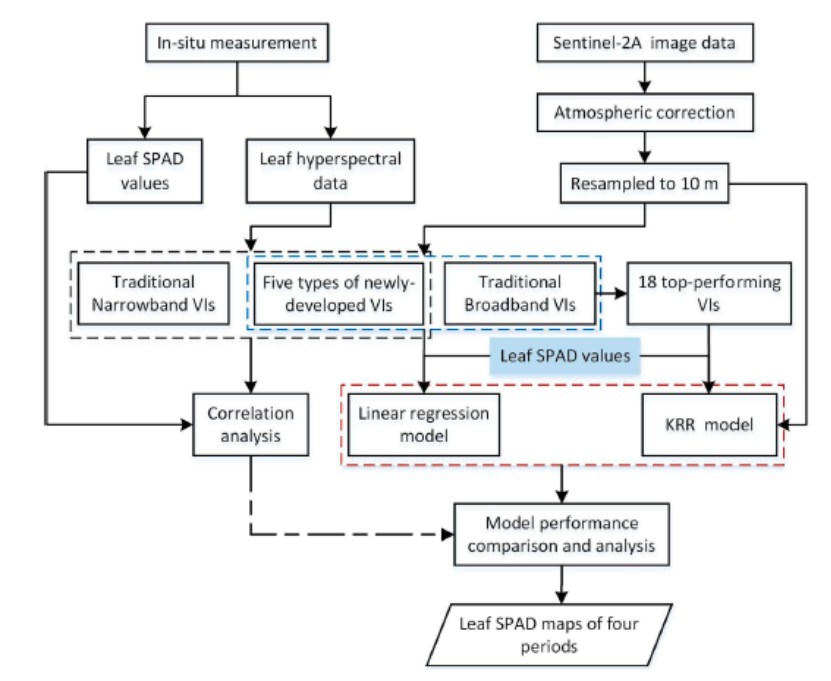 Test Result:
At both leaf and canopy levels, the newly developed index (ratio of single-band reflectance to the sum of two-band reflectance, RSSI) had high correlation coefficients with leaf SPAD values. At canopy scale, linear models using RSSI (B8/(B2 + B5), B8a/(B2 + B4), B8/(B2 + B5), and B8/(B2 + B3)) outperform traditional broadband indices and KRR models, where, at each period, R2adjust = 0.496, 0.742, 0.681, and 0.801; RMSE = 5.75, 4.29, 4.00, and 3.46; and RE = 7.67%, 5.68%, 4.97%, and 4.63%.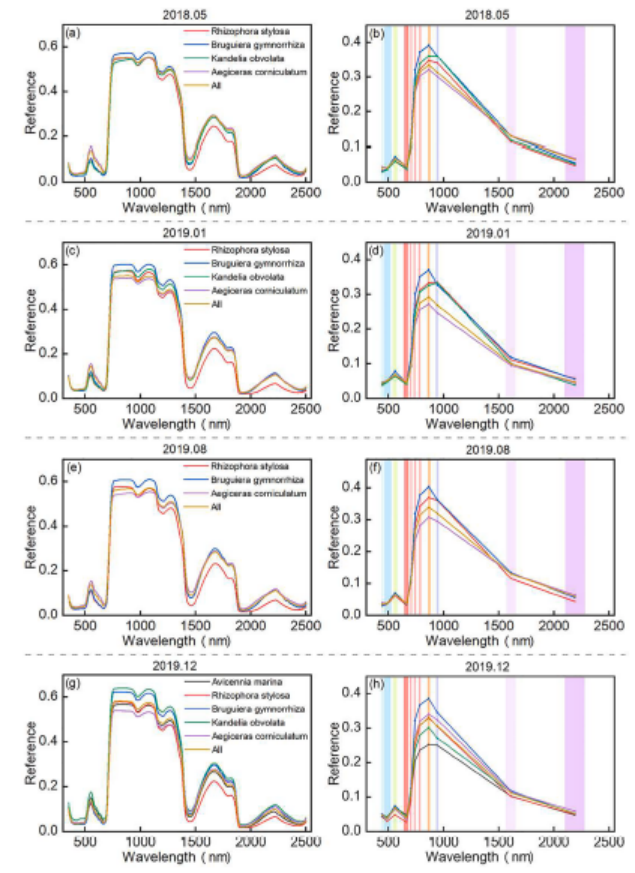 Average reflectance of leaf hyperspectral (a, c, e and g) and Sentinel-2 data (b, d, f and h) for four periods. The colored striped rectangles represent the spectral regions of the 12 Sentinel-2 bands (B1~B12).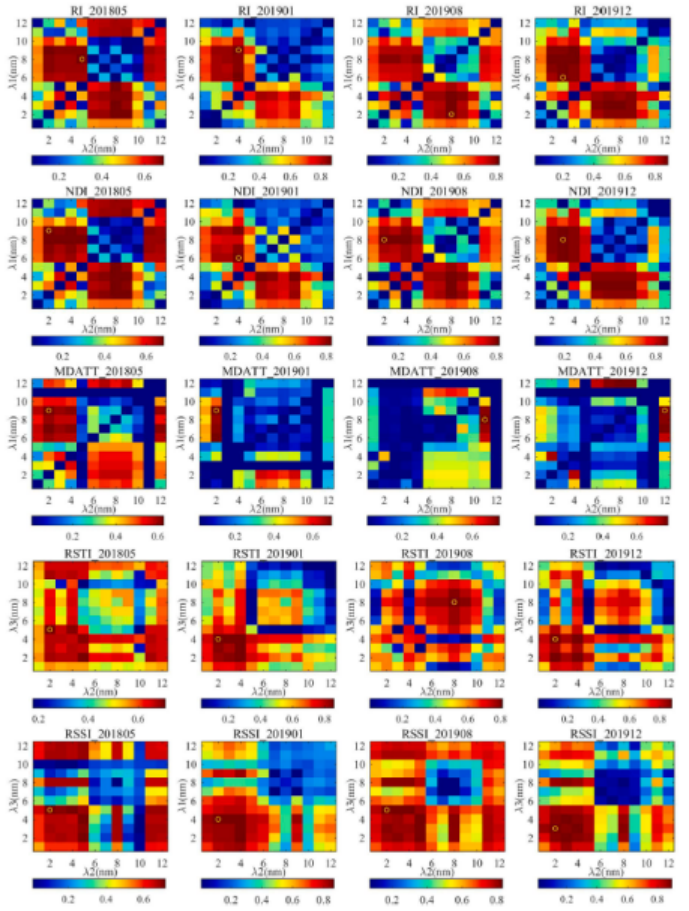 Contour plots of absolute values (|r|) of the correlation coefficients (|r|) of leaf SPAD and 5 kinds of VIs in four periods.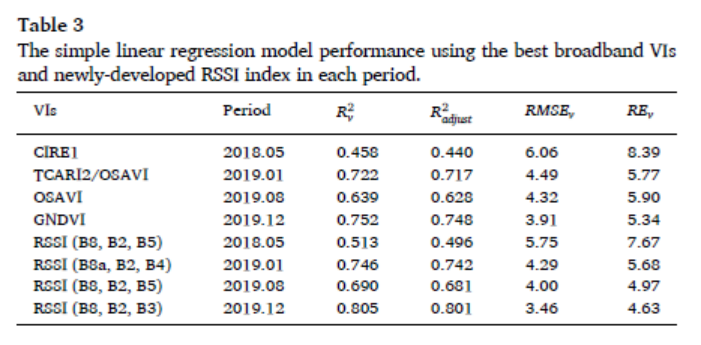 At each epoch, simple linear regression model performance using the best broadband VIs and a newly developed RSSI index.
Conlusion:
This study shows that the newly developed RSSI index using Sentinel-2 data has potential for inversion and mapping of mangrove LCC areas at the canopy level at different time periods. Spatiotemporal mapping of mangrove LCCs facilitates dynamic monitoring of mangrove health status, which is critical for promoting mangrove conservation and sustainability.
Related products
FieldSpec Spectroradiometer:ATP9110-25
, ATP9110-25H, ATP9110TP