Do you need a spectrometer which is smaller than USB2000+ with the same functions?
Do you need a spectrometer which is smaller than USB2000+ with the same functions?
2020-12-15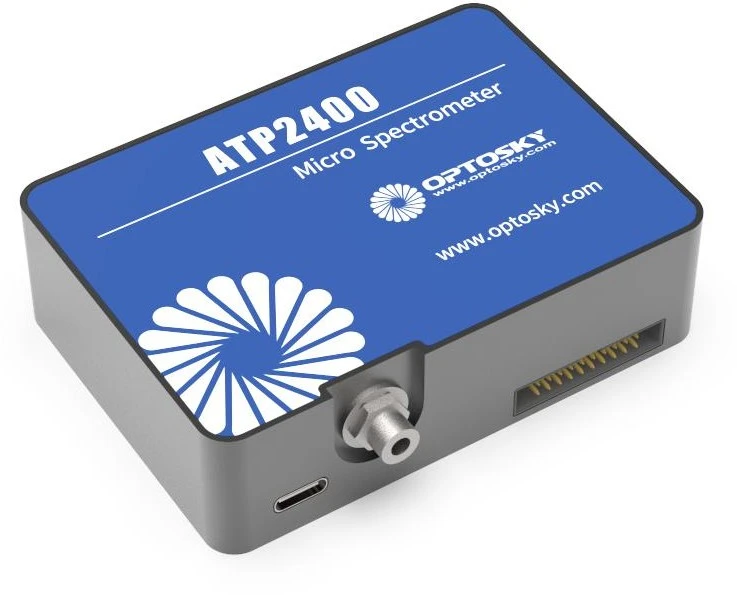 What is the advantage of this miniature spectrumeter?
The minim, ultra-thin, ultra-light weight of a minim;
Fiber input and signal output are on the same side, which is very easy to integrate.
Detector: linear CMOS
Detector pixel: 2048 pixels
Ultra-low noise CCD signal processing circuit
Maximum spectral range: 180-1180 nm (depending on requirements)
Spectral resolution: 0.1-2 nm (depending on spectral range, slit width)
Optical Design: cross-C-T
Built-in pulsed xenon lamp driver
Casual time: 0.1ms-130s
Vinner power supply: DC 5V±10% or USB power supply
A16 bit, 2MHz ADC
Incident Interface: SMA905 or free space
Supported data output interface: USB 2.0 (High speed ) or UART
20-pin dual-row programmable external expansion interface
What applications are ATP2400 used in?
Fast and ultra-micro spectrophotometer;
Environmental protection equipment (flue gas, water quality);
Reflection and transmission spectrum detection;
Spectral analysis, radiation spectroscopic analysis, spectrophotometric analysis;
Laser wavelength measurement.
ATP2400 has built-in pulsed xenon lamp drive circuits, adopts high sensitivity linear CMOS, and specially customized ultra-low noise CMOS signal processing circuits, which greatly reduces The noise of the sensor is lower, the signal-to-noise ratio is obtained (about twice higher than that of similar competitors), and the measurement reliability of the ATP2400 is improved. The measurement results do not change with the ambient temperature, which is the best level in the industry.
ATP2400 can receive SMA905 fiber input light or free space light, and output spectral data measured through USB2.0 or UART ports.
ATP2400 only requires a 5V DC power supply or USB power supply, which is very easy to integrate.