Application of Raman Spectroscopy In Medicine
Application of Raman Spectroscopy In Medicine
author: Joy
2022-01-24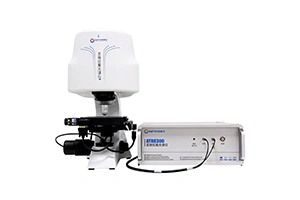 In medical application, compared with other diagnostic techniques, Raman spectroscopy has obvious advantages in many aspects, which can be summarized as follows:
(1) Compared with other diagnostic techniques, which usually use pure and single samples, Raman spectroscopy can be used for a variety of sample forms, such as solid, suspension, precipitate, etc., while medical samples are generally mixtures of body fluids, soft tissues and minerals, so Raman technology has unique advantages in the medical field.
(2) For medical diagnosis, Raman spectroscopy only requires simple sample preparation, which is beneficial to preserve medical samples under almost physiological conditions; However, other diagnostic methods usually require more complicated treatment of samples, which may lead to changes in their physical and chemical properties and affect the diagnostic results.
(3) Raman spectroscopy technology can be used for living samples, providing the possibility of real-time diagnosis in the medical process, which is generally not available in other technologies.
      Malignant tumor is the most serious disease threatening human health and life. Raman spectroscopy can reveal the difference between the tissue structure of cancer cells and the normal fine tissue structure at the molecular level. Through the comparative study of Raman spectroscopy of a certain number of cancerous and normal organs and tissues, the characteristic marker spectrum reflecting the change can be found out from the difference between the two . In recent years, many scholars have studied several kinds of cells of gastric cancer, breast cancer, oral parotid carcinoma and colon cancer, and single red blood cell of human blood. Raman spectroscopy has made good progress in cancer diagnosis, and developed some new diagnostic techniques of Raman spectroscopy. Someone to normal thyroid and thyroid carcinoma tissue of Fourier transform Raman spectroscopy has carried on the preliminary discussion, obtained through the experiment of thyroid cancer tissue samples and normal thyroid tissue samples of Raman spectrum, by comparing the normal and cancerous tissue characteristic peak of Raman spectroscopy, can easily draw a distinction between the two. Experimental results show that Raman spectroscopy is an effective method for diagnosis of thyroid cancer.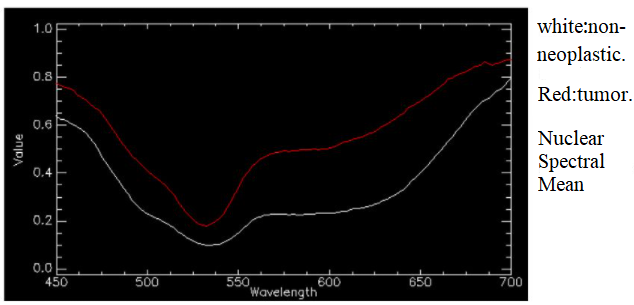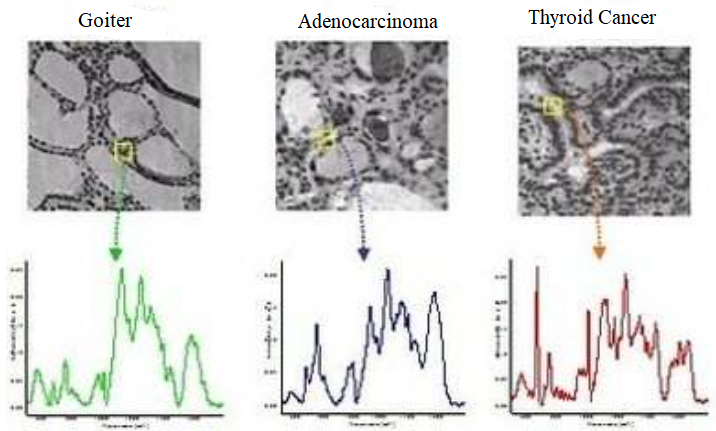 Cardiovascular disease is a series of diseases involving the circulatory system. Common diseases include hypertension, angina pectoris, myocardial infarction and so on. Among various therapeutic methods for cardiovascular diseases, laser angioplasty has obvious advantages, but the phenomenon of vascular perforation in the treatment process seriously affects its wide clinical application. In order to prevent vascular perforation, it is necessary to identify plaque and vascular wall accurately in time. Raman spectroscopy of atherosclerotic plaques and vascular walls has been studied. The results show that Raman spectroscopy can effectively distinguish atherosclerotic plaque from vascular wall, which provides a basis for real-time monitoring of laser angioplasty. Other studies have found that NFT-Raman spectroscopy can be used to distinguish atherosclerotic plaques from normal tissue that cannot be distinguished by conventional cardioscopy. The results of Raman spectroscopy using laser optical tweezers showed that the overall strength of some erythrocyte lines in patients with arrhythmia was weakened, providing valuable information for the diagnosis of cardiovascular diseases.
      In recent decades, Raman spectroscopy has developed rapidly in the medical field due to its unique advantages of non-destructive, non-invasive, fine resolution, no reagent and high automation. Many technological inventions have promoted the application of Raman spectroscopy in medicine, such as Raman probe, etc. Conversely, the requirements of medical research have prompted the emergence of new Raman techniques, such as the use of red-wavelength lasers instead of ULTRAVIOLET and visible light to obtain information at different layers of tissue in order to penetrate deeper into the sample. Raman spectroscopy technology has not only achieved a lot of breakthrough research progress in medical diagnosis, such as early diagnosis of cancer, calculus, cataract, arteriosclerosis and other diseases; In the clinical application is also developing rapidly, now the market has been able to be available for clinical application of Raman probe and suitable for medical Raman spectrometer.

Related Products:ATR8800,ATR8300
Related Blogs:HANDHELD RAMAN SPECTROMETER DETECTS PRECURSOR CHEMICALS
                        APPLICATION OF RAMAN SPECTROSCOPY IN MEASURING RESIDUAL STRESS OF SILICON WAFER