How to apply the Ultra-Micro Spectrophotometer in nucleic acid quantification and analysis?
How to apply the Ultra-Micro Spectrophotometer in nucleic acid quantification and analysis?
2020-11-19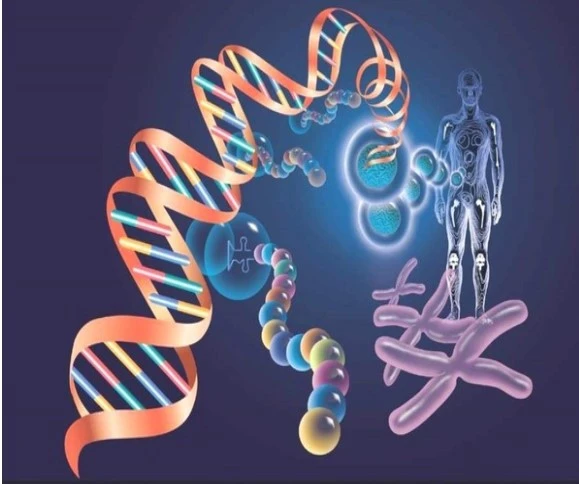 Spectrophotometry is a technique for quantifying and analyzing biological components. Nucleic acid is one of the most frequently detected biological components in laboratories. The following describes how the Ultra-Micro UV Spectrophotometer can analyze nucleic acid samples quantitatively (concentration) and qualitatively (sample purity) with high accuracy and high consistency.
(1) Cross contamination experiment
Experiment process: sample cross-contamination was evaluated by alternately detecting salmon sperm (dsDNA) and fetal bovine serum albumin (BSA) using our NanoBio200 ultra-micro spectrophotometer. Ultrapure water was used as a reference.
The experiment results are as follows: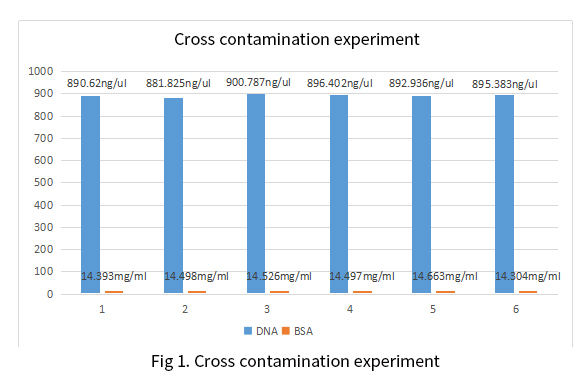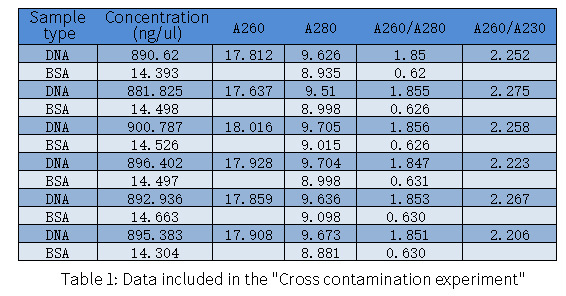 From the results in Figure 1 and Table 1, we can see that after simple wiping with lens cleaning paper, there is no obvious sample cross-contamination in subsequent experiments.
(2) Sample volume comparison:
Experiment process: salmon sperm (dsDNA) was diluted with ultra-TE, which were 1.0 μL, 2.0 μL and 2.5 μL, respectively, and tested in the ultra-micro volume drop (n = 5). TE serves as a reference. The reference volume is the same as the sample volume.
Experiment results: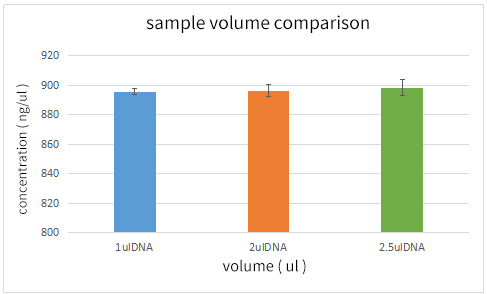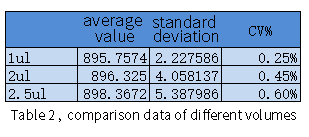 Figure 2
From Figure 2 and Table 2, we can see that different volumes show very consistent calculated concentrations (n ​​= 5), indicating that our volume has almost no effect on the concentration determination of the sample, as long as a perfect liquid column is formed. In order to get the best results, we recommend using 2ul volume because it is easier to add samples.
(3) Linearity of standard curve:
Experiment process: salmon sperm DNA was dissolved in TE buffer solution (PH=8.0) with an initial concentration of 2000ng/μL double-stranded DNA (dsDNA) by two-fold serial dilution. TE was used as a blank, and the concentration of each sample was read 3 times on a 0.5mm ultra-micro base. Use the preset DNA quantification method to automatically calculate the dsDNA concentration: CdsDNA=50[A260(10mm)-A340(10mm)]ng/ul. After that, the data can be imported using Excel to draw charts, and curve fitting is used to show the linearity of the standard curve.
Experiment results: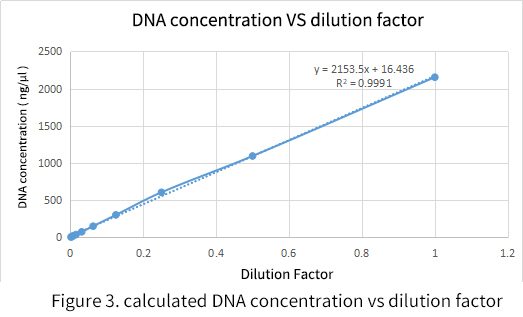 From Figure 3, we can see that NanoBio200 shows a linear relationship between DNA concentration and dilution factor. From this experiment, we can conclude that the minimum detection concentration of this NanoBio200 is 5ng/μL DNA.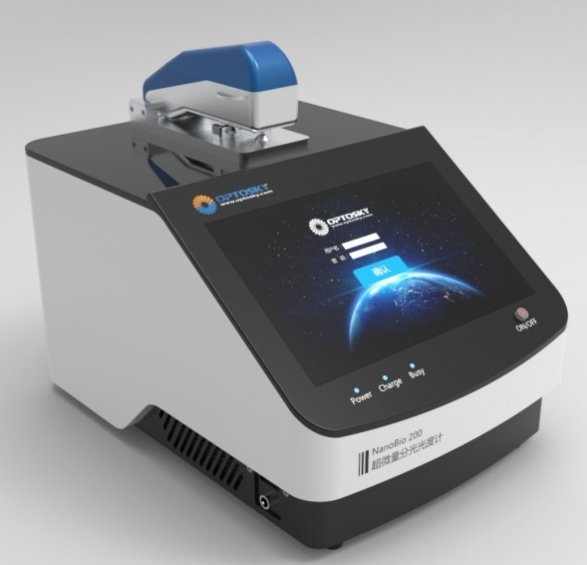 Summarize:
NanoBio200 ultra-micro spectrophotometer can perform very sensitive quantification and analysis of nucleic acid samples. As shown above, samples as low as 1 μL can also get very consistent readings in ultra-micro amounts. At the same time, it also has a very wide detection range (5 ng/μL to 2154 ng/μL).
Finally, the built-in 7-inch capacitive touch screen provides important information for researchers.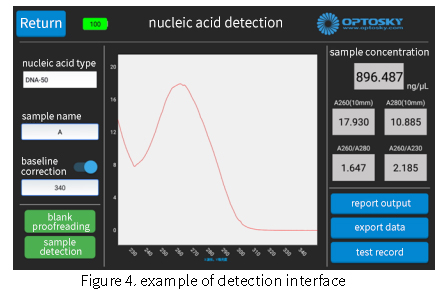 From Figure 4, we can intuitively see the sample concentration and purity. Small and flexible volume, plus it does not need a computer connection, a single machine can be tested, the test data can be printed, and it can also be output through USB and other advantages. This makes the NanoBio200 ultra-micro spectrophotometer an ideal choice for nucleic acid quantification and analysis in any laboratory environment.