Application of In-situ UV-VIS-NIR Spectroscopy in Electrochemistry
Application of In-situ UV-VIS-NIR Spectroscopy in Electrochemistry
author: Susan
2021-10-12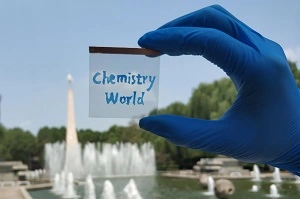 UV-VIS-NIR spectroelectrochemistry is a combination of cyclic voltammetry (CV) and absorption spectroscopy in the ultraviolet, visible and near infrared regions. The electron transfer reaction at the electrode causes the electronic structure of the electroactive substance to change. These changes and their effects on the spectral response of compounds form the basis of the spectroelectrochemical method. Therefore, the combination of cyclic voltammetry and absorption spectroscopy can provide very valuable information about the electrochemical reaction mechanism, the types of charged particles formed and their electronic structure. The in-situ spectroelectrochemical method can perform sensitive spectroscopic measurement under the condition of electron transfer. This precise measurement method can track the formation of charged substances and the changes in their concentration with the applied potential.
UV-VIS-NIR spectroelectrochemistry is a method to study the redox process of electrochromic materials. These materials can change their color reversibly through electrochemical reactions, and they are an important part of various electrochromic devices (ECD). For the development and production of customized ECD devices, it is important to understand the mechanism of electron transfer reactions in such materials and determine the substances that cause coloring.
Application of UV-VIS-NIR spectroelectrochemistry in the research of electrochromic materials:
Real-time monitoring of color changes caused by electrochromism through redox reactions

Detect and identify substances that cause coloring by spectroscopy

Study the optical properties and stability of charged substances

The relationship between the concentration distribution of (colored) substances and the gradually changing potential

Clarify the electrochemical reaction mechanism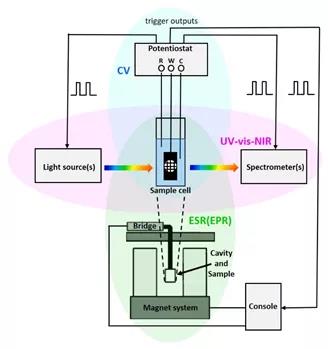 The measurement requires Optosky ATL30007 multi-channel spectrometer, which can accurately measure in a wide spectral range (200-920 nm). Each built-in ultra-high resolution spectrometer can be configured independently (different detectors, slits, gratings).