Why flowers are red and why plairie is green?
Why flowers are red and why plairie is green?
2020-08-05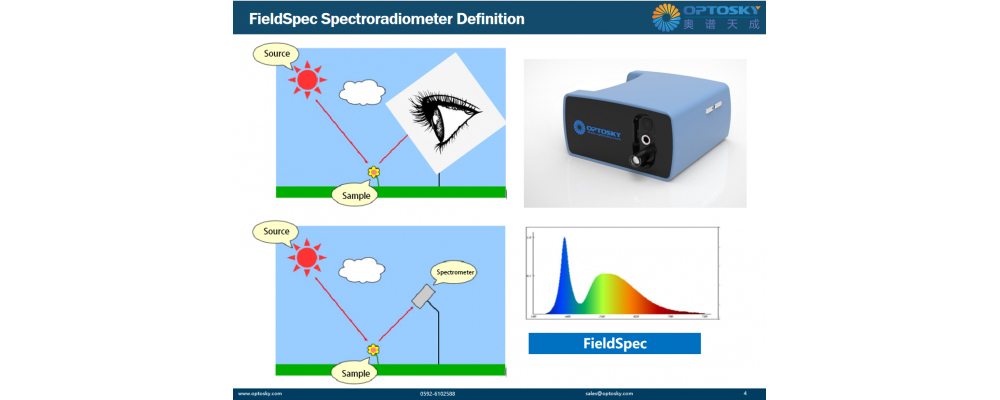 How are colorful colors being formed? With these questions in mind take us to introduce fieldspec spectroradiometer to you.
This is sketch our eyes look at an object, It's sunlight shines on the flowers, then the flowers reflect the sunlight to our eyes, that's why in the night eyes cannot see objects. Our eyes can only see that sunlight shines on the object reflecting light to our eyes. There are two important factors. One factor is the sunlight shines on objects. And the other factor is Object reflects lights on our eyes.
As we have mentioned before, the spectrometer resolution is 10 thousand times more accurate than the eyes, If you use the spectrometer to replace the eyes, The reflection light spectrum of the little flowers can be shown. This spectrometers is called fieldspec spectroradiometer. This is the len where the light in, our field spectrometers and remote sensing used to measure the earth object reflection light.
Fieldspec spectroradiometer has three factors. One is the sun lights, the second is the object on the earth. 3rd one is the reflection light.
Why is called field spectroradiometer?
It includes three factors: 1st, It measures objects on the earth; 2nd, In the natural field range of uv, vis, nir 3rd, use a spectrometer to analyze reflection spectrum, it's especially emphasize optical measure techniques including transmittance, scattering, and Reflection. The fieldspec mainly analyze the diffuse reflection directly shone by the sun, and the diffuse reflection by indoor illumination.
Fieldspec spectroradiometer measures object in range of vis and nir reflection spectrum, Which supports or directly used in qualitative and quantitative analysis.