What can the 900-2600nm NIR,Mini Optic Fiber Spectrometer be used for?
What can the 900-2600nm NIR,Mini Optic Fiber Spectrometer be used for?
2020-10-29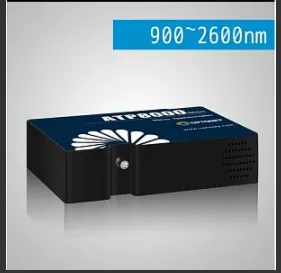 The Near Infrared Microspectrometer is a miniature non-destructive testing instrument that uses optical principles to qualitatively and quantitatively analyze the composition and content of substances. It has a small volume, low power consumption, low cost, and on-site online analysis. at the same time it is a fast, lossless and portable modern analysis technology, which is very suitable for fast quality inspection. It is an environment-friendly, fast and online detection technology. It is convenient for secondary development and other advantages, and has been widely used in many fields such as agricultural production, food safety, biomedicine and national defense security.
Let me introduce in detail its application in crop quality control.
With the advancement of society and the improvement of people's living standards, modern agriculture requires more and more sophisticated management: For example,
The selection of fine grain seeds after breeding, the quality control and analysis of crops after harvest, etc. All put forward requirements for rapid and accurate detection.
Optosky's spectrometer is based on Near-Infrared Spectroscopy and can analyze the contents of proteins, moisture, oils, starches, wet gluten and other useful components in grains and oilseed crops. It can provide on-site, real-time, fast, nondestructive and accurate inspection quality for you in the process of grain purchase and storage, and provide reference for you to identify the quality, varieties and relevant prices of grain and oil crops.
Since the near-infrared spectroscopy detection technology was first applied to agriculture in the 1960s, it has been widely used in the agricultural field.
Compared with traditional detection methods, near-infrared spectroscopy detection technology has the characteristics of fast analysis speed, no need for preliminary sample preparation, no sample consumption, no chemical pollution, etc., and it can directly obtain information on crop protein, fat, fiber and other components. Therefore,
Near infrared technology is very suitable for the needs of crop quality control and analysis, and has been widely recognized and applied in the agricultural field. Of coruse, it can also be applied to the industrial field . And general transmission characteristics of external light in conventional optical fibers, enabling online Near-Infrared Spectroscopy analysis. The field is well applied.
Near-infrared spectroscopy technology due to its fast analysis speed, does not damage the sample Product, simple operation, good stability, high efficiency, no pollution and low cost, etc. In foreign countries, it has been widely used in the grain and oil industry.