What are the features of Ultra-Microvolume UV-Vis Spectrophotometer?
What are the features of Ultra-Microvolume UV-Vis Spectrophotometer?
2020-11-10
NanoBio 200 is a full wavelength (190-1000nm) ultra microvolume UV-Vis spectrophotometer, which is self-designed by Optosky.
There are many features:
Detection of nucleic acids, proteins and cell solutions;

Only 0.5-2ul sample is needed for each test;

Full Touch Screen Operate, Easy-to-Use;

7"HD capacitive touch screen;

Long life span source up to 10 years ;

Embedded high performance micro spectrometer ;

High stability pulsed xenon light source;

Built-in lithium battery can be used for 6 hours;

Self-built modeling function by user;
What are its advantages ?
High Sensitivity: New generation 2048 linear CCD detector cell, high sensitivity;
Fast & Convenient : 3 optional path lengths. No need to dilute high concentration samples can be measured. Few seconds can complete detection Sample base swipe to-use;
Full Wavelength: Wavelength range :190-1000nm, NIR wavelength range fit to various demands;
High Stability: Long life xenon lamp. Slide bearing base can rise up/down base, in order to ensure detect stability and life span;
User Friendly Design : Android 7" HD screen, Built-in Screen, no need connect to PC, WiFi/Bluetooth/USB output.
What are its specific application details?
Nucleic acid has a maximum absorption peak at ultraviolet 260nm (250-270nm), (Fig 1)
Protein has a maximum absorption peak at around 280nm UV,(Fig 2)
Other substances also have maximum absorption peaks and spectral curves at different wavelengths: spectral scanning,(Fig 3)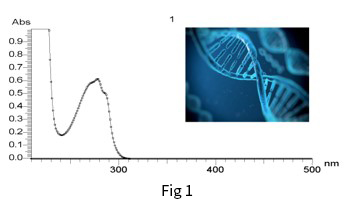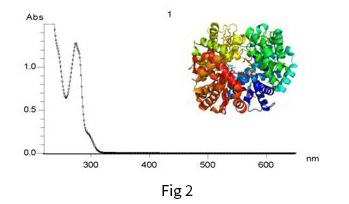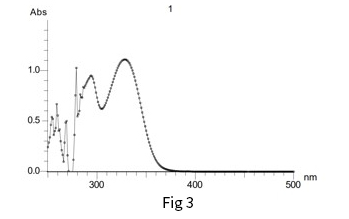 What is its specific measurement process?
Spot the sample: Lift the measuring cover, pipette 1-2μL from the sample and drop it on the test bench;
Form a measuring liquid column: Close the measuring cover gently to form a measuring liquid column;
Start the measurement: Select the measurement items that need to be performed on the touch screen and perform the corresponding tests.
After 3s, you can get the corresponding result;
Wipe the sample table:Lift up the measuring table, wipe the liquid on the measuring head with lens cleaning paper, pay attention to wipe the upper and lower measuring heads.