What's the uses of ATP2002 in environmental protection?
What's the uses of ATP2002 in environmental protection?
2020-10-30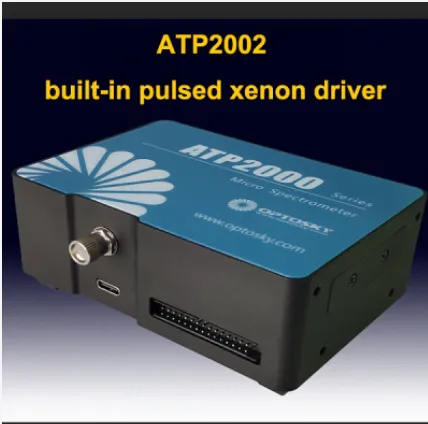 What is 200-1100nm Low-noise Spectrometer ?
Optosky ATP2002 built in pulsed xenon driver has a low-noise, high-performance, and cost-effective. The sensor used 2048 pixel CCD responding from 200-1100 nm. It transfers spectrum to PC through USB 2.0 or RS232 interface. ATP20002 operates with a single +5VDC supply supplied from USB or duo-pin interface.
What is 200-1100nm Low-noise Spectrometer used for?
It can be applied in many fields: Fast and Microscale Spectrophotometer, Environmental Analyzer, Radiance, Spectrum Analyzer , Transmittance measurement, Reflectance measurement, Laser wavelength measurement. I will mainly introduce its application in the field of environmental protection.
Environmental pollution has always been a matter of great concern to people, and monitoring of environmental pollutants is very necessary for environmental protection, control and governance. Optical and spectroscopy technology has become an ideal tool for environmental pollution monitoring due to its large-scale, multi-component detection, and continuous real-time monitoring methods.
Why choose Optosky 200-1100nm Low-noise Spectrometer?
ATP2002 is very suitable for rapid detection due to its high A/D converter frequency and high-speed data transmission. The main advantages of using a spectrometer for environmental pollution monitoring are: it can monitor the concentration of several pollutants in the same waveband at the same time, realizing completely non-contact online automatic monitoring; the sensitivity of our company's spectrometer is high, and the optical resolution range is 0.1-3nm; There are multiple wavelength ranges can be selected:350-800nm, 180-410nm, 200-850nm, 300-1100 nm, 200-1050nm, 780-1100nm. Using it to detect can roughly reflect the average pollution level of an area.
And its operating cost is low. Therefore, the use of spectrometers for detection and the use of spectroscopy technology is the current development direction and mainstream technology of online monitoring technology. For environmental pollution monitoring, optical and spectroscopic technologies provide many effective measurement methods.