Application of NIR Spectroscopy in Dairy Production
Application of NIR Spectroscopy in Dairy Production
author: Susan
2021-10-25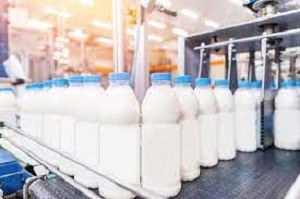 Infrared spectroscopy analysis technology is a testing technology that developed rapidly in the late 1980s. In Europe and the United States, it has become an important method for the analysis of dairy products and has been recognized by authoritative dairy analysis institutions.
The current traditional milk powder detection methods are time-consuming and cumbersome for the detection of these physical and chemical indicators, and the milk powder production process is a continuous process, and long-term analysis and detection cannot meet the effective control of the milk powder production process.
The current domestic milk powder production process generally includes raw milk acceptance → pretreatment and standardization → concentration → spray drying → cooling storage → packaging → finished product. There are multiple key control points in the whole process that need to be tested for multiple indicators, and these points are very suitable Use near-infrared spectroscopy analysis technology for rapid analysis.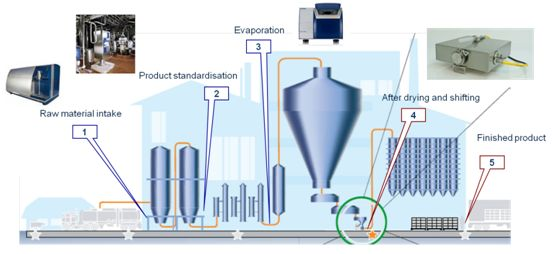 In the entire production process of milk powder, almost all the key control points (marked by the red star in the above figure) can be analyzed and tested by infrared spectroscopy technology. The use of near-infrared analysis technology to monitor the milk powder production process can effectively improve the qualification rate of the product. The cost control of enterprises and the provision of safe and qualified dairy products for consumers have a very high practical effect.
Optosky could provide low-cost NIR modular spectrometer with free software for the monitoring dairy system, from 900-2500nm wavelength range.