How to accurately apply hyperspectral imaging in agriculture?
How to accurately apply hyperspectral imaging in agriculture?
2021-01-13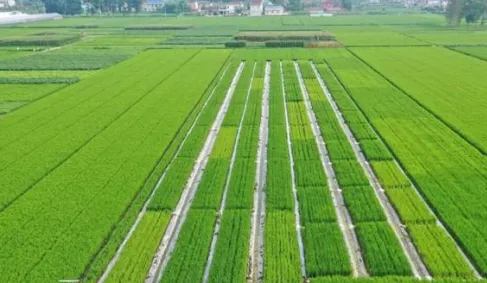 Pests and diseases cannot be ignored in 2021
   According to the National Agricultural Technology Extension Center recently released: It is expected that major crop diseases and insect pests will recur in 2021, with an area of ​​1.445 billion mu of occurrences across the country, an increase of 19.2% year-on-year.  Among them, armyworm, grass borer, armyworm, rice planthopper, rice leaf roller, wheat aphid and other migratory pests and Chilo suppressalis, wheat stripe rust and scab, rice blast, potato late blight, etc.  Epidemic diseases will pose a disaster risk in more than 70% of the production areas of major crops such as rice, wheat, corn, soybeans, and potatoes. If effective measures are not taken in time to prevent and control, it can cause more than 30% of yield losses.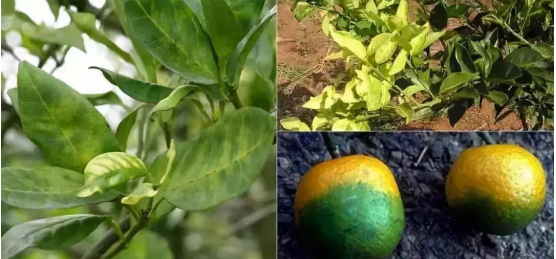 Disadvantages of early detection methods for pests and diseases
  Pests and diseases are the combination of diseases and insect pests. Plant diseases and insect pests usually cause significant losses in agricultural production, becoming a serious problem that increasingly threatens food security and the integrity of the ecosystem, and has attracted more and more attention from society.
  The early monitoring methods for pests and diseases still mainly rely on human eyes to identify and judge, which have disadvantages such as low efficiency, large errors, and serious lag; there are also early pesticides to prevent the occurrence of pests, but it will cause inaccurate medication and timing immaturity causes pesticide waste and environmental pollution problems. 
Moreover, with the gradual seriousness of the problem of social aging, the shortcomings of farmer households working alone have become increasingly prominent, which is increasingly incompatible with the development of agricultural modernization.
Advantages of Optosky Airborne Hyperspectral Remote Sensing System 
It has more abundant spectral information in the whole waveband, which can reflect the subtle changes of different biophysical characteristics of vegetation.
It has a wide range of applications.
Low cost hyperspectral camera HY-1010.
High cost performance CMOS image sensor.
UAV push-pull imaging, non-hover scanning, high efficiency.
Perfectly fits the Dajiang M600 pro multi-rotor UAV, supporting multiple types of drone platforms.
Self-developed high-performance stable cloud platform, support customized development.
Integrated cost-effective inertial navigation system, auxiliary image stitching.
Real-time image transmission, monitoring single-band images and spectral curves.
Airborne control and data acquisition software, data format perfectly supports third-party software such as ENVI.
Hyperspectral data preview software, support image and spectral data quick view.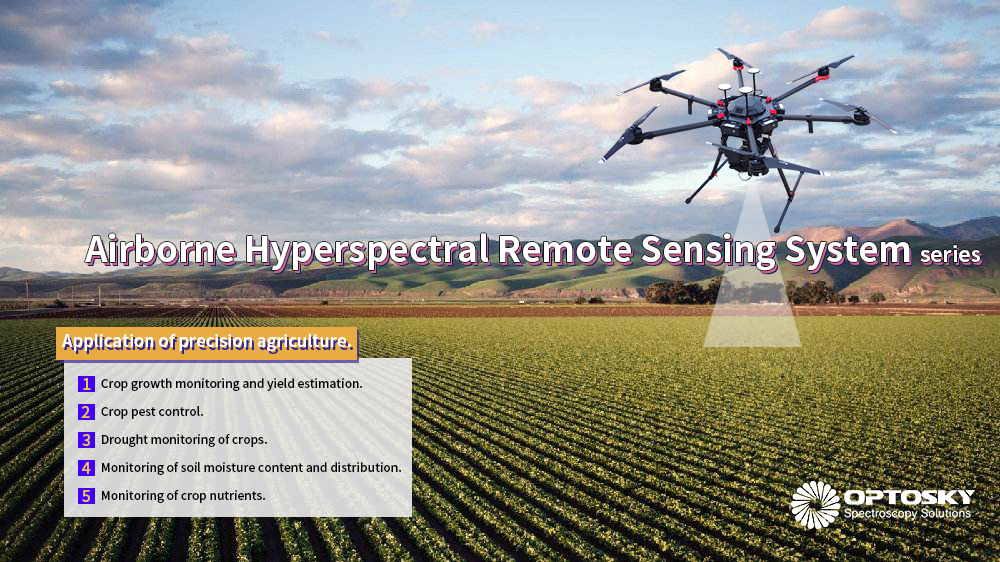 At present, there have been a lot of research and varying degrees in crop nutrient diagnosis, classification and identification, quality identification, food processing, and pest monitoring application. Especially in the monitoring of pests and diseases of crops such as food crops, cash crops, vegetable crops, and fruits.
Application of hyperspectral imaging technology in precision agriculture
Crops growth monitoring and yield estimation;
Control of crop diseases and insect pests;
Drought monitoring of crops;
Monitoring of soil moisture content and distribution;
Monitoring of crop nutrients...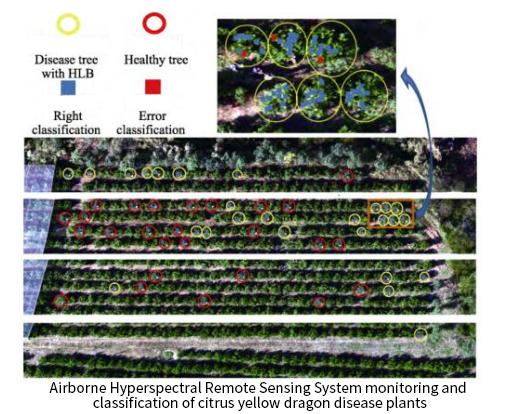 In terms of citrus tree diseases and insect pests: the hyperspectral imager carried out early non-destructive detection and disease classification of citrus Huanglong disease, rapid diagnosis and rapid identification of normal, nutrient deficiency and Huanglong disease citrus leaves.
  The application of Airborne Hyperspectral Remote Sensing System  in agriculture and forestry diseases and insect pests is more and more extensive, and the methods and methods are also constantly developing. 
  Of course, hyperspectral imagers are not only suitable for agriculture and forestry, but also for geological prospecting, industrial sorting, public safety and water quality and environmental protection.