How to detect absorbance?
2020-09-25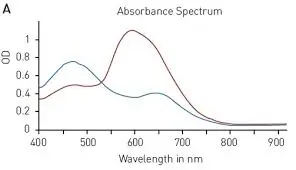 Absorbance refers to the log base 10 (namely LG (I0/I1) of the ratio of the incident light intensity before the light passes through the solution or substance to the transmitted light intensity after the light passes through the solution or substance, where I0 is the incident light intensity and I1 is the transmitted light intensity, and the factors affecting it include solvent, concentration, temperature and so on.
Absorbance is a physical quantity used to measure how much light is absorbed. The absorbance is expressed as A, A= ABC, where A absorbance coefficient, unit L/(g·cm), B is the distance the light travels in the sample (usually the thickness of the colorimetric dish), unit cm, and C is the solution concentration, unit g/L
A = Ecl. According to Bill's law, the absorbance is directly proportional to the molarity c of the absorbent, and the calibration curve of photometric analysis can be obtained by plotting A against C. In a multicomponent system, if the absorbance particles of each component do not interact with each other, then the absorbance is equal to the sum of the absorbance of each component. This law is called the additive property of absorbance. Therefore, the simultaneous determination of multiple components and the determination of some equilibrium constants of chemical reactions can be carried out.
In the absorbance determination, in order to offset the absorption and reflection of the absorption and scattering of the incident light by the absorption and reflection of the absorption and scattering of the incident light by the solvents and reagents, a spectrophotometer can be selected and the absorption pools with the same optical properties and the same thickness hold the solution to be measured and the reference solution respectively.
Why to choose spectrometer?
Spectrometers are very mature absorbance detection equipment, but only for laboratory use. In recent years, with the popularity of optical fiber spectrometers, more and more scientific research, enterprise laboratories and industrial online analysis users have adopted this new portable spectrometers to replace the traditional spectrometers used in laboratories. Compared with traditional spectrophotometers, optical fiber spectrometers have the advantages of good stability, small size, light weight, rapid detection and low cost. Although the sensitivity of optical fiber spectrometers is not as good as that of spectrometers, this does not prevent the popularization of optical fiber spectrometers, and the requirements of absorbance are applicable in many applications.
Why to choose Optosky?
Optosky has 20-year experience in developing micro spectrometers from 150nm-11um. As a professional manufacturer introduced to receive any OEM/ODM projects. With the advantage of designing high performance spectrometer cost less. All of spectrometers use Hamamatsu CCD/CMOS, grating of Horiba, Newport, Chinese manufacturing capabilities benefit cost-effective solution as a result.