Raman Spectrometers For Medicine
author: Joy
2022-02-14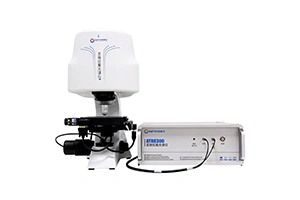 Raman spectroscopy with accurate, non-destructive, non-contact rapid detection technology has been used in all walks of life. Because Raman spectroscopy can easily give the fingerprint information of the structure and composition of substances, and can identify all kinds of substances and crystal structures from the molecular level, Raman spectroscopy is very suitable for pharmaceutical process and drug detection, using Raman spectroscopy to analyze drugs has been a more mature method.

Infrared and Raman:
     Compared with the infrared absorption spectrum, which has been widely used in pharmaceutical industry, the use of Raman analysis instrument has obvious advantages: low requirements on the operating environment, simple testing does not need to prepare samples, can realize part of the non-destructive testing of samples in line with the requirements of outer packaging; The instrument has strong resolution, can give more spectral details, it is easy to distinguish between different drugs, even the structure of the drug can be distinguished; A database of control maps has been established for the identification of active substances and pharmacodynamic components in preparations.

The difference between 785nm and 1064nm:
    Raman spectroscopy has some important advantages as a method for studying vibrational and rotational transitions of molecules. The Raman displacements of all rotational levels and almost all vibrational levels are in the range of 0 ~ 3500cm-1. Simple calculations show that the full available Raman spectrum is in the nir region when using 785nm excitation radiation.
    Raman spectrum is not perfect, fluorescence is the biggest interference factor of Raman detection, the sample to be tested once fluorescence, relatively weak Raman spectrum will be partially or completely submerged by fluorescence, even can not detect the Raman signal; It is possible to choose to use 1064nm weakened fluorescence to obtain the characteristic Raman peak of the material.

Hand-held, portable, scientific grade Raman spectrometer:
     OPTOSKY's Full range of Raman devices can be selected from hand-held, portable and lab-grade devices depending on the environment.
    ATR6500 handheld Raman spectrometer -- ATR6500, ATR6500 is the fourth generation handheld Raman spectrum system launched by OPTOSKY Company, with ultra-light, ultra-thin, small size, the whole machine is less than 0.5kg, suitable for one-hand operation, very convenient to carry. And there is a special pharmaceutical version of the software, targeted to analyze and match drugs.
     Portable Raman spectrometer -- ATR3000/3110/3200, for example, ATR3110, which is a refrigerated high sensitivity enhanced Raman spectrometer developed by OPTOSKY, has an excellent signal-to-noise ratio (improved by about >15 times compared with ATR2110 and nearly 100 times at 2000cm-1). At the same time, OPTOSKY specially customized the ULTRA-low noise CCD signal processing circuit for ATR3110, whose quantization noise is less than 3counts, which is the best level in the industry. Portable Raman is more flexible than research-grade microscopic Raman, making it a good choice for non-laboratory rapid drug detection applications.
     Scientific research level micro Raman - ATR8300/8500/8800, with high level scientific research micro Raman version can automatic focusing, automatic scanning, one key operation, can be batch experiments, the uniformity of scanning, without waiting for, equipped with specially designed for Raman system objective, It overcomes the problem that the focal surface of the collected Raman signal is slightly higher than or slightly lower than the actual optimal focal surface in ordinary Raman system, thus improving the quality of Raman spectrum. Moreover, high reliability scanning imaging Raman data can be obtained. This function can effectively detect the distribution of drug components, which is one of the important indicators to measure the quality of drugs. The uneven content of active ingredients will not only directly affect the accuracy of drug dosage, but also directly affect the curative effect of treatment, and even endanger life safety.

Application Examples:
1. Drug identification
The following Raman spectrum is a simple test of Akafen powder and acetaminophen tablets. It can be seen that there are overlaps and differences between them. This is because akafen powder contains a certain amount of acetaminophen, which reflects that Raman can easily identify and distinguish the components of various drugs.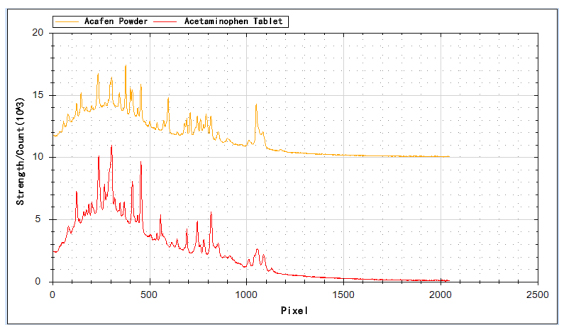 2. Raman detection of amino acids
Several amino acid samples were tested by ATR8300-785 microraman spectroscopy. The Raman spectra of amino acids were collected. The results were very perfect, and the special peak values were obvious, which can effectively distinguish different amino acids.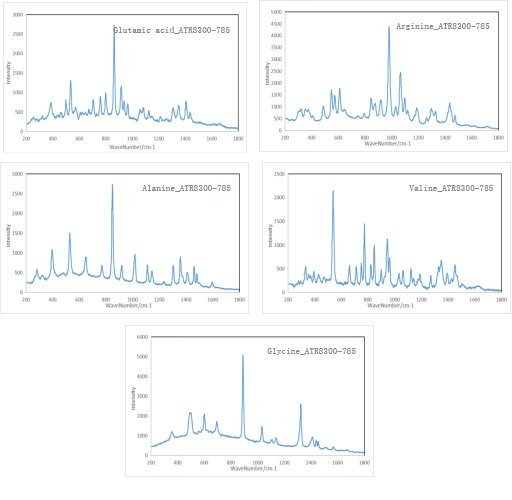 Related Products:
ATR3000/3110/3200/ATR6500/ATR8300/8500/8800


Related Blogs:PORTABLE WATER QUALITY ANALYZER IS USED TO DETECT TOTAL CHLORINE IN WATER
APPLICATION OF RAMAN SPECTROSCOPY IN SEMICONDUCTOR DIRECTION
APPLICATION OF RAMAN SPECTROMETER IN CANCER DIAGNOSIS
DETECTING HAZARDOUS LIQUIDS WITH RAMAN SPECTROMETER
APPLICATION OF RAMAN SPECTROSCOPY IN INORGANIC MATERIALS