Treatment of Medical Waste Based on Spectroscopy
Treatment of Medical Waste Based on Spectroscopy
author: Susan
2023-01-09
Introduction
With the growing awareness of the hazards of medical waste, researchers are investigating a new method of disposing of medical waste by degrading compounds that may have adverse effects on the environment.
Valsartan, a drug used to treat high blood pressure and heart failure, is usually not fully metabolized by patients. In this application case, researchers from India used spectroscopic techniques to test and characterize the efficiency of plasma-based degradation techniques in the breakdown of Valsartan.
Experiment
The experiment mainly explored the efficiency of degrading Valsartan using non-equilibrium atmospheric pressure plasma jet (NEAPP) under different conditions, including plasma jet alone, combination of plasma jet and ZnO nanoparticles, and various environments (air, O2 and ‍H2O2), fixed plasma at fixed plasma working potential and when processing.
The distribution and emission intensity of various active substances during the degradation process were characterized by optical emission spectroscopy (OES), and the degradation efficiency of Valsartan treated by plasma jet under different conditions was monitored by a spectroscopic method.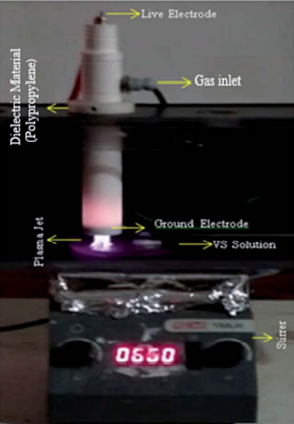 NEAPP reactor
The information of active substances in the plasma jet during the degradation process of Valsartan was detected by ATP3334 high-resolution spectrometer. Use UV-VIS-S-2-400 optical fiber to collect optical signals and connect to 74UV collimator to limit the light collection angle, improve the light collection efficiency and the spatial resolution of the spectrometer. Spectra were acquired by ATP software and recorded for analysis.
Data Analysis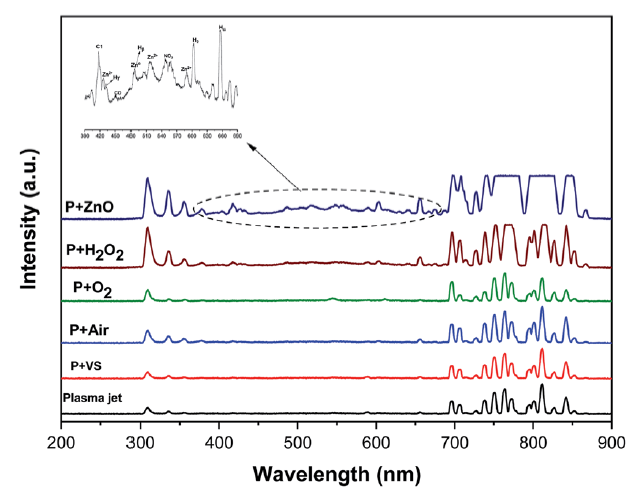 Figure 1. Emission spectra of plasma jets in different environments.
Under different environmental conditions such as air, O2 and H2O2, argon plasma was used to degrade Valsartan aqueous solution. It was observed that when argon plasma was combined with ZnO nanoparticles during the degradation process, the OES spectrum showed various new spectral lines, forming The reason may be that the interaction of plasma with ZnO excites Zn during the degradation of Valsartan, plays an important catalytic role in the degradation process and stimulates the oxidation reaction.
Furthermore, the line intensities induced by OH·, O, and N2-SPS were significantly increased compared to the degradation processes performed under different conditions, because higher concentrations of active species were formed compared with other treatment conditions.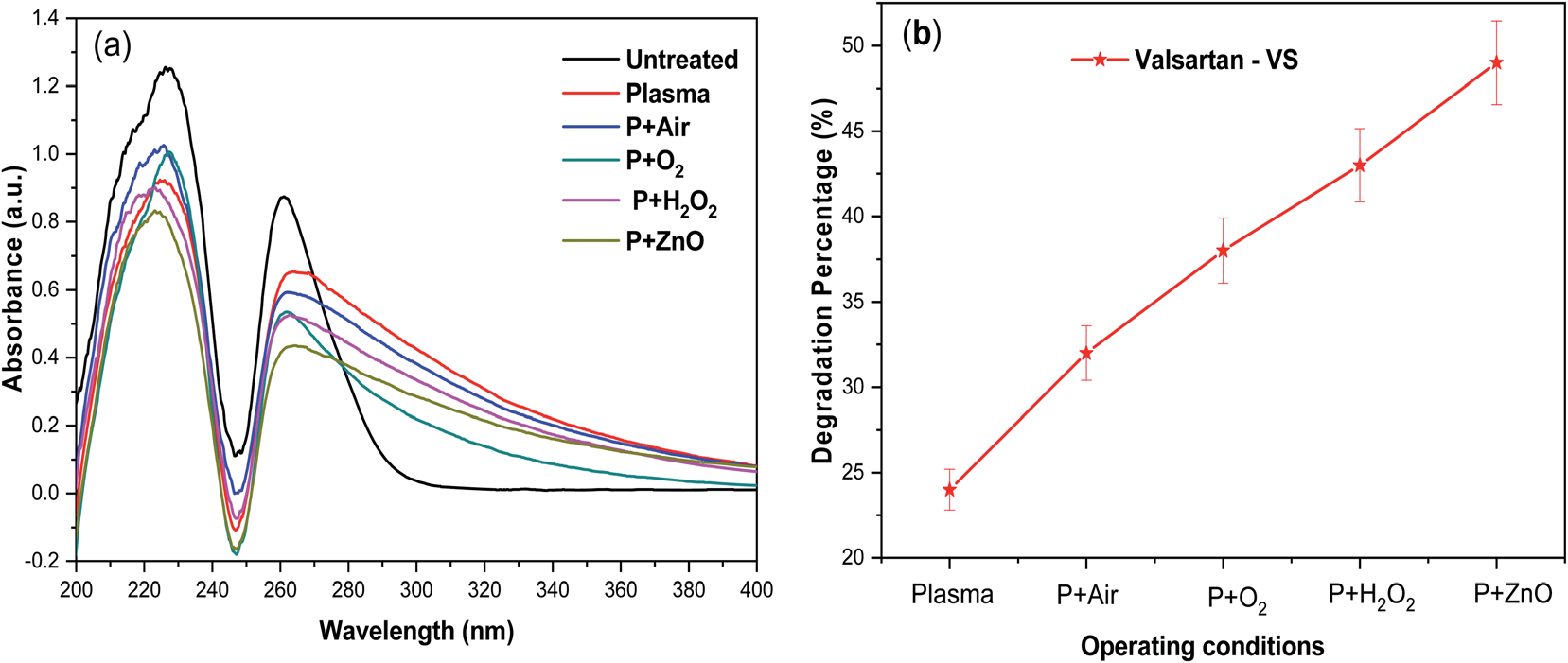 Figure 2. (a) UV-Vis spectra plasma-treated Valsartan drug and (b) degradation rates under different environmental conditions.
Fig. 2 is corresponding to the untreated Valsartan aqueous solution, the ultraviolet-visible absorption spectrum and the degradation rate of the Valsartan aqueous solution degraded in different environments. The Valsartan aqueous solution exhibited a major absorption characteristic peak at 260 nm, and after plasma treatment alone, it was found that the intensity of the absorption peak was significantly reduced.
After plasma degradation in different environments, the absorption peak intensity decreased in the order of P>P+Air>P+O2>P+H2O2, indicating that the degradation rate of Valsartan aqueous solution increased. The above changes may be related to the oxidative degradation of Valsartan molecules.
Finally, plasma treatment combined with ZnO obtained a lower-intensity absorption peak with a maximum degradation percentage of 49% compared with other treatment conditions, mainly due to the formation of higher concentrations of various active substance.
Result
Compared with different environmental conditions such as plasma alone, air, O2 and H2O2, spectral analysis confirmed that plasma and ZnO formed a higher concentration of active species, and the Valsartan aqueous solution containing ZnO nanoparticles showed a higher degradation rate.
Finally, it was concluded that the combination of plasma and catalyst treatment conditions showed significant efficacy on Valsartan degradation compared to other treatment conditions.
References
1. Raji, A., Pandiyaraj, K. Navaneetha, Vasu, D., Ramkumar, M.C., Deshmukh, R.R., and Kandavelu, V. Non-equilibrium atmospheric pressure plasma assisted degradation of the pharmaceutical drug valsartan: influence of catalyst and degradation environment, RSC Advances, Issue 59, 29 Sep 2020.
Epilogue
In 2018, the market for antihypertensive drugs alone (including valsartan) was estimated at $25 billion. Furthermore, in a recent study conducted at Florida International University, evidence for nearly 60 different drugs was found in 93 bony fish samples over a three-year period. Addressing the potential impact of harmful compounds from other pharmaceuticals entering the environment will require collaboration among manufacturers, the healthcare industry, government agencies, and the public. This work uses simple, powerful and flexible tools such as modular spectrometers to help researchers, regulators and industry engineers rapidly assess the effects of different treatments for pharmaceutical waste.
Experimental configuration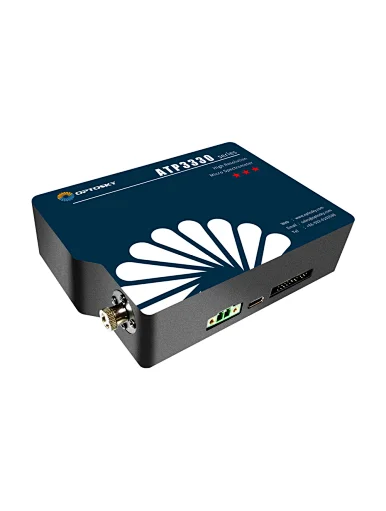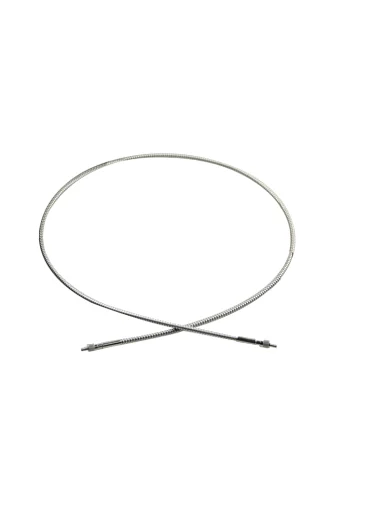 ATP3334 high-resolution spectrometer
UV-VIS-S-2-400 optical fiber
74UV collimator